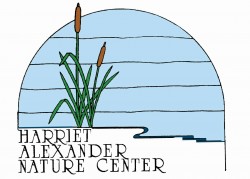 If you've never been to the Harriet Alexander Nature Center, here is your chance to check it out.  We were there last year for the first time and will be going back.  We enjoyed the great walking trails and the nature center itself offers some great learning opportunities.  This Sunday January 29th is the annual open house at HANC (Harriet Alexander Nature Center).  It takes place from 12:30-4:30.  The theme is "The Year of the Rooster", with all sorts of great activities, crafts, treats and exhibits to enjoy.
There's something to crow about! On Sunday, January 29, the Harriet Alexander Nature Center (HANC) in Roseville will be celebrating the Year of the Rooster at the annual Open House from 12:30-4:30pm.

From Henny Penny to the Chicken Dance, roosters (chickens) and other birds have a long history in relation to human culture. Whether in folklore, artwork, or your favorite recipe books, birds have played a significant role in our lives. Compare bird eggs, taste our chicken soup, make a feather craft, and try Ukrainian egg-dyeing, all while enjoying some of the fun customs of Chinese New Year.

There will be a craft project and traditional Chinese New Year treats to enjoy. Check out the nature center's recent indoor upgrades including the fabulous tree feature, explore the boardwalk out in the marsh and enjoy the center's informative exhibits.

The HANC open house is held on the same day as the annual open house at our parking lot neighbor, the Wildlife Rehabilitation Center. This is a once-a-year opportunity to peek behind the scenes at this very busy animal "hospital."

The Harriet Alexander Nature Center, an oasis of natural beauty and tranquility nestled within the borders of Roseville, is located at 2520 N. Dale Street. For driving directions or more information visit cityofroseville.com/HANC or call 651-765-HANC (4262).