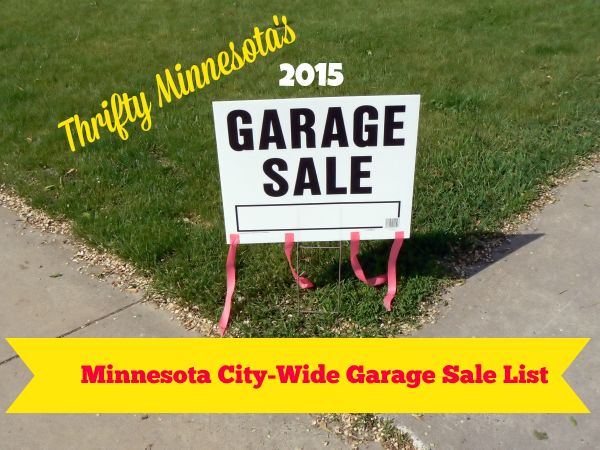 2015 Minnesota City Wide Garage Sales List

Welcome to our 5th annual list of city-wide, town-wide and neighborhood sales in Minnesota!  We really appreciate all of the people and organizations who have come forward with information to help us put together this list.  It is a big project!
All of the sales below are those that I have been able to confirm the dates. If you have confirmed information of additional sales, please e-mail me (or leave a comment here) and I will get it added to the list.
Please help support this list by "liking" us on Facebook, subscribing to Thrifty Minnesota (see upper right corner), checking out our advertisers or telling your friends about Thrifty Minnesota.  Any help is appreciated!
APRIL
April 11 – New Ulm (In Civic Center)
April 17, 18 – Belle Plaine
April 17, 18 – Edgerton
April 17, 18 – Grand Meadow
April 17, 18 – Le Center
April 23, 24, 25 – Silver Lake
April 23, 24, 25 – Trimont
April 24, 25 – Blue Earth
April 24, 25 – Dassel
April 24, 25 – Le Sueur
April 24, 25 – Madison
April 24, 25 – Nicollet
April 24, 25 – Pine Island (Map Here)
April 25 – Belview
April 25 – Cokato
April 25 – Diamond Path Neighborhood (Apple Valley)
April 25 – Jonathan Neighborhood (Chaska)
April 25 – New Richland
April 25 – Prinsburg
April 30, May 1, 2 – Fairmont
April 30, May 1, 2, 3 – 100 Mile Garage Sale (More Info)
April 30, May 1, 2 – Diamond Point Neighborhoods (Hugo)
April 30, May 1, 2 – Fergus Falls
April 30, May 1, 2 – Oakdale
April 30, May 1, 2 – Pierz
April 30, May 1, 2 – Springfield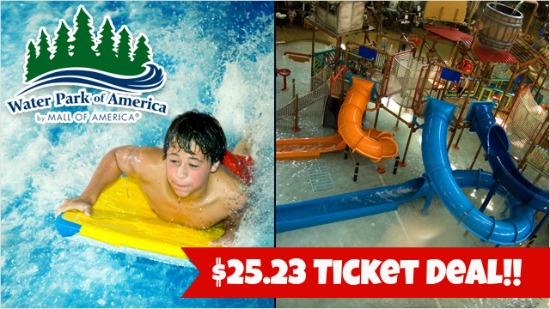 MAY
May 1, 2 – Cannon Falls
May 1 – Eagle Lake
May 1, 2 – Fairfax
May 1, 2 – Gaylord
May 1, 2 – Hastings
May 1, 2 – Marshall
May 1, 2 – Melrose
May 1, 2 – Minnesota River Scenic Byways-long Garage Sale (More Info)
May 1, 2 – Motley
May 1, 2 – Sleepy Eye
May 1, 2, 3 – Madelia
May 2 – Annandale
May 2 – Austin
May 2 – Avon
May 2 – Browns Valley
May 2 – Chatfield
May 2 – Hutchinson
May 2 – Isanti
May 2 – Minnesota Lake
May 2 – Montgomery
May 2 – Mora
May 2 – North Branch
May 2 – Pike Lake Area (Duluth)
May 2 – Wilmar Civic Center
May 2, 3 – Bryn Mawr Neighborhood (Minneapolis)
May 7, 8, 9 – Alexandria
May 7, 8, 9 – Benson
May 7, 8, 9 – Champlin
May 7, 8, 9 – Farmington
May 7, 8, 9, 10 – Chisago (More Info)
May 7, 8, 9 – Dufferin Park Neighborhood (Savage)
May 7, 8, 9 – Stewartville
May 7, 8, 9 – Woodbury
May 8, 9 – Arlington
May 8, 9 – Dover
May 8. 9 – Grey Eagle
May 8, 9 – Harmony (More Info)
May 8, 9 – Jordan
May 8, 9 – Kasson
May 8, 9 – Lake Crystal
May 8, 9 – Madison Lake
May 8, 9 – Mazeppa
May 8, 9 – Pipestone
May 8, 9 – Rushford
May 8, 9 – St. Charles
May 8, 9 – Wells
May 8, 9 – Winnebago
May 9 – Grey Eagle
May 9 – Johnsonville Neighborhood (Blaine) (More Info)
May 9 – Litchfield
May 9 – Lonsdale
May 9 – Mahtowa
May 9  – Olivia
May 9 – Paynesville
May 9 – Rush City
May 14, 15, 16 – Andover
May 14, 15, 16 – Brooklyn Park (More Info)
May 14, 15, 16 – Elko New Market
May 14, 15, 16 – Mankato
May 14, 15, 16 – Richfield
May 14, 15, 16 – Rosemount
May 14, 15, 16 – Settlers Glen Neighborhood (Stillwater)
May 14, 15, 16 – Spring Grove
May 15, 16 – Amboy
May 15, 16 – Burnsville
May 15, 16 – Clinton
May 15, 16  – Esko (More Info)
May 15, 16 – Eveleth
May 15, 16  – Glencoe
May 15, 16 – St. James
May 15, 16 – St. Joseph
May 15, 16 – St. Peter
May 15, 16 – Seward Neighborhood (Minneapolis)
May 15, 16 – Stacy
May 15, 16 – Wanamingo
May 15, 16 – Waseca
May 16 – Bagley
May 16 – Blooming Prairie
May 16 – Como Park Neighborhood (St. Paul)
May 16 – Hendricks
May 16 – Kingfield Neighborhood (Minneapolis) More Info
May 16 – Lakeville
May 16 – Linden Hills Neighborhood (Minneapolis)
May 16 – Little Canada
May 16 – Monticello
May 16 – Nerstrand
May 16 – New Prague
May 16 – Pine City
May 16 – Spring Valley
May 16 – Waterville
May 16 – Winthrop
May 21, 22, 23, 23, 25 – Mille Lacs Lake Area
May 22, 23 – New London Spicer
May 28, 29 – Albany
May 28, 29, 30 – Bloomington (More Info)
May 29, 30 – Upsala
May 30 – Hale, Page, Diamond Lake Neighborhoods (Minneapolis) (More Info)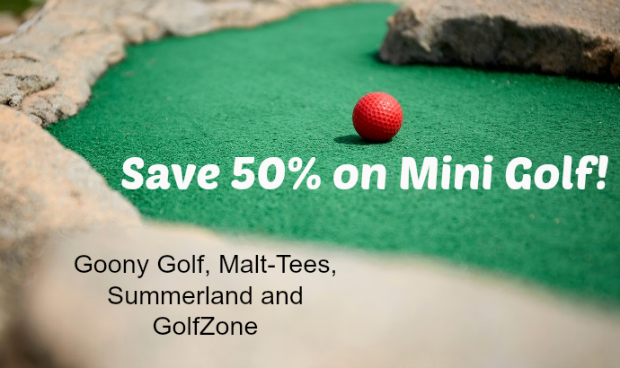 JUNE
June 4, 5, 6 – Robbinsdale (More Info)
June 4, 5, 6 – Roseville
June 4, 5, 6 – Shafer
June 4, 5, 6 – Spring Lake Park
June 5, 6 – Bayport
June 5, 6 – Bowlus
June 5 – Freeport
June 5, 6 – New Ulm
June 5, 6 – Rice
June 6 – Hanska
June 6 – Kandiyohi
June 6 – Maple Lake
June 6 – Slayton
June 6 – Victory Memorial Parkway Neighborhood (Minneapolis)
June 10, 11, 12, 13 – Albertville
June 11, 12 – Princeton
June 11 – Waite Park
June 11, 12, 13 – Rockford
June 12, 13 – Birnamwood Neighborhood (Burnsville)
June 12, 13 – Columbia Heights Neighborhood Sale (More Info)
June 12, 13, 14 – Cook
June 12, 13 – Shooting Star Scenic Byway 20-Mile Sale (More Info)
June 12, 13 – Lakefield
June 12, 13 – Lamberton
June 12, 13 – Park Point Neighborhood (Duluth) More Info
June 13 – Foley
June 18, 19, 20 – Bird Island
June 18, 19, 20 – Fairbault
June 18, 19, 20 – Waters Edge Community (Hugo)
June 19, 20 – Glenville
June 19, 20 – Medford
June 20 – Nokomis Neighborhood (Minneapolis) (More Info)
June 20 – Redwood Falls
June 20 – Tracy
June 20 – Walnut Grove
June 25, 26, 27 – Lewiston
June 25, 26, 27 – St. Bonifacius
June 26, 27 – Hinckley
June 26, 27 – Trail Towns (Houston, Rushford Village, Rushford, Peterson, Lanesboro, Whalan, Fountain, Preston and Harmony) (More Info)
JULY
July 3 – Evansville
July 10, 11 – Long Prairie (More Info)
July 16, 17, 18 – Grey Eagle
July 16, 17, 18 – Richmond
July 18 – Sandstone
July 24, 25 – West Concord
July 24, 25, 26 – Clarkfield
July 24, 25, 26 – Truman
July 31 – Chisholm
July 31, August 1 – Gaylord
July 31, August 1 – Gilbert
July 31, August 1 – Morristown
AUGUST
August 13, 14 – Maple Plain/Independence (More Info)
August 13, 14, 15 – Delano
August 14, 15 – Hoffman
August 14, 15 – New Munich
August 15 – Hibbing
August 20, 21, 22 – Inver Grove Heights
August 21, 22 – Sleepy Eye
SEPTEMBER
September 3, 4, 5 – Fairmont
September 5 – La Crescent
September 10, 11, 12 – Springfield
September 11, 12  – Mapleton
September 12 – Granite Falls
September 12 – Hutchinson
September 12 – St. Francis
September 12 – Willow River
September 18, 19 – Blue Earth
September 18, 19 – Mankato
September 19 – Cambridge
September 19 – Winthrop
September 19, 29 – Edge of the Wilderness National Scenic Byway (More Info)
October
October 1, 2, 3 – Dellwood
October 2, 3 – Le Center
October 2, 3, 4 – Harmony (More Info)
Large Charity Sales
March 28 – Ivy's Legacy Foundation (Sauk Centre Civic Arena)
April 17, 18 – Buddies Not Bullies Sale (Hermantown)
May 2 – Rosemount HS Band
May 2 – Relay for Life Fundraiser at Tartan Senior High School (Oakdale)
May 30 – ECFE Kids' Stuff Consignment Sale (St. Anthony)
June 4, 5 – Cross of Christ Lutheran Church (Coon Rapids)
September 12, 13 – Church of the Holy Cross (Minneapolis)
September 19, 20 – North Oaks Children's Hospital Association (Shoreview)