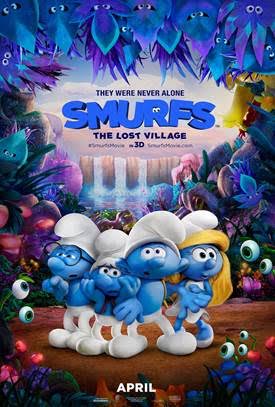 Not only is there a new Smurf movie coming out in April, Smurfs: The Lost Village, but they'll also be in town this weekend.  Yes, the fun, lovable, memorable Smurfs! You have two opportunities to see Smurfette, Hefty, and Brainy. Tomorrow, January 28th they'll be at the Winter Carnival in St. Paul and on Sunday, January 29th you'll have a chance to see them at the Mall of America. 
Saturday, January 28  12pm-6pm

Meet Smurfette, Hefty and Brainy at St. Paul Winter Carnival's Grand Day in the Park. Stop by the SMURFS: THE LOST VILLAGE booth between 12pm-6pm for your chance to meet the characters & win fun prizes.

Details: https://www.wintercarnival.com/event/grand-day-in-the-park/

Sunday, January 29  12pm-4pm

Join us as we prepare for the upcoming, thrilling journey through the Forbidden Forest with SMURFS: THE LOST VILLAGE themed crafts & activities! Smurfette, Brainy & Hefty, characters from the film, will be available for photos, plus there will be face painting, giveaways, and more!