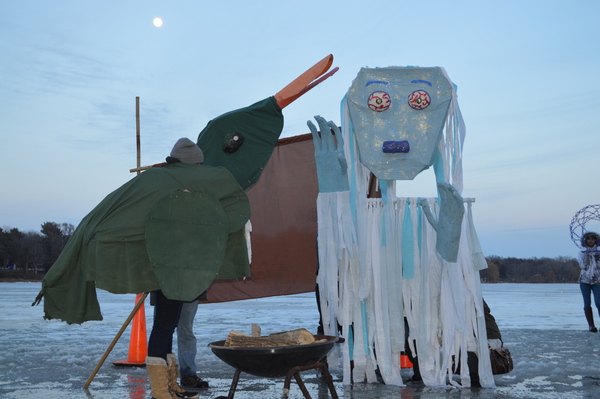 The Phalen Freeze Fest 2017 takes place tomorrow February 11th from 2pm-6pm.  It seems a bit ironic that given the forecast, you might be able to attend without even wearing a jacket.  None the less, being outdoors, on a lake in winter is still fun.  It's even more fun if there's a play to watch or kicksleding to try, or perhaps you want to try ice fishing?  Put on your wool sweater and head to Lake Phalen.  *It might be a good idea to peek at their website just in case it's too warm for the event.
Phalen Freeze Fest is an annual celebration of winter! Join us outside to enjoy the season with a variety of winter activities!

Watch the Story of Shingebiss with Urban Roots
Fish through the ice with Tips Outdoors
Cook food over a fire with Saint Paul Parks and Recreation
Play boot hockey with JCNSP Polar Devils Youth Hockey
Snowshoe with Saint Paul Natural Resources
Build a fire with Wilderness Inquiry
Go on a Story Walk with the Saint Paul Public Library
Learn about water with Ramsey Washington Metro Watershed District
Glide on a kicksled with Ramsey County Parks
And more!