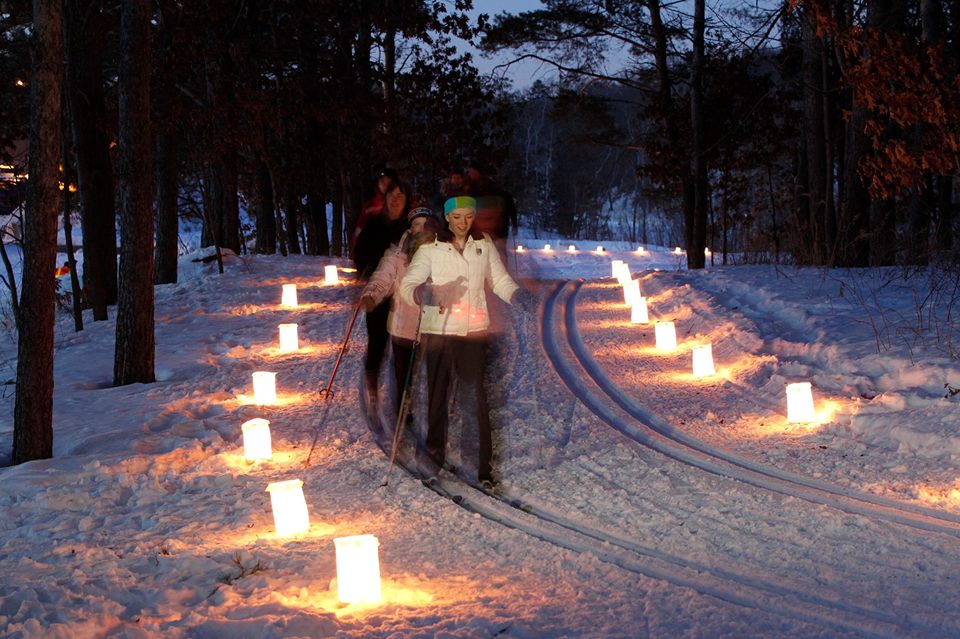 UPDATE: Unfortunately, this even has been canceled:
"At this time, trail conditions park-wide have deteriorated further after the precipitation received Monday and Tuesday this week. Currently, all trails are rated as: icy to dangerously icy in most places, and are not safe for use for the Trails By Candlelight event. In addition to unsafe event trail conditions, local weather predictions anticipate rain all day and into the evening on Saturday, February 11, which will further deteriorate trail conditions and disintegrate and extinguish luminaries.
* * *
There's something about being outdoors at night, with the white snow beneath you.  Something magical and something mysterious. The Trails by Candlelight event at Lebanon Hills Regional Park is a a great event to enjoy a magical winter evening.  It takes place Saturday Feburary 11th from 6-9pm.  There is an admission of $10 per person, cash preferred at the time of arrival.
Trails by Candlelight

More than 1,500 luminaries will line more than 2 miles of hiking and snowshoeing trails and nearly 4 miles of cross-country ski trails at the Trails by Candlelight event in Lebanon Hills Regional Park.

Enjoy candlelight hiking, snowshoeing, sledding a lit hill, ice skating, kicksledding, bonfires and food trucks.

Date: Saturday, Feb. 11, 2017, 6-9 p.m.

Location: Visitor Center, Lebanon Hills Regional Park

Admission: $10/person. Tickets at the door only. Ages 5 and younger are free.

Cash payment is preferred, checks and credit cards (Visa, Mastercard and Discover) will be accepted.

Plan ahead to fast-track the admissions line. Bring cash for ticket payment and a signed Event Waiver for each person attending.

Parking
Free parking is available onsite or at Woodcrest Church (525 Cliff Road) with a free shuttle to and from the event. Shuttle rides will start at 5:45 p.m.  The last shuttle ride back to the Woodcrest Church leaves the Lebanon Hills Visitor Center at 9:45 p.m.

Food
Hot concessions will be available to purchase from Xstream Cuisine and Kabomelette.

What to bring
Bring your own sled, skis and snowshoes. Snowshoe and ski rental will also be available for an additional fee. The last rental of the night goes out at 8 p.m. Dogs, except for assistance and guide dogs, are not permitted at the event.