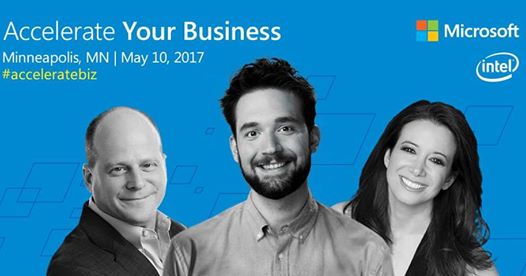 Are you a business owner in the Twin Cities area? If so, you're invited to attend Microsoft's Accelerate Your Business event on Wednesday, May 10th, 2017 at the Hyatt Regency Minneapolis Hotel. It is a complimentary event featuring networking, education and best practice sharing, all designed for small and medium sized business owners.
The event's keynote speaker Alexis Ohanian, co-founder of Reddit and bestselling author of Without Their Permission: How the 21st Century Will Be Made Not Managed, will be discussing the success story of reddit.com's evolution from a dorm-room idea to the company it is today. This keynote is just part of an impressive line-up of speakers, interactive networking experiences and a showcase of the latest technology to achieve your full business potential.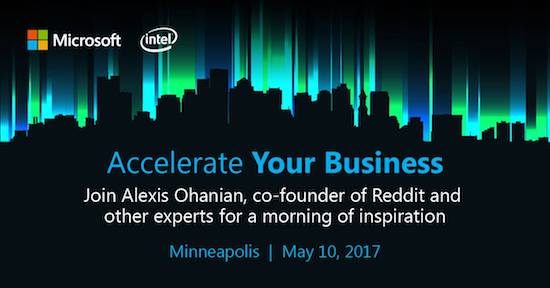 At Microsoft's Accelerate Your Business event, national media personalities, Carol Roth and Gene Marks will lead discussions on entrepreneurial essentials like customer loyalty and game-changing technology. Then Microsoft's Gary Fowle will showcase the technology that's not just hot but essential to maximize your company's productivity and profits.
This event is tailored for small and medium business owners, C-level leaders and key senior managers that can expect to be challenged, expect to be entertained and expect to be informed.

Accelerate Your Business is a complimentary event and will be capped at capacity, so register early to reserve your spot!