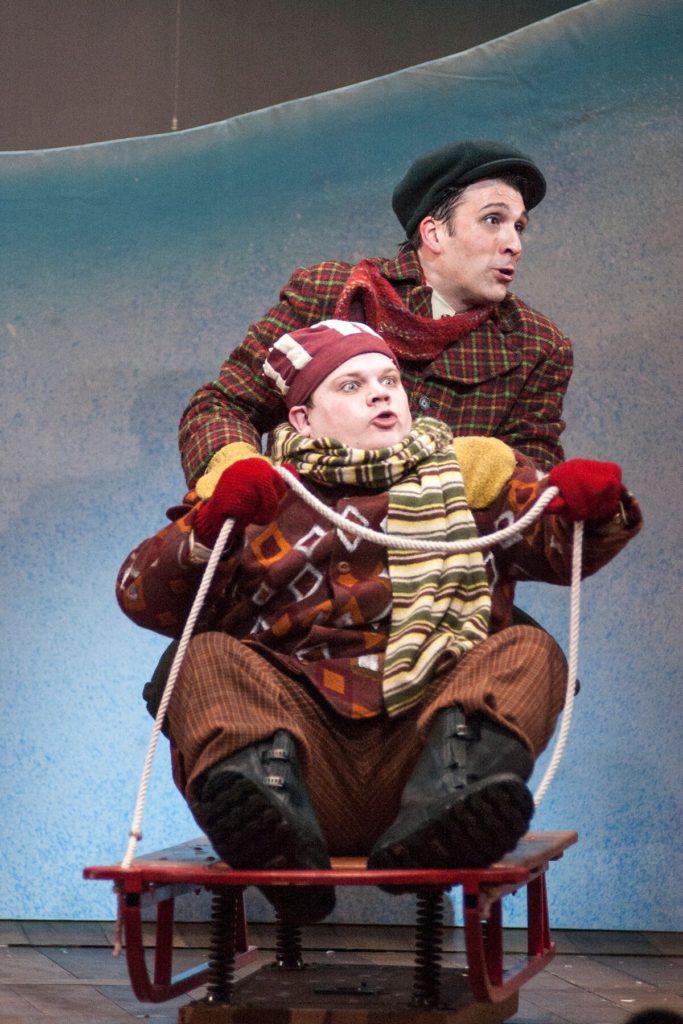 Update: While they last, you can get discount tickets for A Year with Frog and Toad HERE.
"A Year with  Frog and Toad" was at the Children's Theatre about 10 years ago and, if you were lucky enough to see it then, you know why it's back.  We loved it so much that we hope to go again. I remember the books when I was a kid, and when our girls discovered the books it was a perfect opportunity to take them to the play.  "A Year with Frog and ToadA Year with Frog and Toad" is for all ages and a perfect introduction to theatre for the younger kids who may have not been to a performance yet. It's also a great performance for the older kids who have been to several plays.  It's a story about two best friends and all of the regular, as well as the not so regular, day to day things that best friends go through.  Everyone is sure to take away some valuable lessons from Frog and Toad.
Waking from hibernation in the spring, the perky Frog and the worrywart Toad plant gardens, swim, rake leaves, go sledding, and learn life lessons through four, fun-filled seasons. The amphibian odd couple celebrate and rejoice in their differences that make them the best-est of friends while joined by a colorful cast of birds, mice, turtles, and that slo-o-ow snail with the mail. Nominated for three Tony® Awards including Best Musical, this unforgettable and tuneful musical is back on our stage after almost a decade! Don't miss this exuberant story based on the treasured books by Arnold Lobel in a musical that soars like a kite and blossoms like spring.

A Year with Frog and Toad runs April 18 through June 18, 2017 on the UnitedHealth Group Stage and is recommended for all ages. Tickets are on sale now

on sale now

starting at $15.
Reader Giveaway:
One lucky Thrifty Minnesota Reader will win 4 tickets to see A Year with Frog and Toad
A Year with Frog and Toad
. To enter, complete the entry form below by 11:59pm ET on 5/16/17. Good luck!
Children's Theatre Company A Year with Frog and Toad Ticket Giveaway