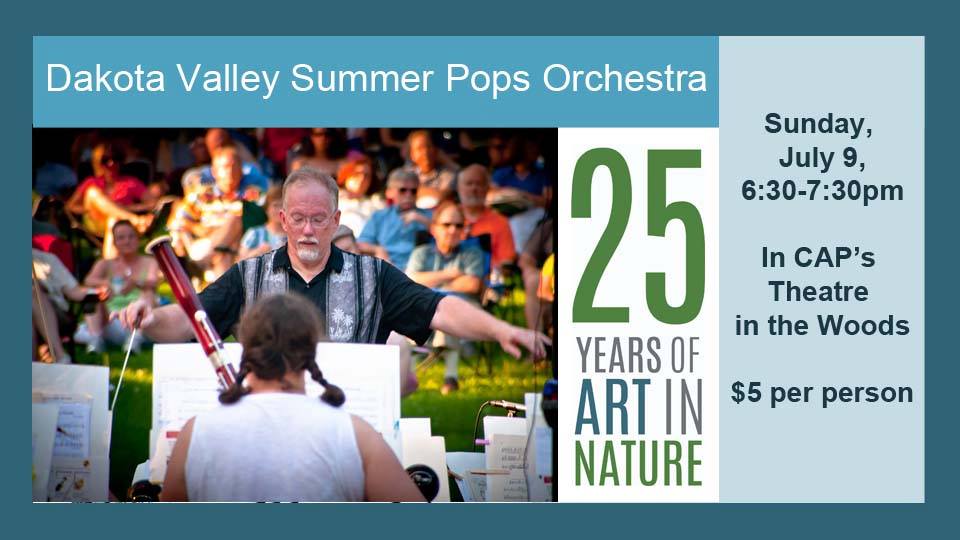 We have mentioned Caponi Art Park in Eagan a few times in the past.  They offer a wide range of free or inexpensive activities and events in a beautiful setting.  This coming Sunday, July 9th Dakota Valley Summer Pops Orchestra Concert at Caponi Art Park will take place at 6:30pm.  Tickets are $5 for 12 and over and can be purchased here.  Even if you can't make it for one of the special events, pick a day and explore the park for what it it is, you won't be disappointed at this hidden gem.
Dakota Valley Summer Pops Orchestra

A family-friendly evening of American music featuring Broadway and Hollywood show tunes and works by composers such as Aaron Copland and John Williams.

Event tickets: $5/person, children 12 and under free!

Since 1986, the Dakota Valley Symphony has brought together skilled volunteer musicians to perform and promote diverse symphonic musical experiences of all periods and styles. Performing concerts around the south suburban Twin Cities area, the symphony has a 60-member orchestra, a 40-member mixed chorus and a 90-member summer pops orchestra and chorus, all under the direction of founder and music director Stephen J. Ramsey.