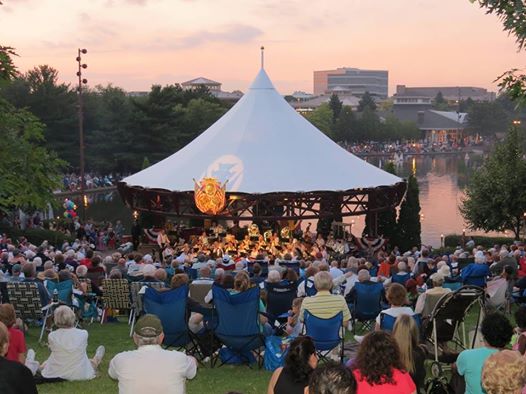 Hard to believe it's already the middle of August.  Tomorrow evening (August 13th), you can enjoy an outdoor concert at Centennial Lakes. and savor a beautiful summer evening. The Torchlight Concert/Lighthouse Night is named for the more than 200 torches and lanterns that light up the park and its walkways. This is a free concert and event, come a little early and check out the area.  The free fun will be begin at 6pm and the actual concert starts at 8:30.
Centennial Lakes Park hosts the First John Philip Sousa Memorial Band in the most anticipated event of the season!

Torchlight Concert/Lighthouse Night will begin at 6 p.m., with an array of things to see, including antique cars, vintage piano-playing, and a "mechanical man" movement performance. The Edina Model Yacht Club will be lighting up the water with their remote-controlled boats throughout the night. At approximately 7:45 p.m. the Sousa Fifes & Drums will process to the Maetzold Amphitheater in preparation for the much-anticipated 8:30 p.m. performance of the First John Phillip Sousa Memorial Band. As always, we will have drinks and popcorn available in our concession stand, but watch the walkways for other fun snacks and treats! There will be balloons for a nickle and ice cream available for a quarter (while supplies last). Fireworks will be set off near the end of the band's performance, to the song The Stars and Stripes Forever.

This event is free to the public and a wonderful addition to anyone's summer calendar! Come early to get a seat, enjoy the activities and stay for the concert!