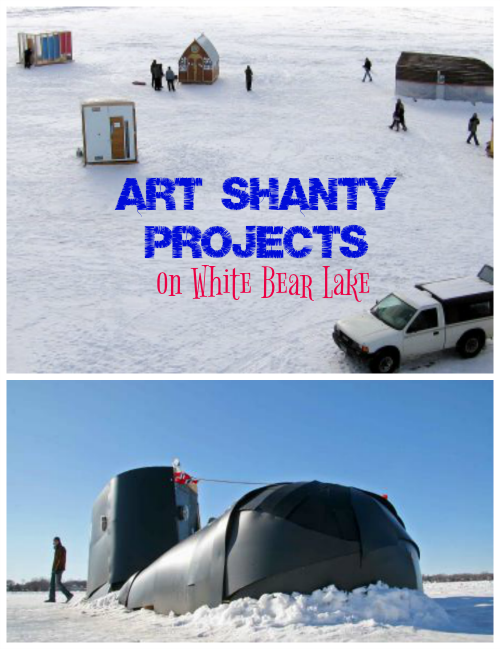 One of my favorite winter events begins this weekend, the Art Shanty Projects on White Bear Lake. Apparently it's been happening for several years. Our girls and I decided to check it out last year, to see just what "Art Shanty" actually meant. What we discovered is something that's hard to explain in just a few sentences. We found art, music, adventures, exercise, fun, and laughter all on the ice of White Bear Lake. There were several art shanties, each one truly had an identity all it's own, and each one welcomed us with a very individual style. We played music on the ice, we tasted some very unique MN tea, we created art, we listened to stories, we rode in a giant bear with at least 10 other people and much much more. We had a magical day on the ice and I hope all of you can check out the Art Shanty Projects on White Bear Lake. It begins this weekend and as long as the weather cooperates it will take place every Saturday and Sunday, February 4-26, 10am-4pm.

A few tips if you decide to visit the Art Shanty Projects on White Bear Lake:
Dress warm, layers if possible. You'll be on a lake and sometimes the wind is very different than what you think it will be.
Wear comfortable but yet warm boots. Again you will be on the ice, but also walking around. This is MN, this is winter. 🙂
There was a food truck last year, but I suggest also having some snacks with just in case there is a line. Or if you are like us, we sort of lost track of time going in and out of the Shanty's so the snacks came in handy.
Be prepared to wait for parking, there's is a large parking lot but it still might take a bit.
Keep an open mind. There's a list of the Shanty's and it gives a description for each one. We decided to be surprised with some of them and did not read anything, just walked up and opened the door. Sort of like "What's behind door #1".
GO and HAVE FUN. It really is something everyone in MN needs to experience.
2017 ON-ICE PROGRAM

The 2017 On-Ice Program will once again be located in White Bear Lake, MN, where the frozen surface acts as host and backdrop to a wide range of actions, interventions, happenings, stories, songs, games and more. Shanty village is free and open to the public every Saturday and Sunday, February 4-26, 10am-4pm. Explore shanties, interact with performing artists, and complete the scene as Art Shanty Projects repurposes the area's best amenity to reimagines traditional cultural practices to transform the landscape in expansive and exciting ways.