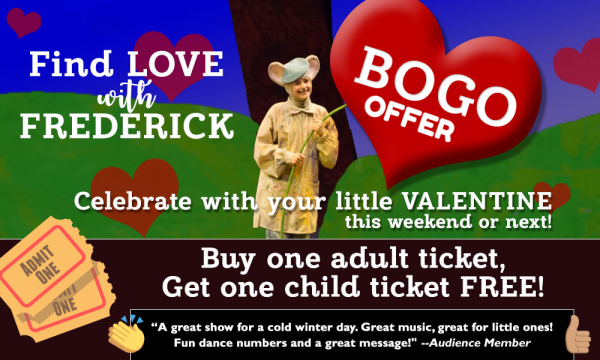 Once again, Stages Theatre Company in Hopkins is offering discount tickets to select performances of Frederick! You'll need to order tickets online HERE and use the coupon code VALENTINE to get the discount which is buy one adult ticket, get one child ticket free (an adult ticket is $16, so just $8 each!). Parking is free.
Offer valid only for evening and weekend performances 2/9/18 through 2/18/18.
Cozy in this winter for the heartwarming story of Frederick as he shows us that everyone has something special to give to the world. While other mice are gathering food for the winter, Frederick daydreams the summer away. When the cold weather sets in, however, it is Frederick who has stored up something significant to survive the long, blustery winter. The Caldecott winning book by beloved author Leo Lionni has been charming readers for 50 years. Now, this award-winning musical adaptation that will delight the heart and tickle the imagination.