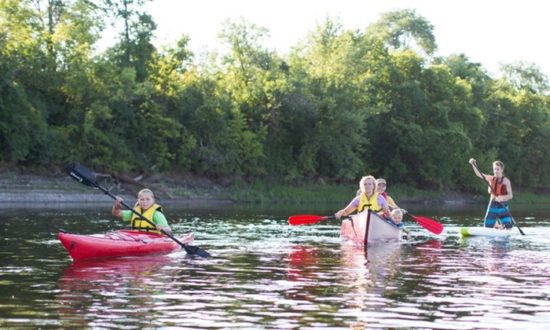 Two things I've always wanted to try are kayaking and stand up paddleboarding (aka SUP)…not at the same time, of course. 😉 You can get outside and enjoy our beautiful Minnesota weather on the Mississippi River this summer with a kayak, SUP, or tandem canoe trip at a discount through Clear Waters Outfitting Company via Groupon!
Options include:
$24 for Eight-Mile Kayak or SUP Trip on the Mississippi for One ($41 value)
$45 for Eight-Mile Kayak or SUP Trip on the Mississippi for Two ($82 value)
$34 for Eight-Mile Tandem Canoe Trip on the Mississippi ($62 value)
Included in your Groupon is parking, a life jacket, paddle, shuttle pick-up along the Mississippi River, and your kayak, SUP, or canoe (of course). The average trip duration is two to three hours.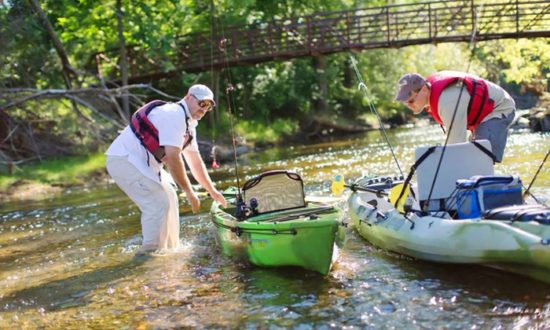 If you really want to go all out, they also offer a Kayak Fishing Trip for Two or Four on the Mississippi River at a current cost of $109 for two people or $219 for four people. Each of these fishing trips includes lunch, a specially equipped fishing kayak, paddle, life jacket, fishing tackle and gear, and shuttle drop-off or pick up along the Mississippi River and a special orientation map session to get you on the "hot spots" to enjoy this World-Class Smallmouth Bass fishery. Fishers must acquire the appropriate licenses before casting their lines.
You'll have the rest of the summer to use either of these deals as your Groupon won't expire until September 30th, 2019. You are required to make a reservation as well as sign a waiver, and trips are subject to weather.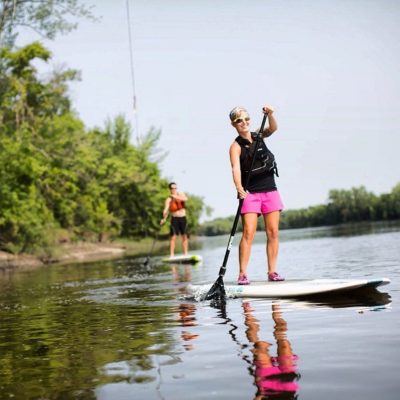 Outdoor enthusiasts Dan and Sandra Meer equip adventurers with canoes, kayaks, and stand-up paddleboards to explore lakes and rivers close to the Twin Cities. "One group we sent out on just a two- or three-hour trip counted 12 eagles," Dan says, marveling at the myriad wild turkeys, muskrats, and deer that often congregate along the protected waterway to gossip about bald eagles' unconvincing hair plugs. Gleaming schools of small-mouth bass lure fishermen to the rippling waters, and plentiful sandbars and shallow depths also beckon younger explorers. "We want to get kids involved," says Dan—himself a former Boy Scout and now the father of two more Scouts. "Get them away from their screens."

He and his wife entice those youths, and older adventurers as well, with day trips in canoes and kayaks whose hulls are made in nearby Wenonah. For overnight jaunts down the river, the couple rents both vessels and camping gear, and at their store—housed in an old creamery building on the riverbank—they sell new and used canoes and kayaks to dedicated paddlers who know the river so well they can fall asleep while swimming across it.
Get your Groupon HERE!