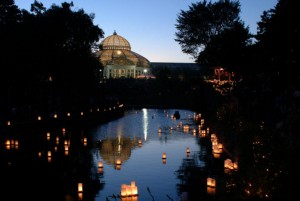 I have not attended this event, however the pictures I have seen look absolutely stunning.  The event is the Como Park Japanese Lantern Lighting Festival, today August 23rd, and the hours are from 3-9pm.  The full schedule of the event is located here.  There is a small admission charge: $5.00 per adult (13+), $3.00 per child (ages 3-12) and Seniors (ages 65+), free for children under 3.  Because of the large crowd expected for the event there is a free shuttle bus service available from a staffed off-site parking lot at the District Service Center located at 1930 Como Ave.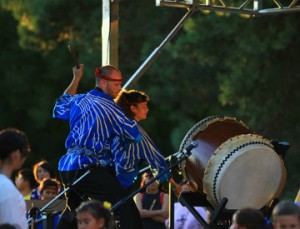 – 3:00 Gates & Exhibits Open
– 3:30 Performances Begin
– 7:30 Bon Odori
– 8:00 Exhibits Close
– 8:15 Lantern Lighting
– 10:00 Last Shuttle Departs from Como Park

The Lantern Lighting Festival, the largest Japan-related festival in Minnesota, takes place in Como Park every August. Modeled after summer festivals held across Japan, it features stage performances, cultural demonstrations, activities, and, of course, Japanese food. The event is reminiscent of Japan's annual Obon holiday, an important cultural and family event. During this holiday it is said that ancestral spirits revisit their families for three days. Many people will return home to pay their respects at grave-sites, and often small paper lanterns are lit and floated down the river to guide ancestor's spirits. The Obon Festival also features the Bon Odori, or folk dance, in which all are invited to join in the circle and dance.

The Como Park Lantern Lighting Festival incorporates traditions such as the Bon Odori with Minnesota culture to create new traditions. The festival is a collaborative effort between the St. Paul-Nagasaki Sister City Committee (SPNSCC), the Japan America Society of Minnesota (JASM), and Como Park. By creating a fun event for all ages, we hope to share the experience with people who fondly remember festivals in Japan, and those who wish to experience one for the first time.