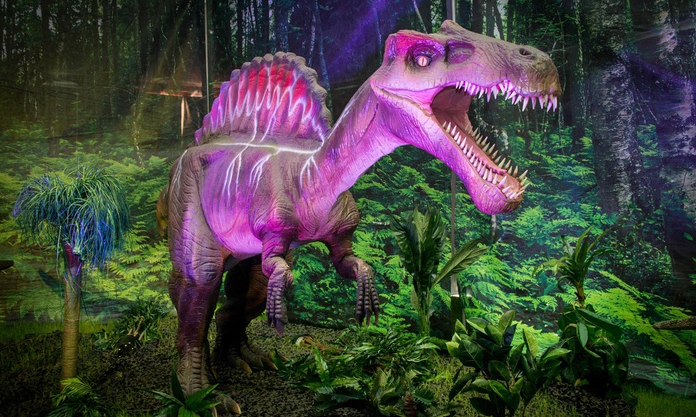 The Discover the Dinosaurs exhibit, with up to 40 giant dinosaurs, is coming to the DECC in Duluth. Many of these fascinating creatures have an animatronic skeleton and warm mechanical heart beneath their piercing talons, striped plates, and crepe-like swaths of realistically painted skin. Those that don't move are still plenty convincing, thanks to museum-quality construction and sets filled with roiling fog and dynamic light and sound effects.
Some of the dinosaurs are even arranged to let you tempt fate by sticking a hand into their mouths or patting their mighty flanks. And kids can actually climb atop a couple of them on Triceratops and T. Rex rides.
The exhibit will be open Friday, August 14, through Sunday, August 16. If you buy your tickets ahead of time through Groupon you can snag either of these deals:
$17 for single-day adult admission with a $5 voucher for the gift shop (up to $24 value)
$21 for single-day child admission, plus five tickets for either the mining or panning activity (up to $33 value)
Child admission includes access to the exhibit, Dino Dig, Dino Den, Dino Theater, Dino coloring station, scavenger hunt, unlimited rides, mini golf, and inflatables. Socks are required for the inflatables.
Adult admission is valid for ages 13 and older. Child admission is valid for ages 2–12. Those younger than 2 are admitted for free.