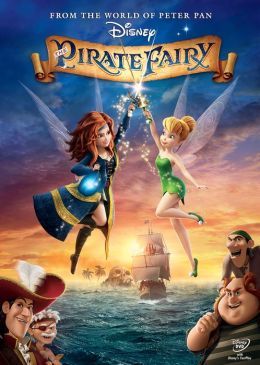 The all new Tinker Bell movie, THE PIRATE FAIRY, will be hitting store shelves and online retailers on April 1st.  To celebrate its release, a special invite only The Pirate Fairy screening will be taking place at Mall of America on 3/29 at 10am.  Screening audiences are encouraged to dress up for a chance to win a promo copy of the BluRay/DVD combo pack.
When a misunderstood dust-keeper fairy named Zarina steals Pixie Hollow's all-important Blue Pixie Dust, and flies away to join forces with the Pirates of Skull Rock, Tinker Bell and her friends must embark on the adventure of a lifetime to return it to its rightful place. However, in the midst of their pursuit of Zarina, Tink's world is turned upside down. She and her friends find that their respective talents have been switched and they have to race against time to retrieve the Blue Pixie Dust and return home to save Pixie Hollow. With comedy, heart and epic thrills for the whole family, "The Pirate Fairy" sets sail in 2014.

This screening is by invite only, but we have tickets for a few lucky Thrifty Minnesota readers!
Reader Giveaway:  Five (5) lucky Thrifty Minnesota  readers will each win a family 4-pack of tickets to The Pirate Fairy screening at Mall of America on 3/29 at 10 am.  To enter, just complete the entry form below by 11:59pm ET on 3/25/14.  Good luck!