NOTE: Rain delay! Moved to Sunday 6/14 at Harriet Island Park. 200 Justus O'Hage Blvd.
Looking for something fun to do this Saturday?  How about the Dynacraft's Color Ride, part of a Summer-Long "Experiment in Fun"?  It takes place at St. Paul's Raspberry Island Park, this saturday, June 13 11:00am – 2:00pm.  Kids can attend, however the person registering and completing the RSVP must be 18 or older. You can RSVP here on the Dynacraft Website. Go here for additional information on this fun FREE event.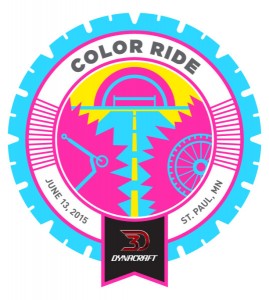 Families on bikes will be able to experience kaleidoscopic thrills and fun on wheels at the one-day Color Ride event, an "Experiment in Fun" by Dynacraft, a leader in bike and wheeled goods. The free-and-hue-filled day will feature lively games and activities, with plenty of bike-riding and dancing. From the starting line, kids and families will get blasted with color and then led by a "Color Captain" as they pedal to multiple pit-stops where they can win color packets to use at the Finish Line Party. At the journey's end, families will enjoy healthy refreshments, participate in more colorful playtime activities, and capture all the fun memories at the free photo booth!

Dynacraft will also offer "test rides" on its assortment of the coolest, most fun gadgets and best wheeled products. It's a great way for the whole family to meet up with friends, enjoy healthy activities and unwind together with a day of colorful play!

Committed to bringing joyous surprise to their consumers, Experiments in Fun is Dynacraft's ongoing celebration of the endless creative ways kids and families can enjoy their bikes, scooters and ride-ons. All the fun is kicking off this summer with a series of community-focused events across the country, designed to help families rethink what's possible with their favorite wheels.