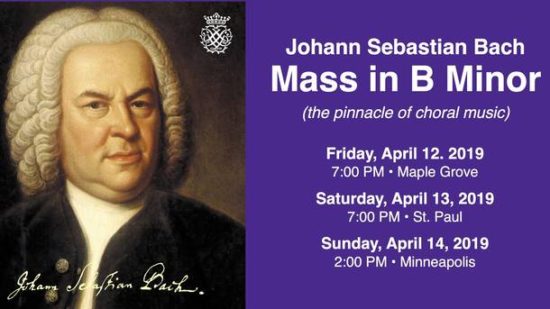 Any choir nerds in the house? (Raising my hand here!) Right now there are discount tickets available via Goldstar for three upcoming Exultate Festival Choir & Orchestra concerts! Tickets are $10 (50% off), plus service fees for the following three concerts:
Lord of Life Lutheran Church in Maple Grove on Friday, April 12 at 7 pm
Nativity of Our Lord Catholic Church in St. Paul on Saturday, April 13 at 7 pm
Annunciation Catholic Church in Minneapolis on Sunday, April 14 at 2 pm
Note that students and young people under 30 can get discount tickets through their website, so keep that in mind as you figure out how many tickets you'll need to purchase through Goldstar.

The monumental Mass in B Minor of Johann Sebastian Bach will be performed by the Exultate Festival Choir and Orchestra. This work, the pinnacle of choral music, was one of the final works written by the great master. The magnificent creation of movement after movement woven together to form the five chief parts of the Mass must be experienced. In addition to the music, Bach's personal Bible will be on display along with artifacts surrounding his life, his faith and the Mass in B Minor. Your ticket to the concert allows you to view this marvelous exhibit.