It's time for Fall Circus Days at the Twin City Model Railroad Museum!
Visit the Twin City Model Railroad Museum in St. Paul on Saturday, October 3rd or Saturday, October 10th for the annual Fall Circus Days event. On these days, you'll see a reenact of the historical operation of circus trains on their layouts with an operating Circus Train, several displays, and a parade staged on their train layouts.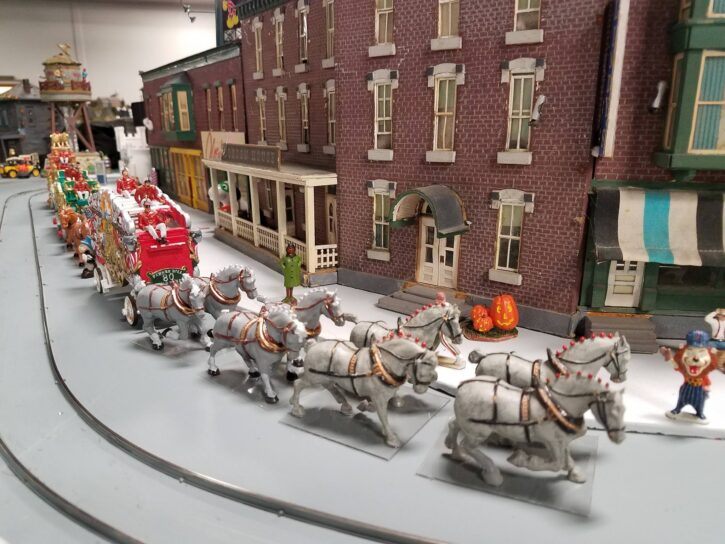 Admission is included in the regular admission price of $10/person. Children 4 and under get in free.
For family/group rates, the first two people pay full admission, then the rest of your group is half off (up to 10 people). You will need to buy your tickets online to reserve your timeslot.

What are Circus Trains?
Circus trains began in the 1870s, by replacing the shows that moved by slow animal-drawn wagons. Over the years these trains grew in length as the train cars switched from wood to steel construction. Circus trains typically consisted of three types of cars: large animal cars, flat cars loaded with colorful wagons and passenger cars for the workers and performers. They were usually found in the train in that order. Circus cars were generally longer than normal freight cars because the railroads charged by the car & mile. They were painted very colorful to attract attention. The greatest number of circus trains operated between 1920 and 1950. Over those years many merged and others went broke.
Here's a video that shows the Circus Train in action:
Twin City Model Railroad Museum is located at 668 Transfer Rd, Suite 8 in St. Paul.