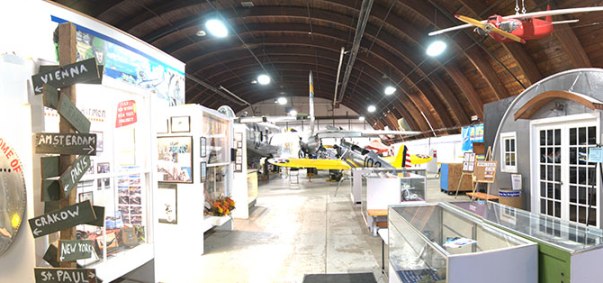 The Commemorative Air Force Hangar and Museum in South St. Paul is open on Wednesdays and Saturdays from 10:00 a.m. – 4:00 p.m. and is free!
Commemorative Air Force Minnesota Wing was formed in 1971. The Minnesota Wing was the very first charter unit of the national headquarters wing of the Commemorative Air Force and operated as a maintenance support arm to help the CAF's mission and its ever growing fleet of rare aircraft.
Now the Commemorative Air Force Minnesota Wing is home to six aircraft, a large motor pool fleet, and a unique collection of World War II artifacts that are on display.
Their hangar and museum are open to the public Wednesdays and Saturdays from 10am-4pm. Admission is free of charge. Donations are always welcome and appreciated when visiting. Visitors will have the opportunity to get close to their rare collection of military aircraft, view museum display cases, and see their motor pool vehicles. You may be able to witness their aircraft fly depending on the day. Living History Flight Experiences can be purchased in their gift shop for a once in a lifetime opportunity to actually fly in one of their rare airplanes. Since their hangar and museum are located at an actual operating airport, something interesting is always happening just outside their hangar door.