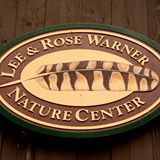 Do you enjoy gardening?  We attempt some sort of garden each year, although this year we are wondering when we will actually see the dirt!  Spring and Summer always come, it's just a matter of when.
I don't use chemicals on my garden and we compost all year.  Usually we end up with a large amount of tomatoes and then anything else that grows is a bonus.  If gardening is something you enjoy or perhaps want to try for the first time, check out the Gardening for Native Pollinators at the Lee & Rose Warner Nature Center.  The informational session coming up on April 21st from 10-11:15, would be a great tool for all of us.  There is a small admission of $5 per person and registration is required.  Call the Nature Center to register.
We are thrilled to host Heather Holm, an award winning author and national speaker, who will teach us during this presentation about native pollinators and how to attract them to our gardens. Heather's publications Bees (2017) and Pollinators of Native Plants (2014), have established her as a resource on the interactions between native bees and native plants.