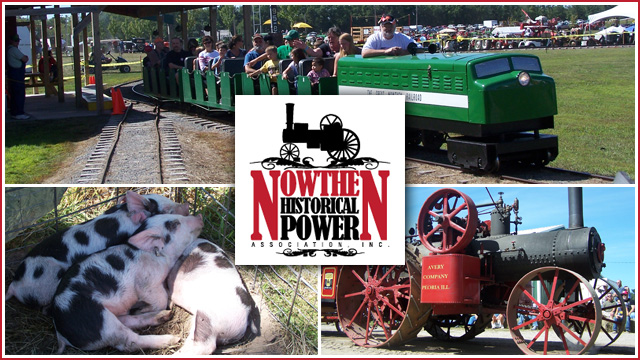 Before you say "I don't want to drive all the way to Nowthen…I don't even know where that is!" – – it's only 45 minutes NW of downtown Minneapolis. Plus it is really close to where I grew up. I remember as a kid basically the only buildings in town were Greenberg Implement and Nowthen Alliance Church where I went to many fun Vacation Bible Schools with our neighbors. But, their big claim to fame is the Nowthen Threshing Show, which runs this year August 16-18. Some "official" details about the show:
Travel back in time at the Nowthen Threshing Show, a 3-day event showcasing the ways of life from 1890 to 1920. The event displays hundreds of rare and historical antique tractors, small engines, steam engines, trucks, cars, implements and tools. You'll be able to see a restored one-room schoolhouse, general store, log house and barn and a historical church. With daily live entertainment, tractor pulls, crafts like spinning, quilting and pottery, a petting zoo and other children's activities, the Nowthen Threshing Show promises fun for all ages.
If you buy your tickets now, you can get them for half price!! Two options include:
$10 for Weekend Admission to the Nowthen Threshing Show (All 3 Days) (Value $20)
$5 for Daily Admission to the Nowthen Threshing Show (1 Day) (Value $10)
Order your discount Nowthen Threshing Show tickets here. Offer runs through 7/21/13, or while supplies last.