Spring is almost here…can you feel it in the air? Show your excitement by jumping up and down…or how about hopping? This Saturday and Sunday we can celebrate spring with Hop Into Spring Weekend at Como Park Zoo & Conservatory.
On Saturday, March 16th and Sunday, March 17th from 10 am – 4 pm each day, Como will be celebrating the wonders of frogs and toads during this special family-friendly environmental education weekend presented by Xcel Energy.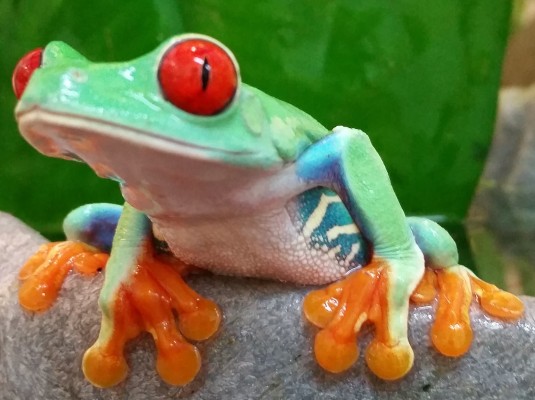 Visitors will be able to create their own fun frog craft, partake in a music station for mimicking Minnesota's amphibian chorus, experience free play for the younger ones on our pond rugs & tree log, enjoy our Noon Story Time featuring the story A Frog In The Bog and check out some interesting, rarely seen frog & toad species at our Amphibian Station. Our friends at Xcel Energy will also be on hand to teach visitors how to save themselves some "green" on their energy bills!

March 16 also marks the opening of the Spring Flower Show in the Marjorie McNeely Conservatory's Sunken Garden. This year's Spring Flower Show will showcase red and yellow tulips, yellow daffodils yellow crocus white hydrangeas, hyacinth, asiatic and calla lilies giving this show a unique aesthetic andwill provide some color therapy to Minnesotans weary of winter.

Daily Schedule
10:30 am – Polar Bear Program at Polar Bear Odyssey
11 am – Zookeeper Talk at Visitor Center Lobby
11:30 am – Gorilla Program at Primate Building
12 pm – Story Time: Frog in a Bog at Visitor Center Lobby
12:30 pm – Snow Leopard Program at Large Cats Building
1 pm – Gardener Talk at Conservatory
2 pm – Gorilla Program at Gorilla Forest
2:30 pm – Polar Bear Program at Polar Bear Odyssey

Como Camera Challenge – look for signs of spring in the Zoo Grounds & Conservatory that show the start of spring – such as buds on the trees, birds singing, bulbs blooming (conservatory), animals shedding, etc – take a picture with your phone or camera – show your love for Spring & Como by posting your photos to Instagram, Twitter & Facebook tagged with #SpringatComo and #MyMMC
Admission is always free at Como Zoo & Conservatory, with a suggested donation of $3 per adult and $2 per child.