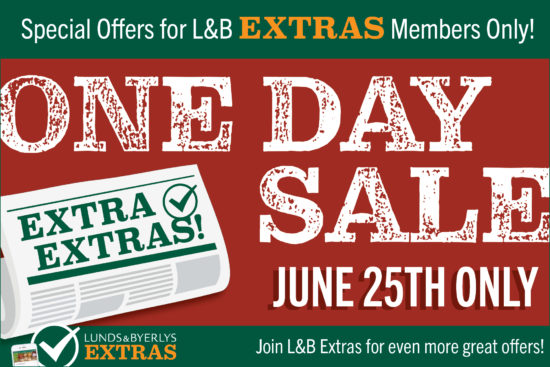 L&B Extras members can save at Lunds & Byerlys next Tuesday, June 25th with a special Extra Extras Sale! If you're not already a L&B Extras member, it's free to join and takes just a minute.
These special deals will be good Tuesday, June 25th only:
$2.99 Fresh 85% Lean Ground Beef
16 oz. | Limit 1
99¢ L&B Dill Pickle Hot Sauce
5 oz. | Limit 1
$1.99 Edy's Ice Cream
1.5 qt | Limit 1
$1.99 Organic Girl Organic Salad Blends       
3.5-7 oz. | Limit 1
19¢/ea. Bicolor Sweet Corn
Limit 6
$1.99/lb. Lunds Original Potato Salad and Byerlys Original Potato Salad
Limit 1 lb.
$3.99/lb. L&B Salad Bar
No limit. Clear salad bar container must be used for redemption.
$3.99 L&B Cookies
13 ct | Limit 1
99¢ L&B Spring Water
15 pk | Limit 1
$9.99 White Claw Hard Seltzer
12 pk | Limit 2
$4.99 Bachman's 5-Stem Sunflower Bouquet
Limit 2

Other L&B Extras deals good all week (through Wednesday, June 26th) include:
Lori Anne Peaches – $1.99/lb.
Buy Hershey's Milk Chocolate Bars (9-12 oz), Get Our Family Marshmallows (10 oz) and Graham Crackers (14.4 oz) FREE – Limit 1 offer per day
L&B Granola (12 oz) – $1.99/lb. (Limit 2 per day)
L&B Cherry Chicken Pasta Salad – $4.99/lb. (Limit 1 lb. per day)