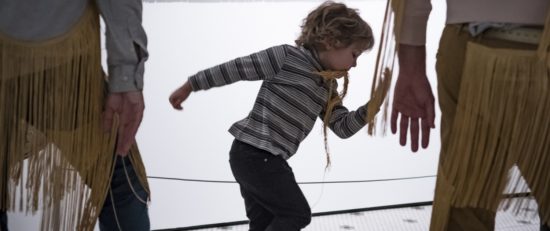 Admission to the Minnesota Museum of American Art in St. Paul (aka "the M") is always free, but this Sunday, May 19th they're offering some extra family fun activities! Enjoy Family Day: New Season, New Creations from 1 – 4 pm.
Join us for a full day of interactive, creative experiences and artist-led activities for all ages!

FLASH TALKS | 2 p.m. & 3 p.m.

Join an M volunteer in the gallery for a bite-sized, 10- to 15 minute chat about the exhibition. All ages welcome. Visitors should gather by the Paul Manship Group of Bears sculpture in the "Alley" Gallery.

ONGOING ALL DAY

Making: Lobby

Sticks-and-Spoons Puppet Creations with Kallie Melvin
All ages
What kind of puppet can you create from sticks and spoons? With just a few simple materials and a little imagination, the possibilities are endless!

Making & Community Building: Wide Open Studio

Zine-Making with Fiona Avocado
Ages 5+ (with help from a reader/writer)
Take inspiration from Craft Horizons Magazine and learn basic paper-folding techniques to create your own mini-zine from a single sheet of paper.

Making: Studio 2

Using Color to Create your Planet with Lizbeth Rosas Real
All ages
Use the coloring page provided to create your planet and all the life that inhabits it. When you are done, hang it on the wall!

Wearable Art
Ages 6+
With a variety of materials at your disposal, we invite you to create your own piece of wearable art inspired by the artworks in the exhibition, The Good Making of Good Things.

Interactive: Rauenhorst Court

Instant Photo Booth with Teen Tech Center
All ages
We'll provide multiple instant cameras and printers. You choose a camera and take a portrait. Each instant camera represents a different time period, and each camera's resulting photos have a different personality. Choose who you want to be through a progression of instant film!

Interactive: Various Locations

Everyday Scenes: Living Room, Dining Room, Kitchen by Women's Woodshop
All ages
Reconfigure thrifted furniture to turn everyday objects into a temporary sculpture of your own creation. Snap a photo and tag us on social media to share what you've made! @mnmuseum & @womenswoodshop
If you miss this Family Day, they're offered three times per year on the third Sunday of January, May, and September from 1 – 4 pm. Suggested donation is $5 per family or group.