Share your love of your home state with this beautiful Minnesota Vintage Canvas Print! Choose from three different sizes of prints, all at the same price – just $3.85!
You'll receive an actual print on lightly embossed woven canvas/linen pattern on thick archival paper shipped to your home – this is not a digital download. All you need to provide is the frame! Choose from three different sizes (6×8, 8×10, or 11×14) and Vintage Aqua, Vintage Grey, Vintage Indigo, or Vintage Mint to match your home's décor.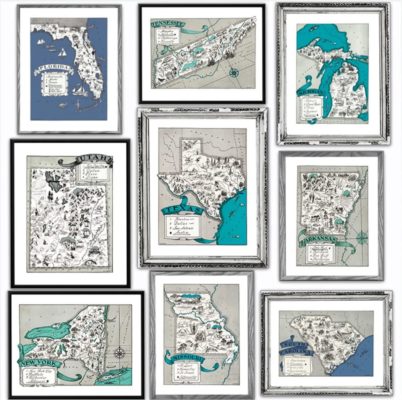 These charming and fun prints are vintage hand-drawn and colored. They depict the topography of the state, a bit of its history, major cities, icons unique to that state, and agricultural and industrial pursuits.
And if you have a friend or family member across state lines (or across the country!), be sure to browse the selection as they have all 50 states available to order!
Shipping is $3.89 on the first item and just $0.79 for each additional item, so consider ordering ahead for wedding gifts, anniversary presents – and Christmas, of course! Head to Jane.com to get started with yours.