This post and the Love Your Cub Contest are sponsored by Cub Foods. Any opinions expressed are my own.
We are getting down to the wire! There are only 10 days left for you to have a chance to "Love Your Cub" Contest. Why should you enter? Because the grand prize winner will receive $4,500 in the form of 100-$45 Cub® gift cards. Besides the grand prize winner, four $45 Cub® gift cards will be awarded at random to fans who share photos or videos. It doesn't take a lot to enter – just snap a picture with your phone and enter it into the contest!
Speaking of loving Cub – techies have more of a reason to love Cub now because they keep finding new ways to go digital. The latest is the Cub Foods Mobile App that lets you manage your My Cub Rewards right on your smartphone. If you don't already know about My Cub Rewards, it lets you:
Save 5c on fuel for every qualifying $50 you spend
Save coupons to your card that you can use in store
Earn 10c off per gallon just for enrolling
You can get yourself the mobile app by searching the app store on your phone, or else download it from the Android Market, Amazon App Store or the Apple App Store.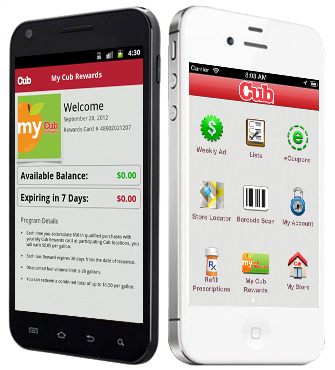 Here are the contest details for the "Love Your Cub" Contest:
1. Visit the Cub® page on Facebook (https://www.facebook.com/Cub).
2. Click on the button to "Like" Cub's Facebook Page.
3. Click on the "Love Your Cub" contest app on the Facebook platform by clicking on the link to the Contest page.
4. Enter the Contest by completing the entry form and uploading a video ("Video") or photo ("Photo") and description ("Description").
5. Check the box indicating your agreement to these Official Rules, and then click on the button to submit your entry.
6. Get your friends to vote every day through September 29th
7. Top 10 entries will be eligible for the grand prize and be chosen by a panel of judges including shopping experts, creative directors and employees of Cub.
Limit one (1) entry per person / Facebook account.
NO PURCHASE NECESSARY TO ENTER OR WIN. ENTRANTS MUST BE LEGAL RESIDENTS OF MINNESOTA OR ILLINOIS AND 18 YEARS OF AGE OR OLDER AT THE TIME OF ENTRY.
JUDGES VOTING CRITERIA:
50% Weight – Photo or Video Content and Visual Appeal (Photo quality, clarity and design; conveyance of "Show Your Love" idea and/or personality shown by entrant; overall aesthetic appeal of photo.)
25% Weight –Show Your Love/Concept (Appeal of idea to other customers; uniqueness, amusement or intrigue of idea; applicability of concept to overall Cub® ® brand. )
25% Weight – Description – Concise expression of idea in 140 characters or less