Ok. I think this is a great deal this week! Cub Foods has lots of Pillsbury canned products on sale for only $1 each with their 10 for $10 sale! (Note, you don't HAVE to buy all 10 to get the deal. They ring up at $1 each even if you buy less.) Included in the sale are Grands Biscuits, Cinnamon Rolls and Crescent Rolls.
BUT, you can make this deal even BETTER with this printable coupon to save $1 when you buy 3 cans of Pillsbury Grands biscuits! (You should be able to print this coupon twice.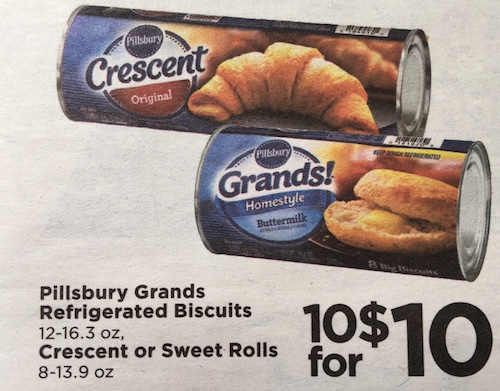 I love to use the canned biscuits and crescent rolls to make quick and easy meals. You can wrap up just about anything – cold cuts, leftover meat, hot dogs – in a biscuit or crescent roll to make a quick and easy dinner. Here are a few recipe ideas to help you use all your $1 Pillsbury cans!

Recipes Using Canned Biscuits or Crescent Rolls

Baked Turkey Meatball Braided Sandwich Recipe
Easy Breakfast Scramble
Corned Beef and Cabbage Bites
Veggie Pizza
Cuban Sandwich Bites
Easy Pigs in a Blanket
Garlic Cheese Bombs
Artichoke and Spinach Chicken Roll-Ups
Reese's Pieces Roll-Ups Dessert