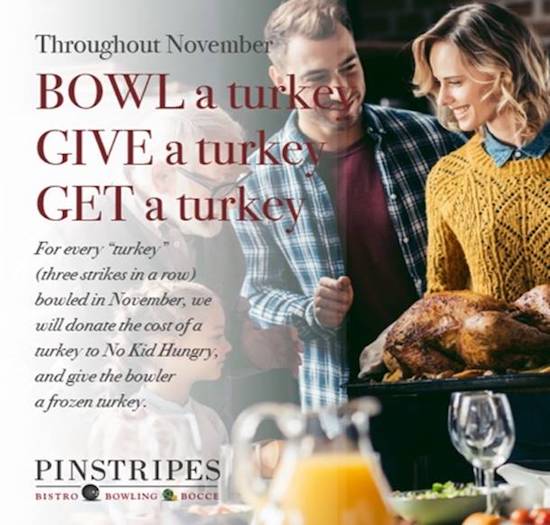 Have you been to Pinstripes Edina? They have amazing food and a fun atmosphere where you can both bowl and play bocce!
This month they are hosting their annual Bowl A Turkey, Give A Turkey, Get A Turkey promotion to help raise money and awareness for No Kid Hungry and its mission to end childhood hunger. As the holiday season approaches, Pinstripes invites you to visit and enjoy a fun-filled game of bowling to help ensure our local community has a wonderful Thanksgiving. If you bowl a turkey (three strikes in a row), you win a turkey, and a donation equivalent to a turkey will be given to our local No Kid Hungry chapter.
No Kid Hungry works to ensure that every child in the U.S. has access to healthy food in the community where they live, where they learn, and where they play.
Pinstripes Edina will be open for Thanksgiving, closing at 5 p.m. Gather and celebrate the holiday with family and friends while enjoying Pinstripes' made-from-scratch creations.
To learn more about your local No Kid Hungry chapter, visit www.nokidhungry.org. To make a reservation for Thanksgiving, call 952-835-6440.