The Science Museum of Minnesota is kicking off its annual Science Fusion series this Saturday! At this four-part series, families can connect with the diverse community of scientific professionals from the Twin Cities through science experiments and activities.
Plus, you'll get four free kids admissions (ages 17 and under) with each full-priced adult admission. Their website states that you can purchase tickets by calling 651.221.9444, but I'm pretty sure that you can also just purchase tickets at the box office once you get there. Regular admission is $18.95/adult, and those with limited income may qualify for $3/adult admission with proper documentation.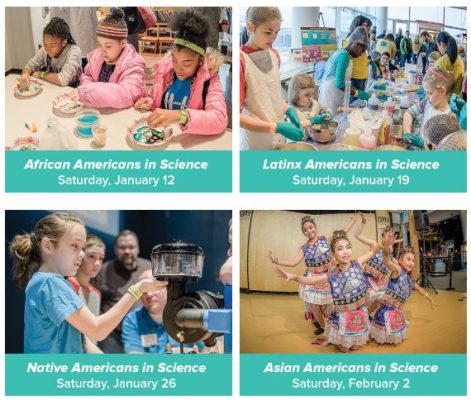 Dates and topics are as follows:
Saturday, January 12: African Americans in Science
Saturday, January 19: Latinx Americans in Science
Saturday, January 26: Native Americans in Science
Saturday, February 2: Asian Americans in Science
Each event runs from 12 – 4 pm. They do have a parking ramp available (cost is around $10 for as long as you'll be there, most likely), otherwise Metro Transit serves downtown St. Paul and the Science Museum, too.