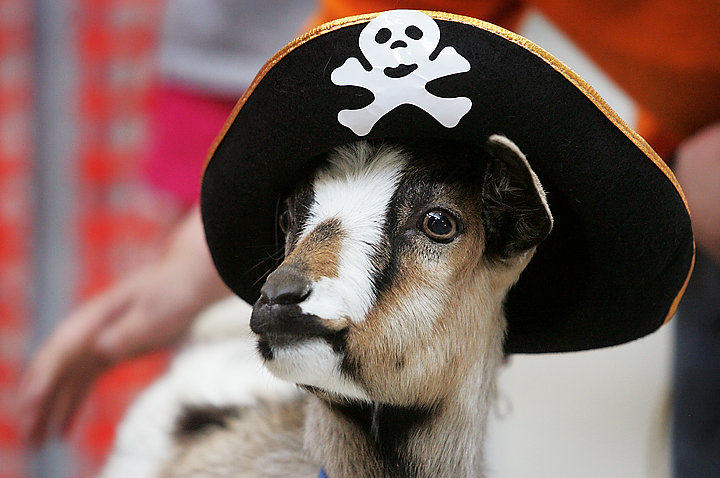 Have you ever seen a goat dressed up in costume?  No?  Well, now you have an opportunity to see them dressed up and having fun!
The Spooktacular Goat Open House takes place Saturday October 17th from 4-7pm.  Hilltop Acres goat farm is located south of the twin cities near Dundas.
This year they have teamed up with Snediker Farms to put on the Fall Festival. That means 2 Farms, 2 times the fun!
Just like in years past and even more so this year, Hilltop Acres does ask that you register in advance.  The  admission price is the same as previous, $5 a person.
About The Spooktacular Goat Open House:
3rd Annual Fall Festival – 2 farms joined together to make this 2 times more fun! Come check out Hilltop Acres and Snediker Farms. $5.00 per person. Pumpkins patch available for kids to pick a pumpkin (1 per child), Learn, pet and play with goats, sheep, bunnies, ducks, chickens, and farm cats. Crafts for kids to do, A haunted walk in the woods, Hang at the campfire with Mr. Bones and Spooks and their pets, Photo spots and photographer on site and pictures will be available for purchase! There will be vendor items on site – Hand built woodworking, Signs, Goat milk soap, Magnetic Jewelry, Tee-Shirts, Rope baskets, Custom pot holders and Kitched towels, Bath bombs, Animal bandana's, Hair scrunchies, Hand knitted hats, scarfs & more!
This is a great opportunity to see the animals if your a city person that can not have them or if you are interested in getting some and want more information!
Snacks and refreshments will be provided! Port-a-Potty on site.
Must R.S.V.P for entry –  $5.00 per person for entry. Submit RSVP and Please wait for an email on how to submit payment for the Fall Festival.