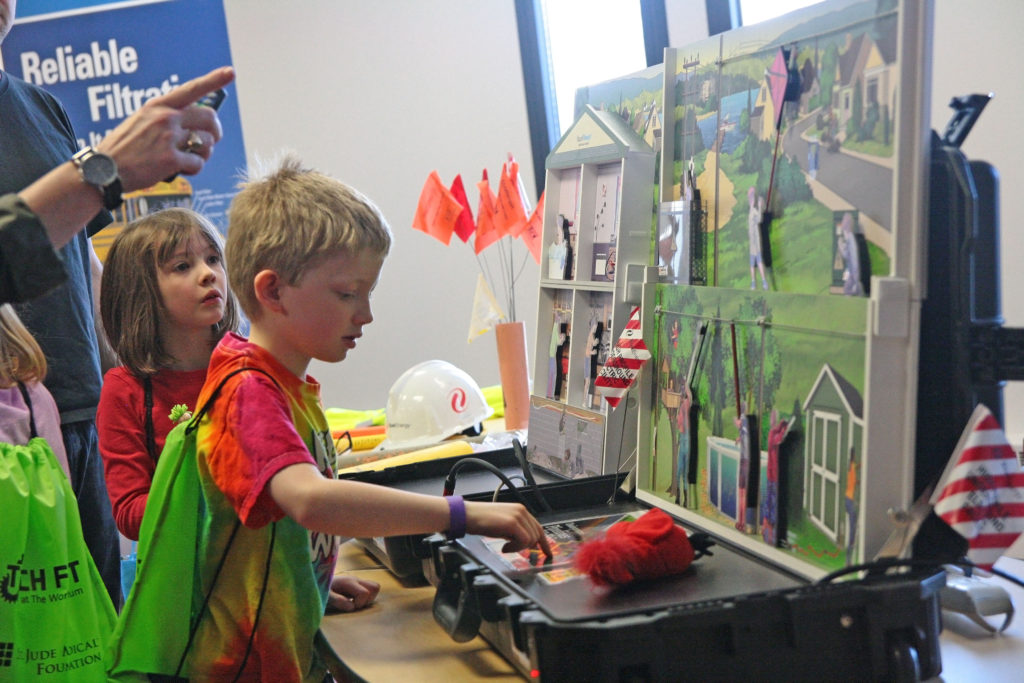 If you've never been to the Works Museum, next Saturday would be a great time to go. If you HAVE been to the Works Museum then you know how fun it is.  It's one our favorite places to go for indoor fun.  They have so many great hands-on learning stations and activities and it's the type of place where adults can have just as much fun as the kids.
Saturday February 9th, is Tech Fest  – A Family Engineering & Technology Fair.  It's officially their biggest Tech Fest ever with 24 presenters, including a full-sized solar car from the U of M's racing team!  Hours are from 9-4. If you pre-register in advance, there's a discount on admission.  ** The family membership is an awesome deal if you live close enough. With just a couple of visits it pays for itself.
Chemistry, cars, and catapults at the 15th annual Tech Fest

Hours of fun await families at The Works Museum's 15th annual Tech Fest. With kid-friendly
demos and activities exploring medical technology, virtual reality, drones, solar cars, catapults,
chemistry, and more.

Tech Fest lets families experience engineering and technology together.

"Kids and adults alike love the hands-on experiences at Tech Fest and enjoy exploring the
many ways engineering impacts our world," says Jill Measells, CEO of The Works Museum.
Engineering is everywhere – from our morning toothpaste to the lights we turn off at night, and
everywhere in between. At Tech Fest, families learn about engineering in a fun, tangible way."
"With more than twenty presenting organizations hosting dozens of activities, and prize
drawings all day long, this year's Tech Fest will be amazing," says Sam Keyes, the event's
planner. "Kids won't even notice they're learning. They'll just know they're having fun!"

What: Tech Fest, The Works Museum's annual family event celebrating engineering.
When: Saturday, February 9, 9 a.m. – 4 p.m.
Where: The Works Museum, 9740 Grand Ave S., Bloomington, MN, 55420
Cost: $9 pre-registered (through 2/7/19); $12 at the door. Free for members.

ABOUT THE WORKS MUSEUM. The Works Museum is all about hands-on engineering for kids.
We serve over 80,000 children, families, and educators annually. Our mission is to inspire the
next generation of innovators, engineers, and creative problem-solvers. For regular hours and
admission, membership, and camp information, visit www.theworks.org.