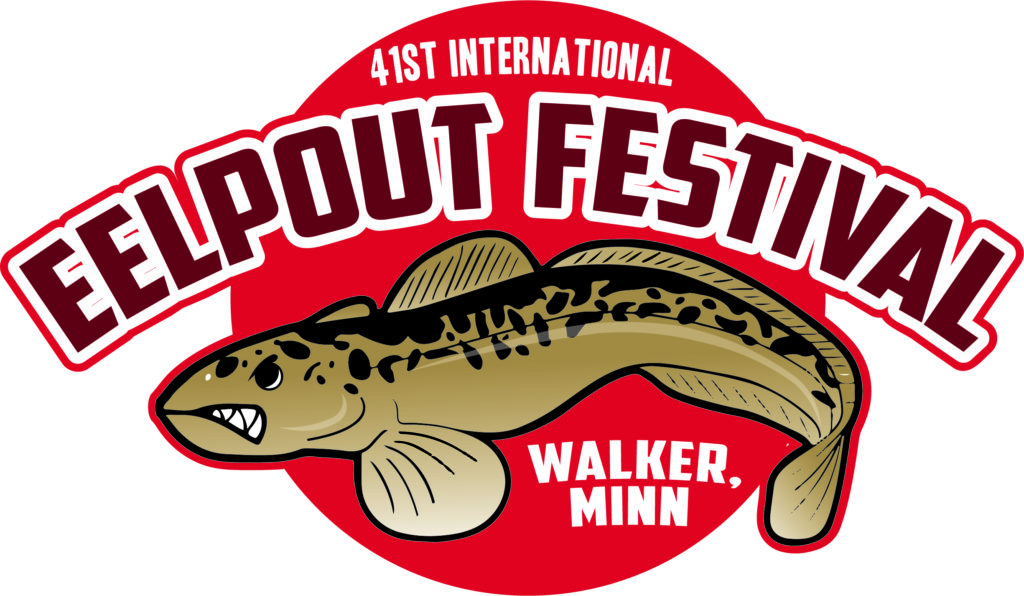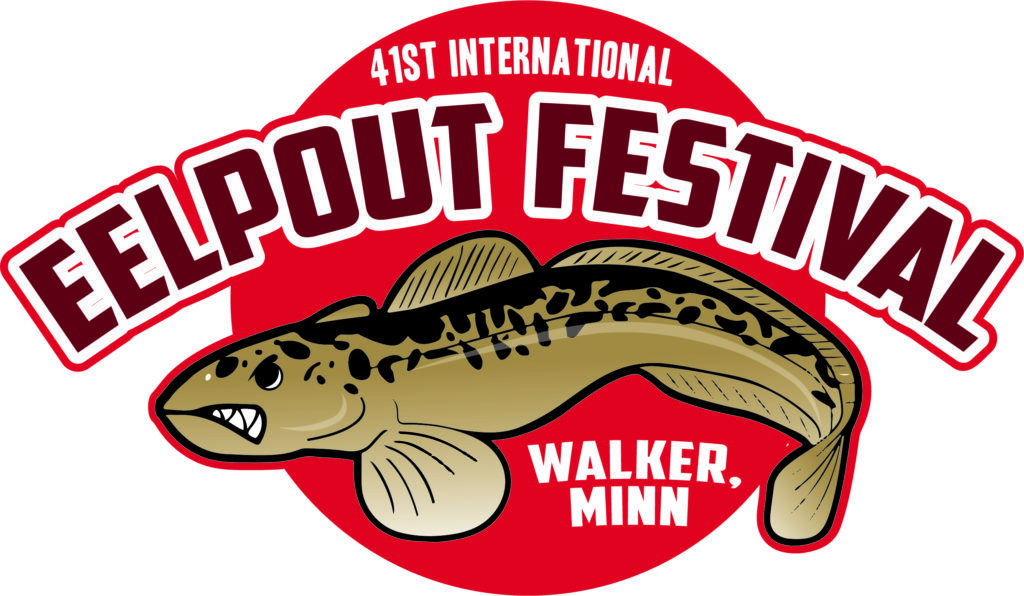 UPDATE for 2020: Unfortunately, the 41st annual Eelpout Festival has been canceled. An impasse between the County and the festival means the festival will not be happening for 2020. 
Details from the Eelpout Festival home page: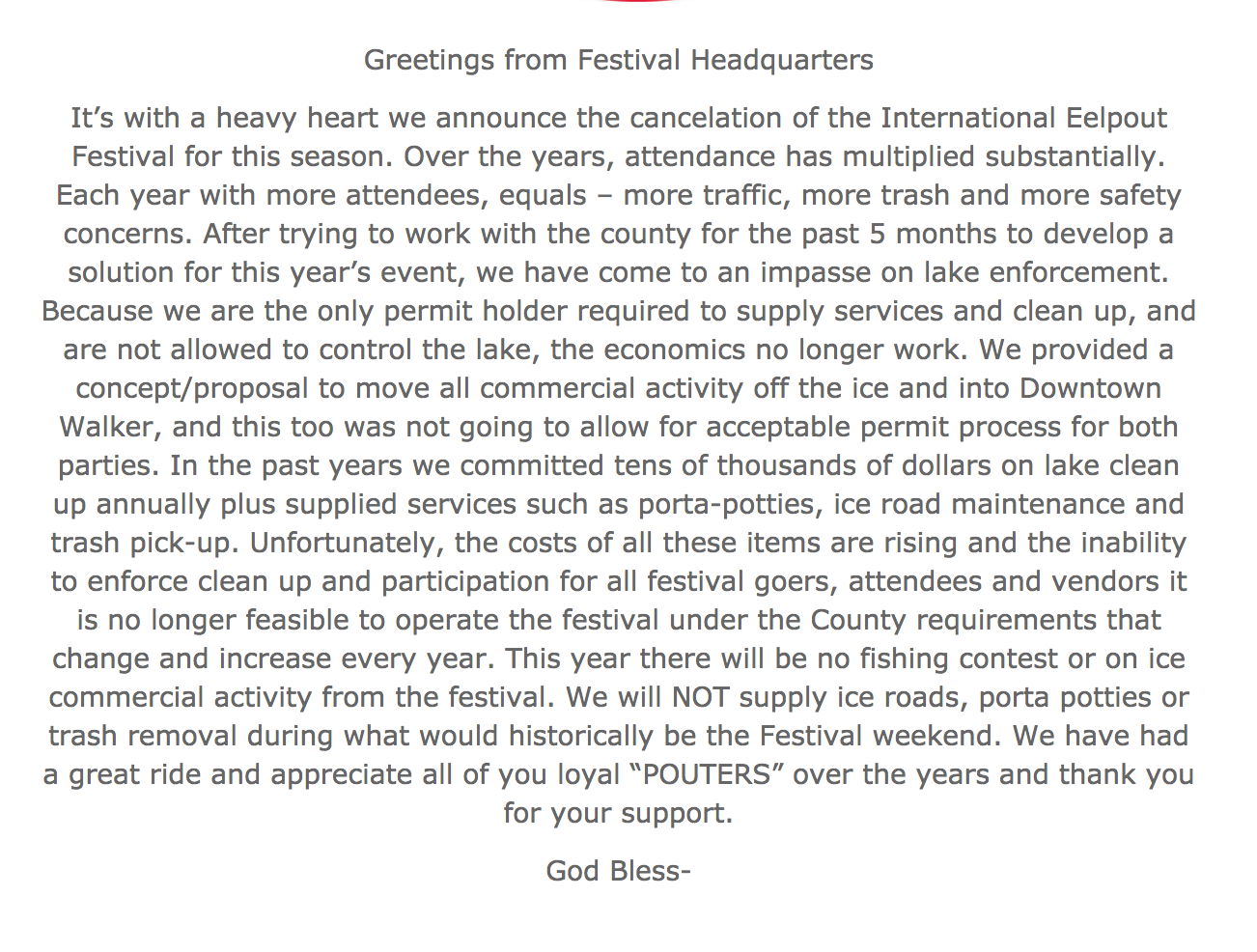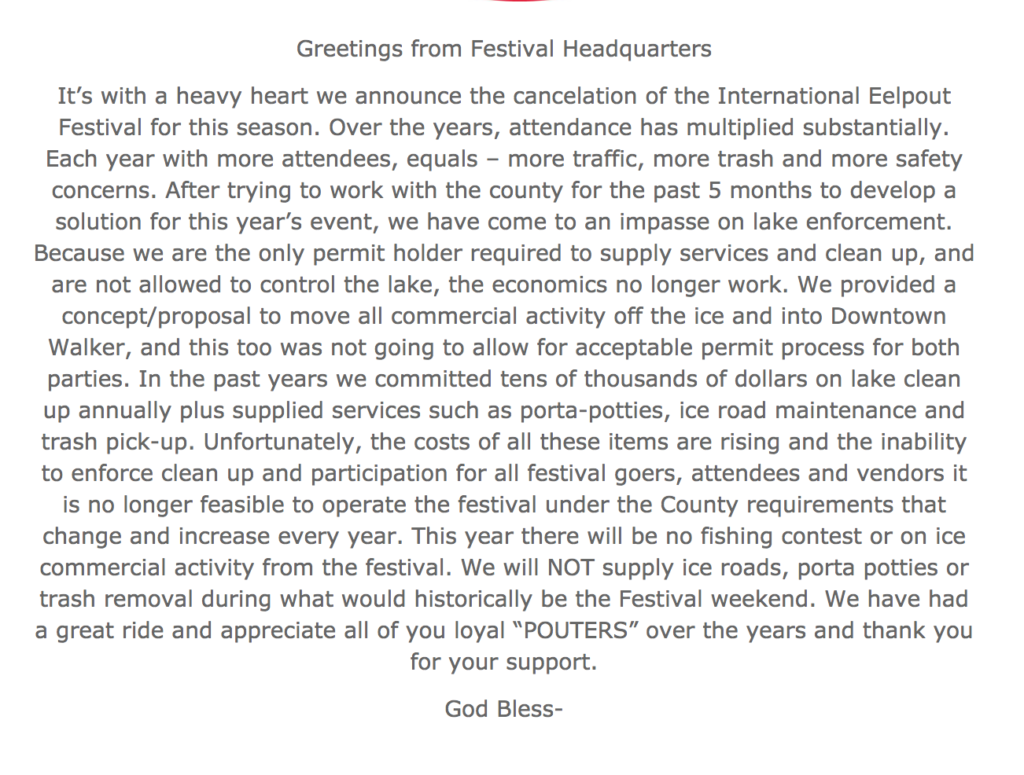 – – – – – – – – – – – –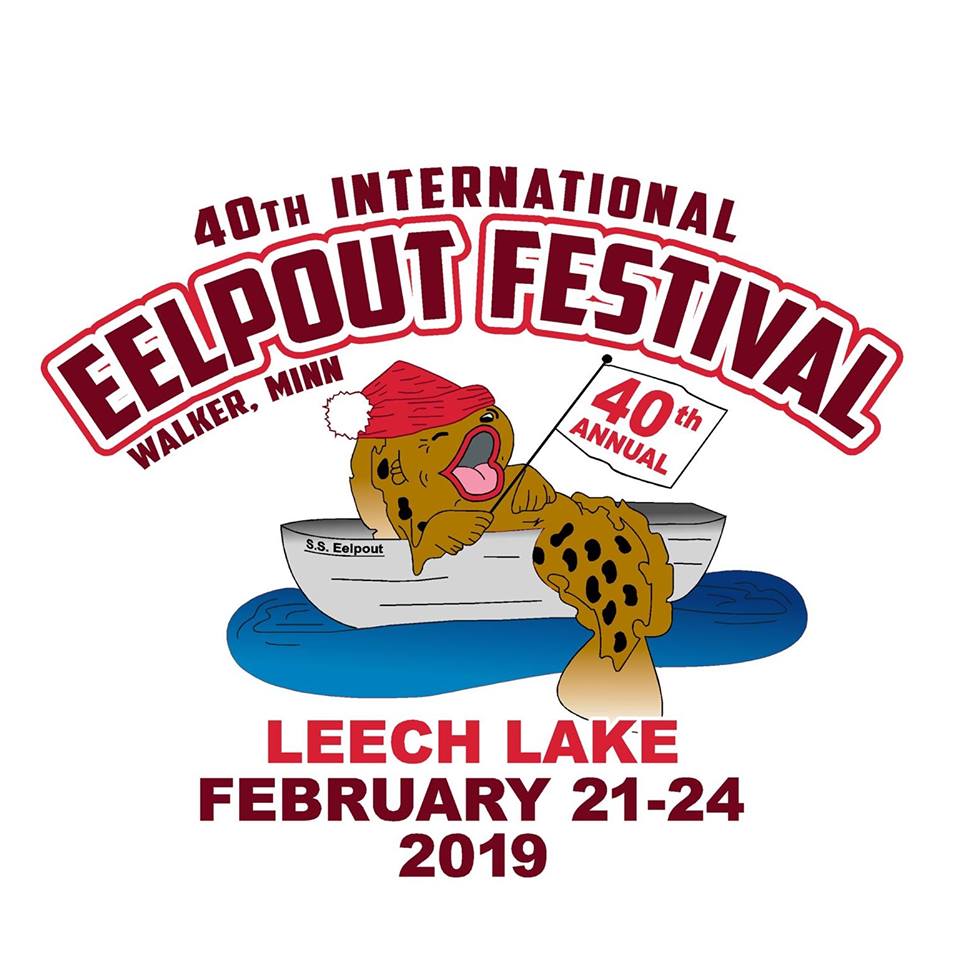 It's A Milestone! 40 Years of Kissing the Pout! Yes, make plans to attend the 40th annual Eelpout Festival in Walker next week.  The opening ceremony takes place on Thursday, February 21st and you won't believe all the fun that will follow! 
The Vortex is behind us and this fun festival is a great way to celebrate Minnesota Winter. You can choose to be a spectator or join in the fun.  Something for everyone can be found at the Eelpout Festival!  Information about the festival button can be found here.  
All activities for the 40th Annual International Eelpout Festival are in one convenient location! Join us in front of The Chase on the Lake … in the tent or on the ice you'll find one of a kind "Chase the Pout" events including:

Opening Ceremonies (Thursday starting at 6pm): Live music w/Corey Medina in The 502 and Pre-Pout Kick-Off Party in the Chase Big Top Tent.
7th Annual

Eelpout

Beer Pong (Qualifiers – Friday, Championship – Saturday; 3pm – 7pm both days): A

Festival

favorite! $40 gets your 2-person team into this bracket-style/single elimination contest happening inside the Chase Big Top Tent. Prizes include cash,

Eelpout

Trophy and merch. For more information and to register, go to: www.eelpoutbeerpong.com
Pout Curling (Saturday 11am- 2pm): Patrons can throw "The

Eelpout

Rock" and try "sweeping" to victory. Walker's local curling club facilitates the "stone-pout" throws and button landings. Pout Curling is located behind the Chase Big Top Tent.
Chainsaw Carving (Saturday starting at 10am)
Dog Sled Rides (Saturday 10am- Dark): Experience a K-9 led tour of the grounds … and so mush more starting in front of the Walker Marina.
Helicopter Rides (Saturday): Located by City Park

Eelpout

Weigh In: This unique "cultural submersion" operates daily, capped with an awards ceremony on (Sunday 9am-10am) in front of The Chase big Top Tent and includes thousands of dollars in prizes for the most pout pounds.
6th Annual Kids Perch Jerk (Saturday Noon-1pm): Savings bonds will be awarded to three biggest perch caught. Holes will be drilled for the kids. Parents, just bring poles and bait.
Polar Pout Kart Races (Saturday 11am-2pm): Lake next to Chase Big Top Tent with trophies and cash prizes!
Human Whack-A-Mole (Saturday 11am-2pm): Chase Big Top Tent.

Annual must-see and must-try Eelpout traditions:

Kissing the Pouton the lips is a long-held Minnesota tradition … Not for the faint of heart, but legend says it will provide good luck for the entire year!
Sip an ice-cold drink at the 50,000 lb Jameson Irish Whiskey ice bar built (literally) on the lake!
Enjoy the

Eelpout

Fish Fry including REAL

eelpout

nuggets.
Arguably the biggest attraction of the

Festival

is the ever-growing city of lake encampments (some built from scratch).  Tour and immerse yourself in a culture simply too unique to explain to those who "haven't been" … For example, ever ridden an Ice-Couch Land Cruiser!?