I'm totally ready to time travel back to the 1970s and watch TROOP ZERO starring Viola Davis, McKenna Grace, Jim Gaffigan, Mike Epps and Allison Janney. It looks like a whole lot of fun and will be coming to Amazon Friday, but you and your family have a chance to see it on the BIG screen at the Omnitheater – Science Museum of Minnesota PLUS hear from some of the actors themselves during a live Q&A session after the film! Keep reading for your passes.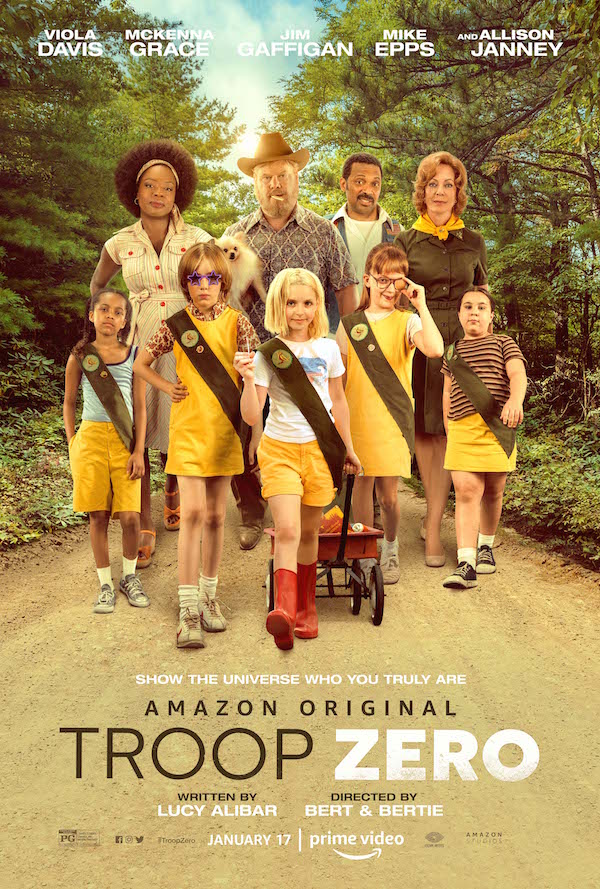 If you haven't yet seen the Troop Zero trailer, see it here:
About Troop Zero:
In a tiny Georgia town in 1977, a motherless girl dreams of life beyond the confines of her trailer-park home in Troop Zero. When her quest for connection leads her to reach for the stars in a competition to be included on NASA's landmark Golden Record, it becomes clear she will have to depend on some new friends to take her the last mile.
Every night, Christmas Flint (Mckenna Grace) sits under a starry sky with a flashlight, signaling to extraterrestrial visitors that never arrive. Sensitive, imaginative and deeply lonely, Christmas and her equally eccentric best friend Joseph are the ultimate misfits in their rural hometown of Wiggly, Georgia. When Christmas learns that the winners of the annual Birdie Scout Jamboree talent contest will be included on a recording to be sent into space for posterity, her mission in life becomes to join the Scouts and win Jamboree.
When she is blackballed by the snobbish local Birdie Scout troop and their uptight leader Miss Massey (Allison Janney), Christmas rallies a group of elementary-school outliers to start their own chapter. With grudging help from her dad's irascible office manager, Miss Rayleen (Viola Davis), Christmas and her crew have to bypass every roadblock Miss Massey can find in the fine print of the Birdie bylaws in order to reach the Jamboree and their chance at immortality.
From Christmas' solitary late-night vigils to a final show-stopping musical performance, Troop Zero is an endearing and magical tale set against a backdrop of beloved hits of the '70s, as Christmas forges friendships that will change her life and help her find a real family.
Troop Zero Screening with Actors Q&A:
You're invited to a special TROOP ZERO advance screening, Wednesday, January 22 at 6:30PM at the Omnitheater – Science Museum of Minnesota. The screening will be followed by a Q&A session and meet-and-greet with some of the child actors (Charlie Shotwell and Milan Ray) appearing in the film. Click here for a family 4-pack pass (one pass admits 4 people). We only have a limited number of passes for this special screening, so please only request it if you will be attending!