In case you missed the passes for the other advance screening, you have another chance, this time at Showplace ICON.
So, they might be called UglyDolls, but the UGLYDOLLS movie looks SO CUTE! Actually, if you ask me, UglyDolls are darn right adorable! The movie is coming to theaters on May 3, but you and your family have a chance to see it EARLY with an advanced screening. Keep reading to get your passes.
Have you see the UGLYDOLLS move trailer yet? If not, check it out:
Hasbro Uglydolls Feature Sounds Moxy, Stuffed Plush

UglyDolls: The Movie Novel

UglyDolls Ugly Row T-shirt

Ugly Dolls Original Motion Picture Soundtrack

Uglydoll OX Ceramic Cookie Jar

Uglydoll Big Toe Drawstring Bag

In the adorably different town of Uglyville, weirdness is celebrated, strangeness is special and beauty is embraced as more than meets the eye. After traveling to the other side of a mountain, Moxy and her UglyDoll friends discover Perfection — a town where more conventional dolls receive training before entering the real world to find the love of a child. Soon, the UglyDolls learn what it means to be different — ultimately realizing that they don't have to be perfect to be amazing.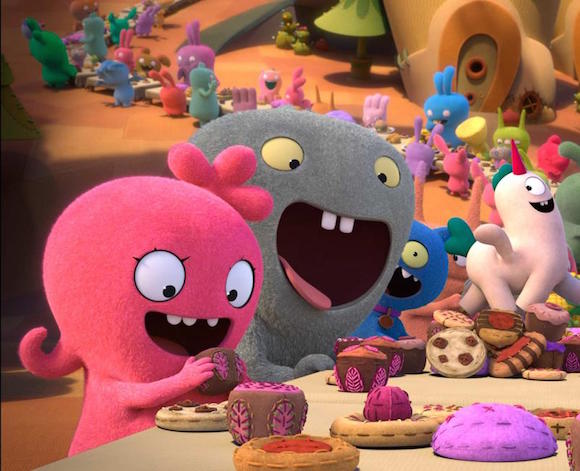 UGLYDOLLS Advance Screening Passes:
You and your family are invited to an advanced screening of UGLYDOLLS on Wednesday, April 24 at 7pm at Showplace ICON. To download a family-four pack of passes click on the link below (while supplies last). Seating is based on first come, first served. It is recommended to arrive early. Get your passes HERE: https://stxtickets.com/wRVki56271
Want early notification of upcoming advance screenings? Follow our Facebook page, Twitter and Instagram and sign up for our e-mail updates!