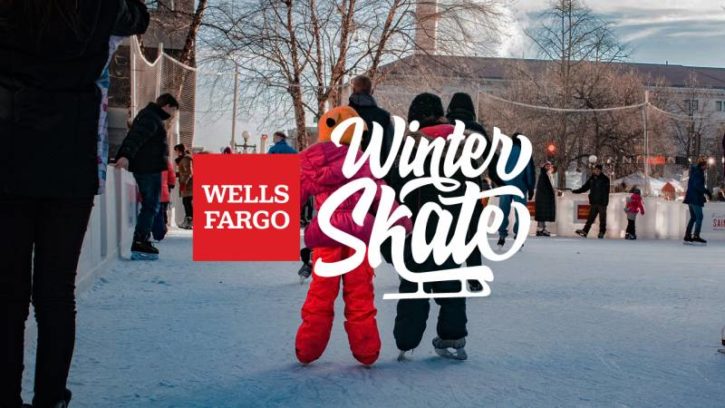 Wells Fargo WinterSkate
Ice skating is just one of those things you have to try if you haven't. We are in Minnesota, after all – Land of 10,000 (plus!) Lakes! A great place to go ice skating is the Wells Fargo WinterSkate which opens this Friday, December 6th.
Wells Fargo WinterSkate is a free, outdoor, artificially-chilled ice skating rink. This year it moves from Landmark Center to the playing surface at CHS Field (the home of the St. Paul Saints). Note that it's only open through February 22nd, 2020.
Open Skate Hours:
Monday – Thursday: 11 am – 5 pm
Friday – Saturday: 11 am – 10 pm
Sunday: 11 am – 5 pm
Holiday Hours: 
Christmas Eve: 10 am – 3 pm
Christmas Day: CLOSED
New Year's Eve: 11 am – 5 pm
New Year's Day: CLOSED
Free Skating Lessons:
Free 30-minute skating lessons with professional skating instructors will be offered from noon – 1 pm on six Saturdays throughout the season: Dec. 7, Dec. 14, Jan. 11, Jan. 18, Jan. 25 and Feb 1. Lessons are appropriate for all ages.
Cost & Skate Rental:
Access to the rink is totally free! Those without skates can rent a pair in the visitors' clubhouse for $5 or free for Wells Fargo debit or credit card holders (one rental per card).
Securian SuperSlide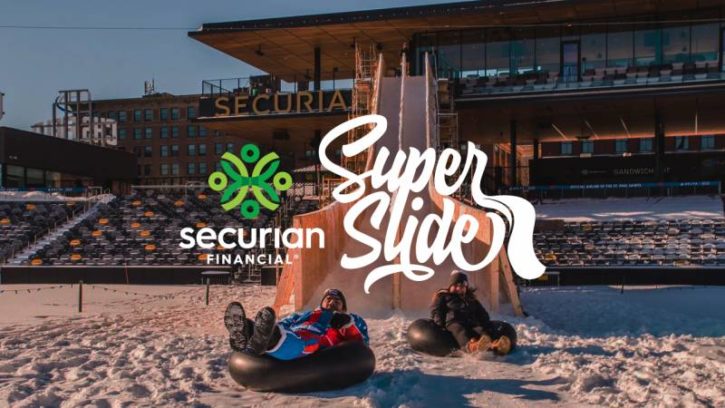 CHS Field will also be home to the Securian SuperSlide with 130 feet of snow-packed excitement! The twin-track begins 40 feet above the field and plunges innertube riders downward over the seating bowl as they "slide" in toward second base.
Tickets are $10 for adults and $7 for children under 12 for unlimited slides during a one-hour time slot. More information HERE.
SuperSlide Hours:
Thursday-Friday: 5 – 10 pm
Saturday: 11 am – 10 pm
Sunday: 11 am – 8 pm
Holiday Hours:
Monday, Dec. 23: 11 am – 10 pm
Christmas Eve: 10 am – 3 pm
Christmas Day: CLOSED
Thursday, Dec. 26 & Friday, Dec. 27: 11 am – 10 pm
Monday, Dec. 30: 11 am – 10 pm
New Year's Eve: 11 am – 5 pm
New Year's Day: CLOSED
Thursday, Jan. 2 & Friday, Jan. 3: 11 am – 10 pm
Monday, Jan. 20 (President's Day): 11 am – 8 pm