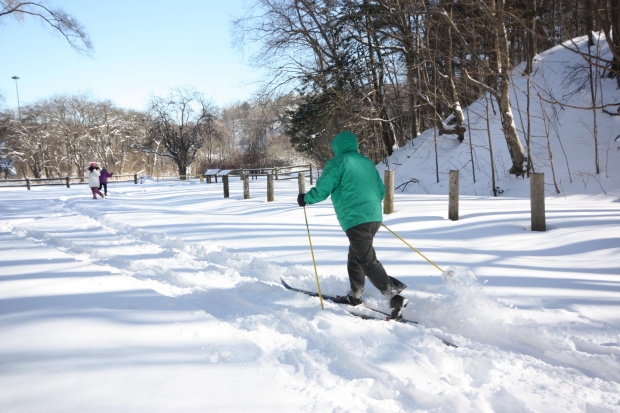 The annual Winter Trails Day at Fort Snelling State Park takes place Saturday, January 11th. You can participate in several fun winter activities or watch others.  All the fun happens from 11-4.  No registration required and no fees, aside from entrance into the state park. If you don't have the state park sticker, it's $7 for the day or $35 for the year
All equipment will be provided, with outdoor enthusiasts on hand for demonstrations and assistance.
Make sure to take a break and enjoy a cup of complimentary hot coco in between activities and stop by The Weenie Wagon for some snacks and hot drinks (including gluten free / vegan / vegetarian options).
It's recommended to dress for the weather and bringing a water bottle! Even in cold weather it's important to stay hydrated. Dogs are welcome and must be on a leash no longer than 6 feet and under control at all times. Please pick up after your pets 🙂

The outdoor fun will include: 
ice-fishing
cross-country skiing
snowshoeing
fat tire biking
kayak racing
winter hiking
archery
camp games
and (s')more
Important to note that the event is happening snow or shine, so bundle up and join us for this great Minnesota winter get together.  You might have to get out the wool socks or maybe just an extra layer or two!