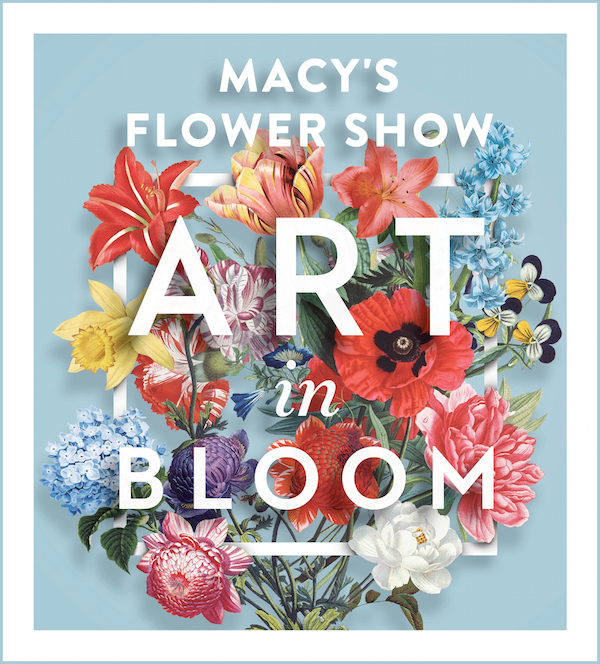 Have you had a chance yet to visit this year's Macy's Flower Show at Macy's Downtown Minneapolis 8th Floor Auditorium? If not, what are you waiting for? The event is free, open to the public and not to be missed. This year's theme, Art in Bloom, combines flowers and art to make a masterpiece. Here are 12 fun facts about the show:
• The 2015 Macy's Flower Show features 11 art-inspired gardens in the 8th Floor Auditorium of Macy's Downtown Minneapolis, each taking inspiration from art genres of the past.
• For more than 50 years Bachman's has been a partner of Macy's Flower Show®.
• Approximately 24 truckloads of plants and flowers comprise the Flower Show's palette which total nearly 100 varieties and several thousand plants. Some of the varieties are hardy to the Twin Cities climate.
• Michelangelo's 'David' gets a modern makeover this year. Standing over 10 feet tall, this year's centerpiece will sport an array of ever-changing projections of floral and geometric patterns.
• Plants featured in the show named after artists include Picasso's Paintbrush Croton, Picasso's Red Cordyline, and da Vinci's Mona Lisa Lipstick Vine.
• Construction begins in January and requires 3,000 hours of labor to complete with the support of more than 40 locally based artists, florists, landscapers, carpenters, visual specialists and electricians.
• It takes 9 days to plant the full Flower Show display and 4 days to remove it.
• More than 180 cubic yards of soil is moved into the Auditorium to create 4,000 square feet of landscape.
• Some flowers, including Amaryllis, Daffodils, Hyacinths and Tulips are replaced half way through the show to keep it looking fresh and vibrant.
• In order to keep the gardens fresh, the average temperature in the show is maintained at a cool consistent 65 degrees.
• Each year, more than 65,000 people come to view the Flower Show during its 2-week run.
• The soundtrack for the show is custom-made locally in the Twin Cities and is used at all 5 flower shows across the United States.
When: March 22-April 4, 2015 Where: 700 Nicollet Mall, Minneapolis Tickets: Free More Info: Macys.com