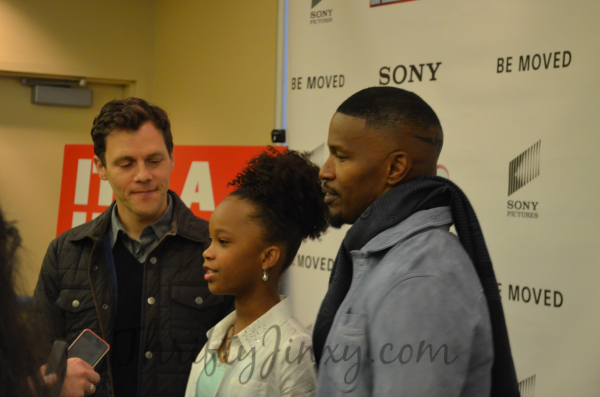 Last night, Jamie Foxx made a visit to the Theaters at Mall of America in Bloomington for a special screening of his upcoming movie ANNIE. The screening attendees included members of Big Brothers, Big Sisters of the Great Twin Cities and was kicked off by a surprise introduction by Jamie, as well as his co-star Quvenzhané Wallis (Academy Award® nominee for Beasts of the Southern Wild) and producer Will Gluck. Very exciting! Visit our parent site, ThriftyJinxy.com, in the coming days for highlights from our interview with Jamie, Quvenzhané and Will.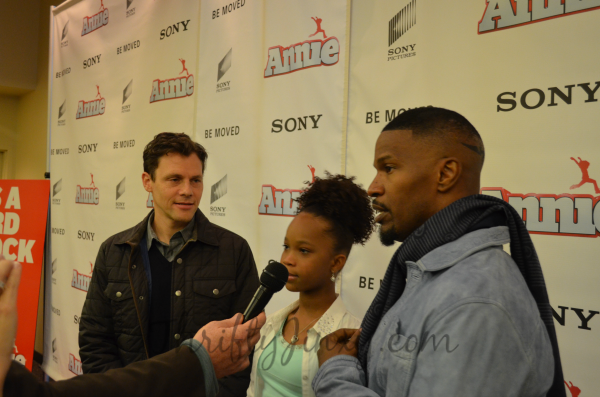 Academy Award® nominee Quvenzhané Wallis (Beasts of the Southern Wild) stars as Annie, a young, happy foster kid who's also tough enough to make her way on the streets of New York in 2014. Originally left by her parents as a baby with the promise that they'd be back for her someday, it's been a hard knock life ever since with her mean foster mom Miss Hannigan (Cameron Diaz). But everything's about to change when the hard-nosed tycoon and New York mayoral candidate Will Stacks (Jamie Foxx) – advised by his brilliant VP, Grace (Rose Byrne) and his shrewd and scheming campaign advisor, Guy (Bobby Cannavale) – makes a thinly-veiled campaign move and takes her in. Stacks believes he's her guardian angel, but Annie's self-assured nature and bright, sun-will-come-out-tomorrow outlook on life just might mean it's the other way around.
ANNIE will be released on December 19th 2014.