Ever since Great Wolf Lodge arrived here locally, people have been wishing for the ability to use the waterpark just for the day, without an overnight stay, and now you can! Great Wolf Lodge Day passes are now available for purchase.
Day passes are available at Great Wolf Lodge locations nationwide, including here at the Minneapolis / Bloomington location. This new option gives you the opportunity to experience the Great Wolf Lodge waterpark without planning a hotel stay, whether you want to stay for the whole day or just a few hours.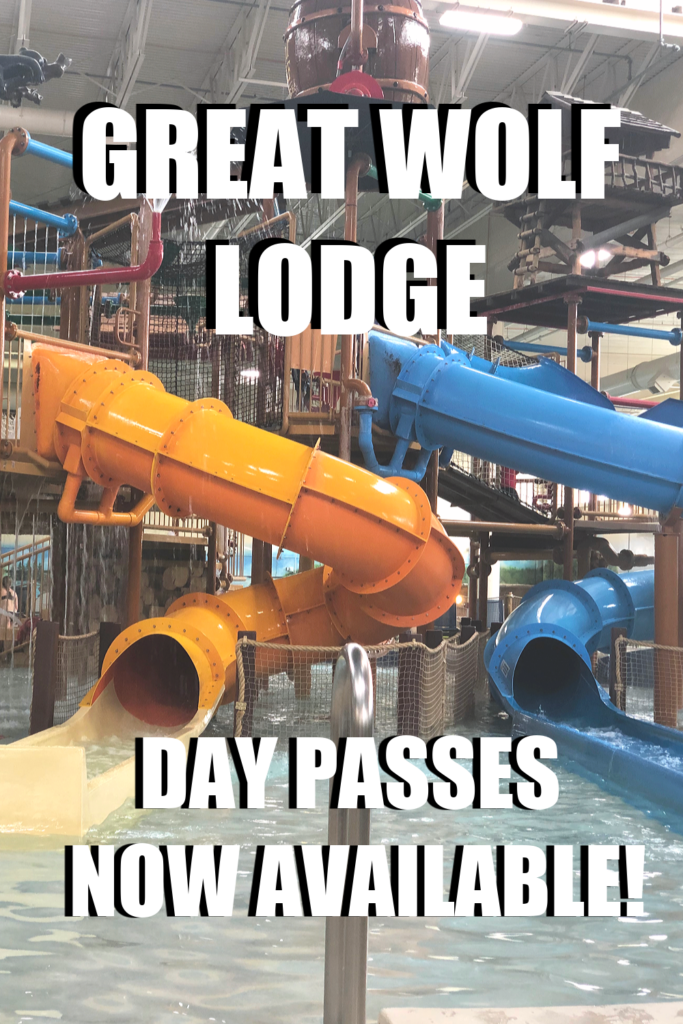 We visited Great Wolf Lodge this week to experience a waterpark day pass and had a great time! Since it was a weekday the park was very uncrowded and we never had to wait for a slide. That being said, we still prefer visiting the waterpark as part of an overnight stay at the lodge. The convenience of being able to go back to your room throughout the day is a big bonus.
Not to mention, if you have several members in your family, the cost of an overnight stay may be the same as buying day passes, plus you get to use the waterpark for TWO days – both on the day of your arrival AND the day of your departure! That makes an overnight stay very worthwhile. Find the latest Great Wolf Lodge overnight stay deals here.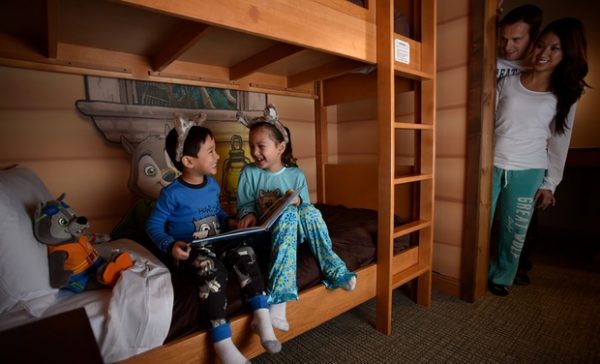 Great Wolf Lodge Day Passes need to be booked at least one day in advance. The number of waterpark day passes offered each day is monitored to ensure the number of visitors remains at an enjoyable and safe level. The quantity of waterpark day passes available on a given day is based on the projected number of rooms occupied at the resort on that particular day.
How Much Does the Great Wolf Lodge Day Pass Cost?
Pass prices start at $50 per person and are based on the day you choose. Kids under 2-years-old are free.
Your Great Wolf Lodge Day Pass includes:
All-day fun at the 84-degree indoor water park
Free life jackets for all the family

How to Buy a Great Wolf Lodge Day Pass:
Waterpark day passes must be purchased at least a day in advance of your visit.  Day passes are only available online at greatwolf.com/daypass or by calling Customer Service at 800-905-9653 and cannot be purchased at the resort. Passes are not required for toddlers 2 or under when accompanied by an adult pass holder. Each person entering the waterpark must have a pass.
Day Pass Details:
Your day pass gives you access to the waterpark.
Towels are available for purchase, or you are welcome to bring your own. At the Minnesota location you can also use the resort's towels with a $15 deposit per towel.
Lockers are available to rent on a first-come, first-served basis.
Coolers and outside food are not allowed. You'll find dining options inside the resort.

Using Your Pass on the Day of Your Visit:
On the day of your visit to Great Wolf Lodge, you will have to bring the following to receive your day pass at the front desk:
A valid driver's license or government issued photo ID
The credit card used to complete the transaction.
Water park passes are nonrefundable and all sales are final.
What are the Hours for Great Wolf Lodge Day Passes?
You may use the waterpark during open hours for the entire day of your pass. You can enter the waterpark starting at 10am on the day your pass is valid and can stay at the resort until the waterpark closes that evening.  You'll receive a wristband, which allows you to enter and leave the waterpark at your leisure.