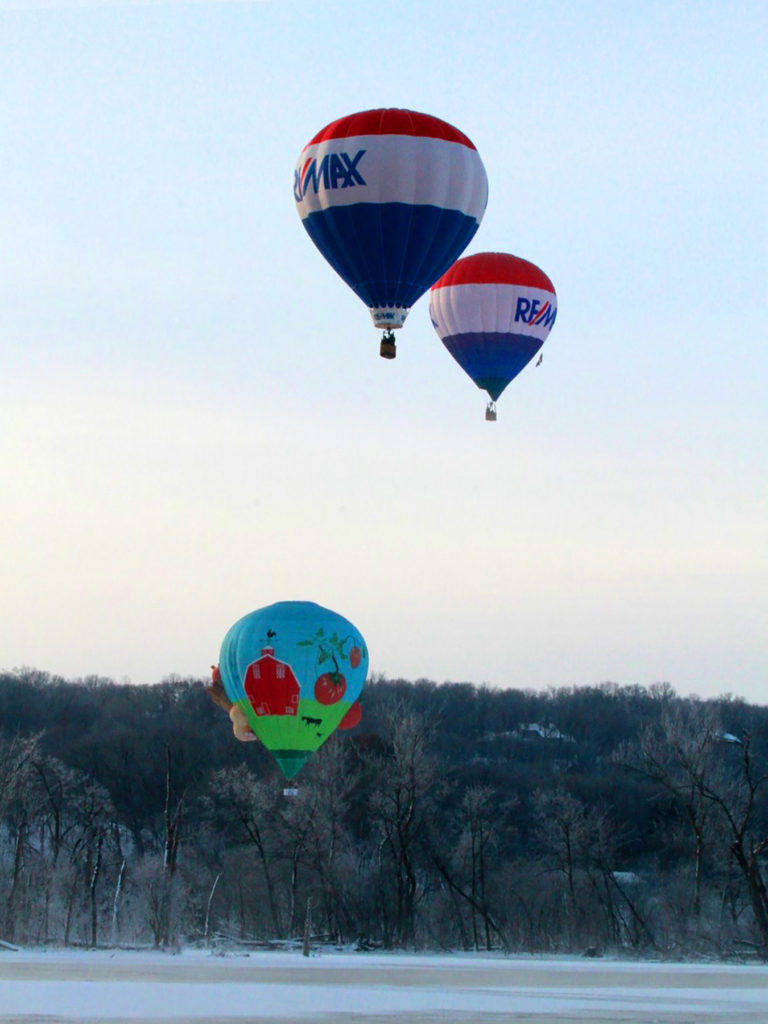 Near the top of my bucket list is riding in a hot air balloon.  It will remain on my list for a while, it's just in not quite in my budget. However, watching them is almost just as fun right?  Floating so carefree in the sky, especially when there's a whole bunch of them at the same time. The Hudson Hot Air Affair, just on the Minnesota border, is an event where we can all enjoy watching hot air balloons.  The event takes place this weekend, February 3-5th.   You can find the complete schedule here on their website.
Hudson Hot Air Affair "Gone with the Windz"

Mark your calendar for the 28th annual Hudson Hot Air Affair on February 3-5. This year, with a bow to mother nature, we will celebrate the theme of "Gone with the Windz." Hot air ballooning is dependent on favorable weather conditions and Mother Nature calls the shots, deciding if the balloons can go up in the air or they stay on the ground.

"Gone with the Windz" also brings to mind Rhett Butler and Scarlett O'Hara against the backdrop of the American Civil War. This era shares rich history of early aviation with gas balloons, a predecessor to hot air balloons.

Hot Air Affair could not happen without the support of its eight year corporate sponsor WESTconsin Credit Union, as well as over 100 local balloon and event sponsors. For a complete listing of sponsors, please visit www.hudsonhotairaffair.com.

Hot Air Affair is the premier hot air balloon rally and winter festival in the Midwest and while the balloon launches are the main feature, there are many activities offered throughout the weekend, as well as several fun pre-events.

The pre-events include a photo contest throughout Hot Air Affair. On Jan. 21st there is a breakfast and kids crafts at Dicks Bar, and a countdown event at Family Fresh Market. On Jan. 23rd join the hot air balloon canvas party painting class at Belle Vinez (pre-register at [email protected]). County Market will celebrate Hot Air Affair on Jan. 28th with a pre-event, and on Jan. 29th Hot Air Affair will be at the Ice Castles in Stillwater, MN.

Hot Air Affair will kick-off with the "Gone with the Windz" Torchlight Parade at 7 p.m. on Friday, Feb. 3rd, which will be followed by a fireworks display at Lakefront Park sponsored by Andersen Windows. Friday also begins the Super Sale and Button instant prizes at participating Hudson businesses; geocaching; and live music at Urban Olive & Vine, Smilin' Moose, Plaza Lounge, Plaza 94 and Dick's Bar & Grill.

Saturday Feb. 4th events include: a 7:30 a.m. and 3 p.m. balloon launch (weather permitting); a pancake breakfast at the Masonic Temple; the Marketplace and Craft Fair; a geocaching demonstration; Up, Up and Away 5K Fun Run/Walk; the Science of Weather presentation; Octagon House Museum tours; crafts for kids with Veggie Races; smoosh boarding competition; and a pet costume contest at Angel's Pet World. In the evening there is a Balloon Moon Glow or Field of Fire; a Hudson Boosters bingo fundraiser; Taste of Hot Air Affair "Gone with the Windz" fundraiser for Operation Help; live music; and more.

Sunday, Feb. 5th begins with a 7:30 balloon launch; at 1 p.m. Carpenter Nature Center presents "Soaring with the Windz;" and from 2-4 p.m. the Hudson Rod, Gun & Archery Club and St. Croix County Sportsmans Alliance will hold a free kids ice fishing derby on Lake Mallalieu.

All Hot Air Affair spectator events are free to attend. Some participation events require admission fees, tickets or pre-registration. For event details visit www.hudsonhotairaffair.com. For lodging or questions please contact the Hudson Area Chamber of Commerce and Tourism Bureau at 715-386-8411or visit www.DiscoverHudsonWI.com. Hudson Hot Air Affair is also on Facebook.