Your kids can get more ready for back to school with help from one of these free school supplies events happening in Minnesota! There are opportunities for your kids to get a free backpack, supplies to fill it and have some back-to-school fun.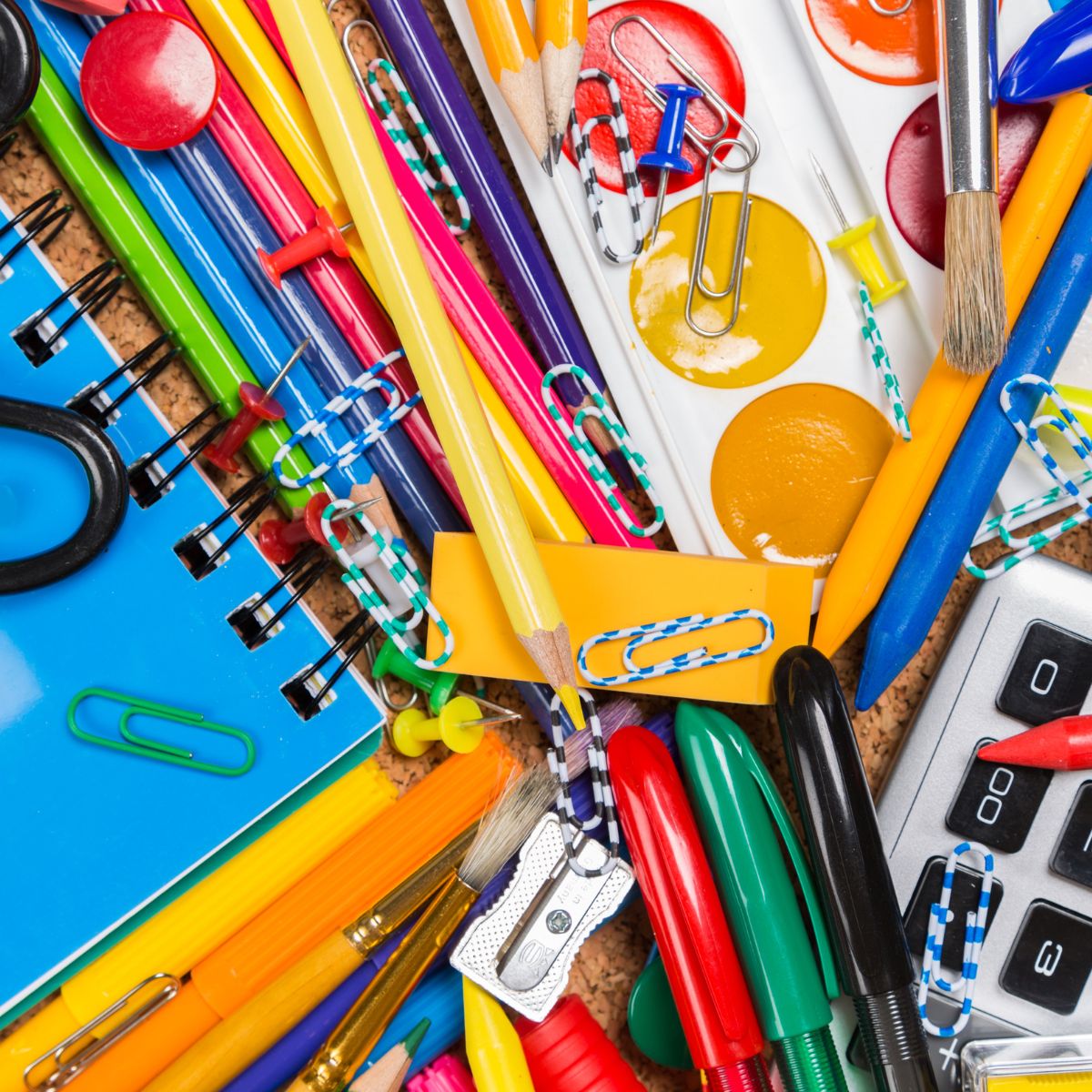 Back to school is almost here! While new school supplies can be fun for kids, it can be stressful for parents who have to buy all those supplies. Thanks to a suggestion from my friend Enza at EnzasBargains.com we thought we should round up some of the places you can get some free school supplies this year.
Make back to school a little easier when your kids get FREE school supplies from one of these 2023 events being held in Minnesota.
NOTE: If you know of any events we have missed, please let us know!
Brooklyn Park
Back to School Jam – September 2 (1pm – 3:30 pm)
Cub Foods 3245 County Road 10, Brooklyn Center
A free school supplies giveaway for kids ages 5 and up. Featuring East Fire Station fire truck tour, community speakers, food, fun and more. Call Women "Unite" to Win for more info at 612-250-9634.
Brooklyn Park
Back 2 School Barbecue – August 19 (11am – 4pm)
Zanewood Recreation Center 7100 Zane Avenue North Brooklyn Park
At this entirely FREE event, they will have FREE BBQ, FREE backpacks, FREE school supplies, annnnd FREE school clothes! There will also be fun activities, community resources, vendors, and a big drawing that each family has the opportunity to win great prizes for FREE!
The Salvation Army Back to School Bash – August 25 (3 PM – 6 PM)
10011 Noble Parkway N Brooklyn Park
There will be food, music, games, activities, a bounce house, and of course school supplies. Although all are welcome, only people who register will be guaranteed a backpack with school supplies. REGISTER: https://forms.gle/v86WKnCYyv97WdgR6
BKA Family Day & Backpack Giveaway – September 2 (10 AM – 5 PM)
6898 66th Ave N, Brooklyn Park
Food, fun and games for the entire family. First come first serve for the backpack away. One backpack away per student.The student must be present to receive a backpack.
Buffalo
Blessing Closet School Supplies and Backpacks Distribution – August 26
Zion Lutheran Church – 1200 Hwy 25 S, Buffalo
Along with the free clothing, the Blessing Closet will be distributing a packet of school supplies and a backpack to all school-age children (K-12) by appointment only from 9:30am to 1:30pm. It is not necessary for the children to attend, but each child and grade level must be listed on your signup appointment.
Make an appointment at https://www.signupgenius.com/go/30e0a49aead23a5fd0-school1#/
Cottage Grove
Blitz Back to School Backpacks – September 2-3
Flag Football Annual HOT Labor Day Tournament at Kingston Park, 9195 75th St S, Cottage Grove
Free backpacks in the tent next to One Family. Students must be present or 2 backpacks per parent.
Duluth
I ❤️ LP School Supply Giveaway – August 19
Harrison Park, 3002 W. 3rd Street.
Join Duluth Gospel Tabernacle for a FREE lunch, fun activities and FREE school supplies at Harrison Park on Saturday, August 19th, from 11-2pm. Student or their ID must be present to receive supplies.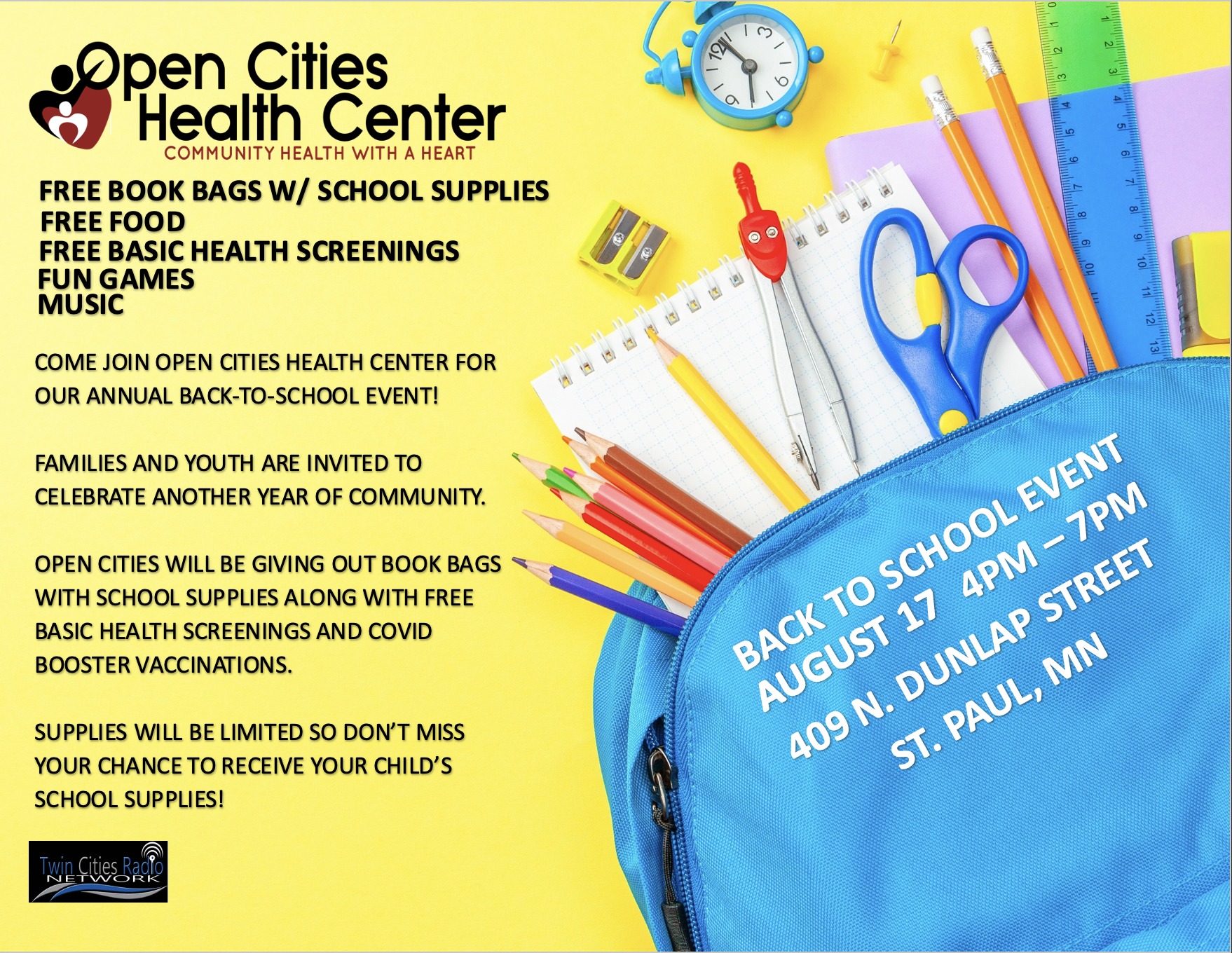 Eden Prairie
Back to School Celebration Party – August 19th
Eden Prairie Center
(Drawstring Backpack only.) Find Games, Music, Dancing & Prizes and a FREE Drawstring Backpack for the first 50 kids.
Minneapolis
RJN Back to School Giveaway – August 19 (1pm-4pm)
Zion Baptist Church – 621 Elwood Avenue N
End the summer with a bang – there will be games, food, music, books and free school supplies while supplies last!
Mad Dads BBQ and Backpack Giveaway – August 19 (12pm-4pm)
Corner of Chicago Ave and East Lake Street, Minneapolis
This is a family event, so bring the whole family out for bouncy houses, raffles, BBQ, backpack giveaway, school supplies giveaway, basketball.
Back to School at Midtown Global Market – August 26 (2pm – 4pm)
920 E Lake St, Minneapolis
Pack a Smyle has donated 100 backpacks and school supplies. One per child, while supplies last. Also enjoy free crafts and activities, free popcorn courtesy of Manny's Tortas. Limited haircuts from Midtown Barbers will be given away as prizes and discounted kids cuts are available that day.
ROCA 2023 Back2School Gathering and School Supplies Drive – August 27 (10:45 AM – 1 PM)
810 W 31st St, Minneapolis
Start the day with worship and prayer for our children at 10:45am, followed by an ice cream social and school supplies pick-up at 12pm. All are welcome!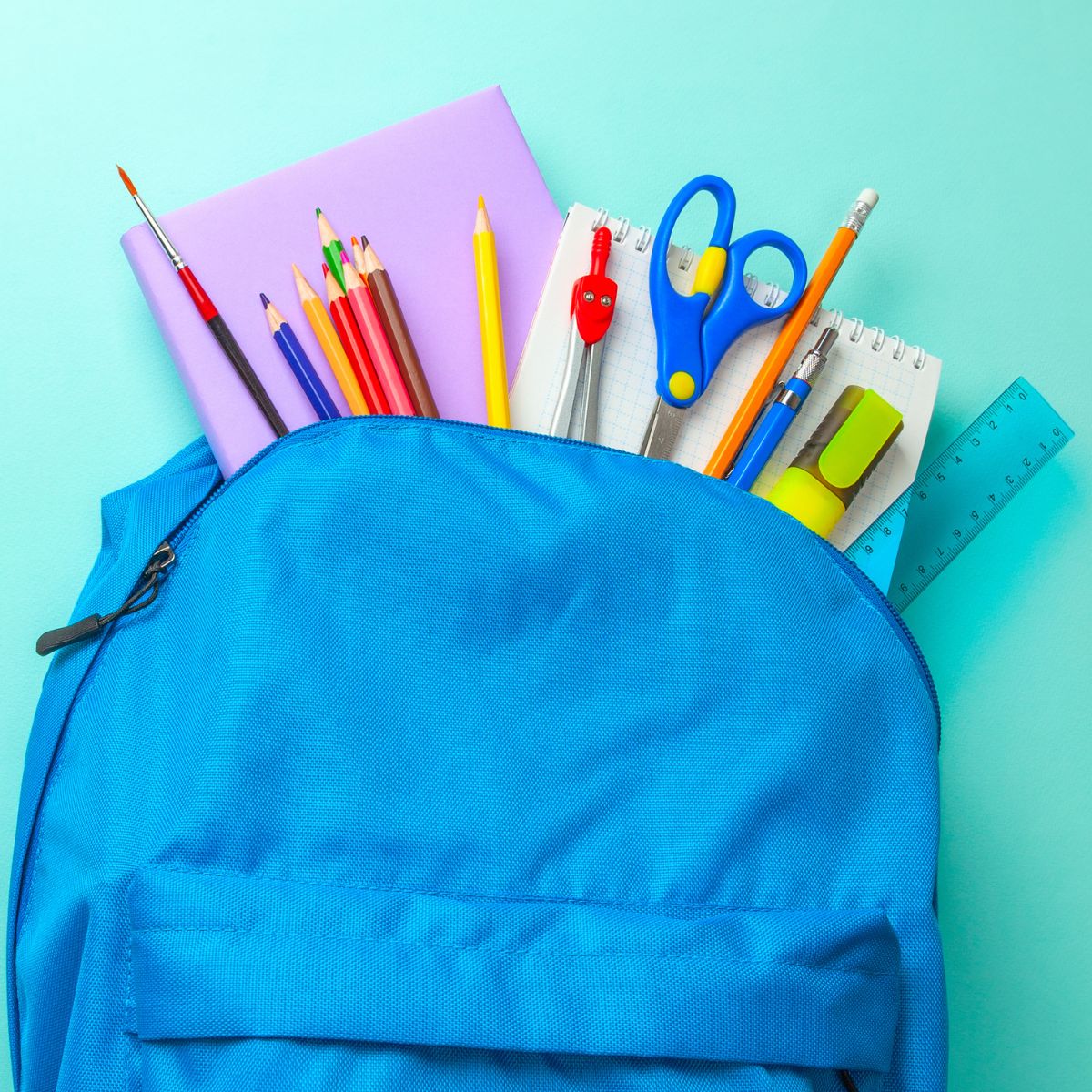 Monticello
Back-to-School Bash – August 23 (4pm to 7pm)
Monticello Middle School – 800 Broadway St E, Monticello
This family friendly event features food trucks, school supplies, community resources, balloon artist, bounce houses, and more.
St. Paul
Open Cities Health Center Back to School Event – August 17
409 Dunlap St. N, St. Paul.
Open cities will be giving out bookbags with school supplies along with free basic health screenings and covid booster vaccinations, free food and more.
Keystone Community Services School Supply Distribution Event – August 24 (2 PM – 6 PM)
Merriam Park Community Center, 2000 St. Anthony Avenue, St. Paul
Students will receive a backpack filled with school supplies. No sign-up needed, just stop by during the time listed above! First come, first served while supplies last.
Saints Coast Barber Shop will be giving FREE back-to-school haircuts to students again this year! No sign up is needed for haircuts, but a parent/guardian must be present.
NEW: We are also partnering with UCare, HealthPartners, Ramsey WIC, and Ramsey Child & Teen Checkup Up to bring family centered resources as well.
The Jk Movement Back To School Ice Cream Social – August 26 (3 PM – 6 PM)
1063 Iglehart Ave, St. Paul
Come join in celebrating kids heading back to school with a bounce house, backpack giveaway, Community Resources and vendors, face painting and free ice cream.
HmongTown Marketplace Back-to-School Supplies Giveaway – August 26 (11am – 2pm)
217 Como Ave, St. Paul
Come out to receive free school supplies for grades pre-k through 8. Children must be present to receive supplies.
Mizz Mercedez Back to School Bash – September 2
Central Village Park – 457 Central Ave. W, St. Paul.
Enjoy FREE school supplies, ice cream from 2scoops, free food and Free skating, w/ live DJ 1pm to 3pm.
Back 2 School Bash – September 2 (2-m to 7pm)
30,000 Feet Center – 1349 ARcade St., St. Paul
Everyone is invited as we get ready for the kids to go back to school! There will be a limited supplies of school supplies, free haircuts and dread retwist, live music, food trucks, free food, video game truck, bouncy houses and more!
Get $30 of Free Groceries
If you're new to shopping with Instacart and haven't yet created an account, you can get $30 off a grocery purchase of $35 or more! Use my code CDURAN24E18F and sign up here.
There are lots of stores to shop from including Dollar Tree, Aldi, and HyVee, and more for everyday groceries or school lunches along with Target where you can get lunches AND more school supplies and lots of other stores too.