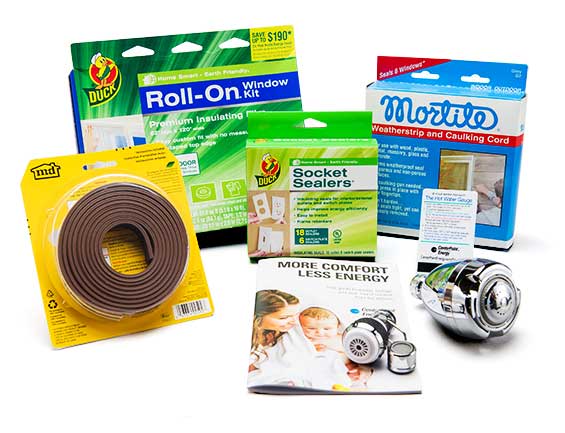 If you're a CenterPoint Energy customer, you can request a FREE Energy Efficiency Kit that will help you save on energy costs. This kit offers easy, do-it-yourself ways to increase your home's efficiency and reduce your energy use by sealing air leaks around your home.
Each Energy Efficiency Kit comes with:
Energy-saving showerhead (chrome), includes Teflon pipe wrap
Energy-saving kitchen swivel faucet aerator
Energy-saving bathroom faucet aerator
Rope caulk (gray) – 90 ft.
High-performance weatherstrip (brown)
Insulating window film (3-pack)
Outlet/switchplate foam gasket covers (24-pack)
Water heater temperature gauge card
Energy efficiency educational materials
You'll also receive a "More Comfort, Less Energy booklet" with energy-saving tips and easy installation instructions for the items you receive in your kit.
This offer is valid for CenterPoint Energy residential natural gas heating customers in Minnesota. Limited to one Energy Efficiency Kit per customer/household.