2018 Minnesota City Wide Garage Sales List
Even though we are still in the dead of winter with somewhat chilly temperatures and lots of snow on the ground, I still have had SO MANY emails and Facebook messages for the last few weeks asking about this year's list of Minnesota City-Wide Garage Sales and when it will be published! I guess that means it's time to get it started. This year marks the EIGHTH annual listing of city-wide, town-wide and neighborhood sales throughout the state of Minnesota! We greatly appreciate all of the people and organizations who come forward to provide us with information each year to help us put together this list.  It is a huge project that takes many, many hours of work! I'm happy to see so many people using the list and am honored by all your kind comments about it.
All of the sales below are those that I have been able to confirm the dates either via the city hosting the event, a local resident or a reader with information about the sale. NOTE: This is a work in progress. If you know of any confirmed sale dates that I have not yet listed, please let me know by leaving a comment here or e-mail me and I will get it added to the list. We will post a notification on our  Facebook page when we do a major update of the list,
Please help support this list by "liking" us on Facebook, subscribing to Thrifty Minnesota email updates, or telling your friends about Thrifty Minnesota.  Any help is appreciated!

You can also scroll down to the end of the list to see all of the Large Charity Sales.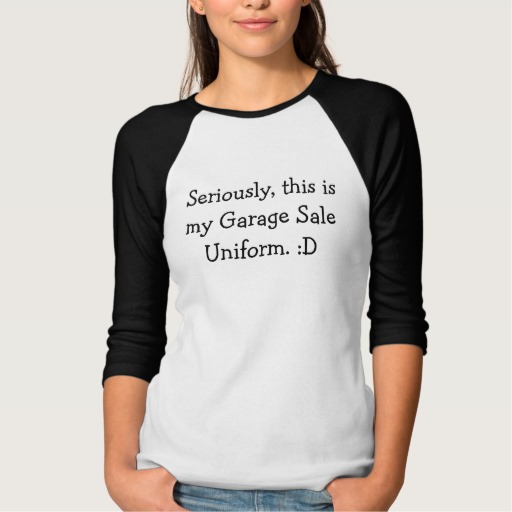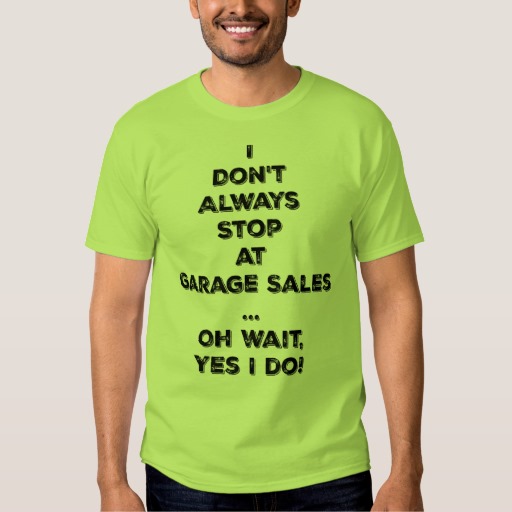 MAY
May 3, 4, 5 – Fairmont
May 3, 4, 5 – Sleepy Eye
May 4, 5 – Annandale
May 4, 5 – Cannon Falls
May 4, 5 – Eveleth
May 4, 5 – Little Canada
May 5 – Montgomery
May 5 – Mora
May 5 – Prinsburg
May 10, 11, 12 – Champlin
May 10, 11, 12, 13 – Osseo
May 10, 11, 12 – Woodbury
May 12 – Blooming Prairie
May 12 – New Prague
May 12 – Proctor
May 17, 18, 19, 20 – Elko New Market
May 17, 18, 19, 20 – Monticello
May 17, 18, 19, 20 – West St. Paul
May 18, 19 – Amboy
May 18, 19 – Esko
May 18, 19 – Mankato
May 19 – Kingfield Neighborhood (Minneapolis)
May 19 – Lakeville
May 24, 25, 26 – New London Spicer
May 31, June 1, 2 – Brooklyn Park
Men's Just Give Me Coffee & A Garage Sale T Shirts Small Cranberry

Garage Sale Guide: How To Quickly And Easily Sell Items And Make Big Profits From Garage Sales

Garage Sale Quote – Magnet

I Brake For Garage Sales

This Vehicle Stops at all Garage Sales

Men's Garage Sale King, Funny T-Shirt Large Navy

Garage Sale Mystery (Hallmark)

Garage Sale Stalker

Women's FUNNY YARD SALE ADDICT T-SHIRT

New Large 8 Pocket Genuine Leather Waist Pack

Women's I'd Rather Be Going To Garage Sales T Shirt Medium Kelly Green

For the Garage Sale Addict: 30 Secrets to Keep You Hooked

June 22, 23 – Root River Trail 60-mile Garage Sale
JULY
AUGUST
August 10, 11 – St. Michael
August 16, 17, 18 – Delano
SEPTEMBER
September 6, 7, 8 – Fairmont
September 6, 7, 8 – Sleepy Eye
September 14, 15 – Mankato
OCTOBER
Large Charity Sales:
May 3, 4, 5 – Benilde-St. Margaret