Celebrate Christmas with these Minnesota Drive-Through Live Nativity Events!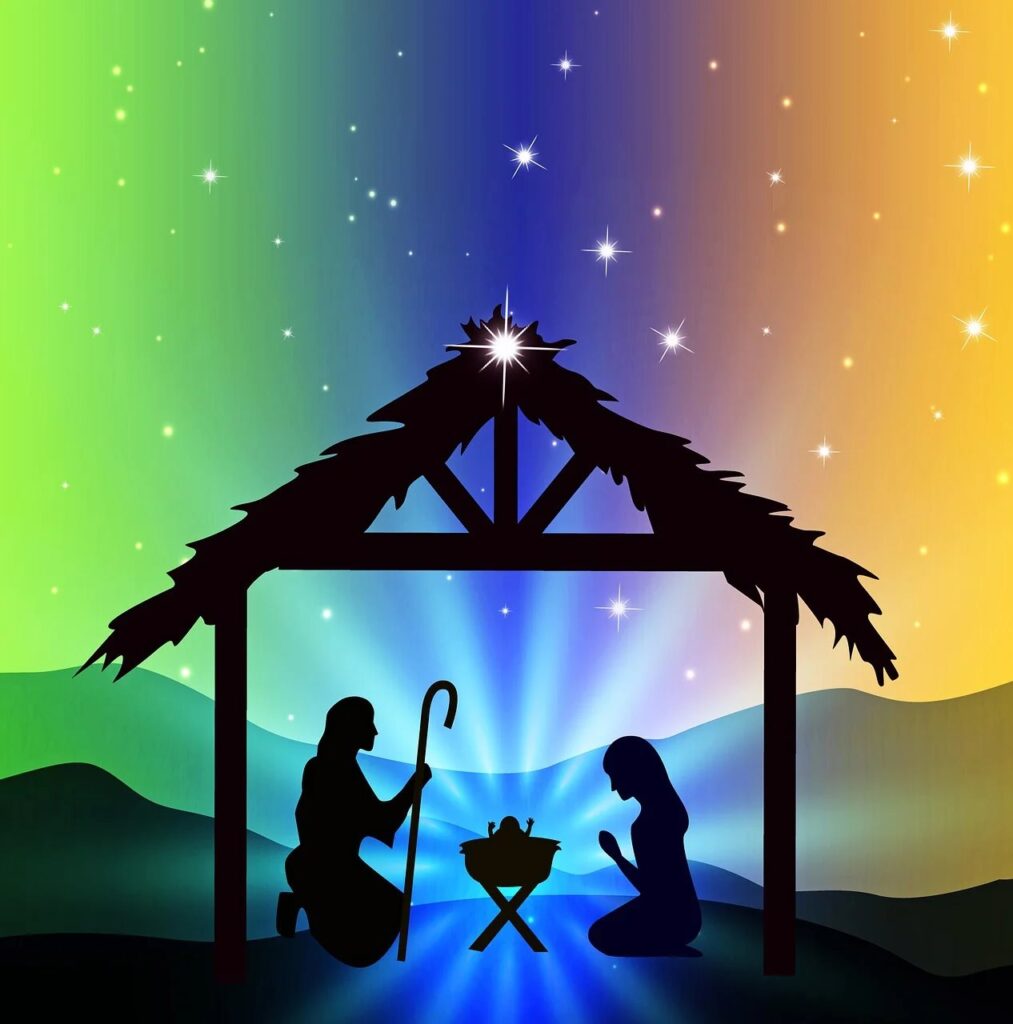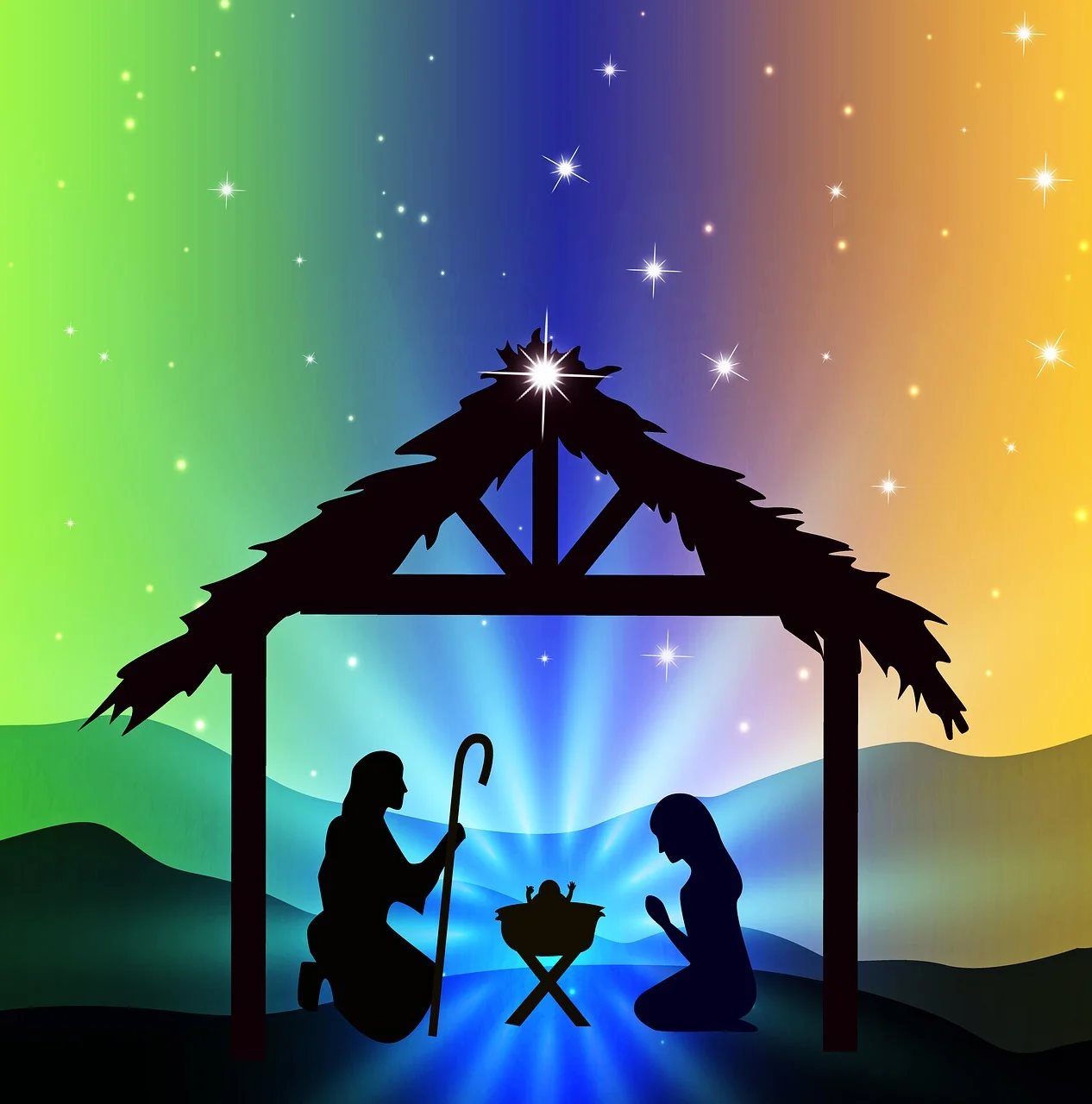 We found several upcoming Live Nativity/Christmas Story Drive Through Events! These are a wonderful way to celebrate the season and meaning of Christmas with a safe, family-friendly event.
Minnesota Live Nativity Event Drive-Throughs
Adams
December 13th, 4:30-6:30 pm
Little Cedar Church
Free (free-will offerings accepted)
Celebrate the true meaning of Christmas! With many of our usual holiday traditions needing to be cancelled, our local churches are coming together to plan an Ecumenical Drive-Thru Live Nativity for Sunday, December 13th. The story will come to life with live costumed characters and animals, all while listening to Christmas carols. This will be an opportunity for our community to come together and share in the joy and hope of the Christmas season! A free-will offering will be taken at the entrance of the live nativity.
Apple Valley
December 19th and 20th, 5:30-8:30 pm
Shepherd of the Valley
Free
Register for your family's 30 minute time slot (limit: 360 spots): sotv.org/drive-through-live-nativity. Experience the magic and beauty of a most holy night with live music, animals, and costumed characters who will help bring to life the story of our Savior's birth.
Austin
December 12th and 13th, 6-8 pm
Bethlehem Church
Free
Come to Bethlehem! Saturday, December 12th and Sunday, December 13th from 6-8 pm. Bethlehem Church Austin, 1500 4th Ave SE, next to Ellis School.
Berne
December 20th, 6-8 pm
Zwingli United Church of Christ
Free
Enjoy our drive through live nativity – animals and all – at Zwingli UCC, home of Berne Wood-Fired Pizza – on Sunday, December 20th from 6-8 PM. This all ages event will be a wonderful way to welcome in Christmas in a safe way this holiday season.
Circle Pines
December 20th, 4-6 pm
St. Mark Lutheran Church
Free
Join us as we celebrate the miracle of Christmas! Drive-thru the different scenes in St. Mark's parking lot. There'll be donkeys, sheep, llamas, Christmas carols and hot chocolate by the fire pit!
Crystal
December 20th, 5-7 pm
Heathers Manor
Free
Join Heathers Manor on Sunday, December 20th from 5:00pm-7:00pm for our Drive-Thru Live Nativity! Celebrate the holiday season from the safety of your own vehicle. Heathers Manor is located at 3000 Douglas Drive North in Crystal, MN. Look forward to seeing you there! Any questions, please call 763-780-6745. To comply with local & state guidelines we encourage visitors to socially distance by remaining in their vehicles for the duration of the event and help protect themselves & others by wearing a mask.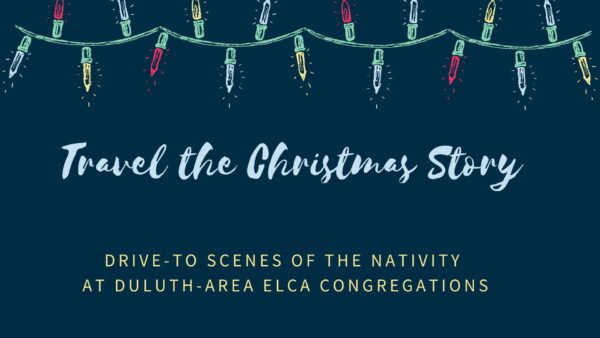 Duluth
December 6th – 25th, 4:30-11 pm
Elim Lutheran and other locations
Free
​Travel the scenes in order, beginning at Elim Lutheran Church (6101 Cody St). Before you go, download the video for a guided tour with Bible readings, reflections, and prayer. ​Paper copies are also available at each scene. Thank you for participating and Merry Christmas!
Duluth
December 19th, 3-5 pm
Duluth Gospel Tabernacle
Free
FREE drive-thru our parking lot and see what Bethlehem might have been like when Jesus was born. This will be a contactless event. All kids will get a treat bag and stickers and coloring pages. There will be live animals and live Bethlehem Characters! Don't Miss THIS!!!
Duluth
December 20th, 3-4:30 pm
St. Paul's Episcopal Church
Free
The youth of St. Paul's will bring a bit of joy and connection to our faith community, and our neighbors, by portraying shepherds, angels and the Holy Family, as well as the animals at the stable, to commemorate the night of Christ's birth. Everyone is invited! It will outdoors in front of church, facing Superior Street. Just drive by and offer your prayers and support, and receive a small gift from St. Paul's, too. Following church/health guidelines, we require face masks and social distancing.
Eagan
December 13th, 3-5 pm
Eagan Hills Church
Free
Do you ever wonder why we give gifts at Christmas? Come to learn all this and more! A true storybook Christmas for families to explore. Enjoy with your family from a nice warm car – you'll be able to see the animals because they won't be far! Live nativity and a Christmas craft are provided at this FREE family event.
Eagan
December 13th, 5-7 pm
Easter Lutheran Church
Free
You're invited to drive into Easter by the Lake from Cliff Road and weave through the parking lot to see the Christmas Story unfold. A lot of lights will decorate the parking lot and five different scenes will tell the story. Each scene will have a narrator and actors. This event is free and open to everyone in the community. It will be a must-see!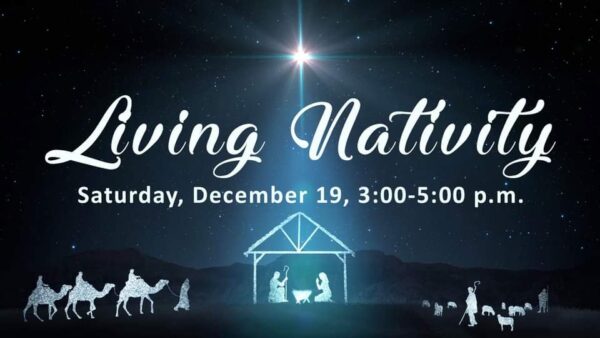 East Bethel
December 19th, 3-5 pm
Our Saviour's Lutheran Church
Free (free-will offerings and non-perishable food items accepted)
This Christmas come and experience the birth of Jesus through live scenes at Our Saviour's. This drive-through adventure will let you relive the story of Jesus' birth with live actors and animals in scenes from the Nativity story. The Bells, Choir, and Band will be recording some Christmas music to play through the FM transmitter as you enjoy this physically-distanced event. Cost: Freewill offering and non-perishable food item for NACE.
Edgerton
December 24th, 5-6 pm
First Presbyterian Church
Free
First Presbyterian presents a drive-through Nativity Story on Christmas Eve tentatively from 5-6 pm. (Stay tuned for changes or adjustments.) Complete with Shepherds, Kings, Angels and of course Mary, Joseph and baby Jesus.
Elbow Lake
December 20th, 5-6 pm
Grace Free Church
Free
FREE DRIVE-THRU NATIVITY at Grace Free Church, 211 11th Ave. SE, Elbow Lake on Sunday, December 20 from 5-6 p.m. (Car line entrance will be at church parking lot and extend down 3rd St SE.) Families and individuals from all over Grant County (and beyond) are invited to experience our drive-through nativity.
Glencoe
December 12th, 5 pm
Oak Leaf Park
Free (food shelf donations accepted)
The Glencoe Living Nativity is a drive-through production featuring scenes depicting the Good News of Jesus' birth. Crafted scenery, biblical characters, animals, and music will provide a memorable Christmas experience. There is no admission charge, but we will happily accept a donation for the McLeod Emergency Food Shelf.
Kerrick
December 12th, 5-7 pm
Oak Lake Lutheran Church
Free
Drive through journey to Bethlehem.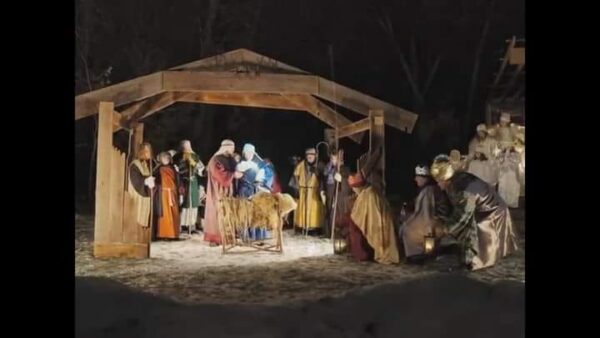 Lindstrom
December 19th, 6-8 pm
First United Methodist Church
Free
Join us for our Eighth Annual Living Nativity! This year will be a bit different, with a DRIVE THROUGH NATIVITY. Grab some Christmas treats and blankets and drive through to experience different scenes from Christmas Story. No need to even get out of your car. This has become an annual event for many families, we wanted to continue the tradition this year. The event is Free.
Luverne
December 20th, 4-7 pm
Grace Lutheran ELCA
Free
We are once again bringing the Nativity to life…DRIVE-THRU style! Drive through and enjoy the sights and sounds of Christmas. We have a special gift for each vehicle and a treat for the first 500 people! Remember-this is a drive-thru only event. Take all the time you need to enjoy the Nativity, but please refrain from getting out of your vehicles. Entrance is on the north end of the block (Bishop Street). Please be aware of traffic on HWY 75.
Madison
December 20th, 3-4:30 pm
Minnesota Valley Lutheran Church
Free
At the Church parking lot 3304 261st Ave (CoRd21), Madison MN. Please come from the North, off County Road 34.
Mankato
December 24th, 4-5 pm
Christ the King Lutheran Church
Free
Come witness the Christmas story with our live nativity drive thru event from 4:00-5:00pm. While you're there, pick up the elements to take home for communion and pick up candles for our 6:00pm virtual worship candlelight service. We'll also have candy canes for the kids as well as a visit from Santa! Virtual Christmas Eve Worship Times are 2:00pm and 6:00pm. Join us on Facebook Live.
Maple Grove
December 24th, 4 pm and 8 pm
Cross Winds United Methodist Church
Free
Simply Christmas, It's really very simple. Hope. Joy. Love. Peace. Jesus. Drive-In Christmas Eve Experience. Meet the people who were present at the birth of Jesus as we create a live Nativity Christmas photo presented with word and music.
Monticello
December 19th, 6-7:30 pm
Community United Methodist Church
Free
The Christmas story will come alive as you drive through live nativity scenes encountering the holy family, shepherds, donkeys, sheep, llamas and more!
Moorhead
December 20th, 2-4 pm
Lutheran Church of the Good Shepherd
Free
Come experience the Christmas story from the comforts of your car! Please enter through the East Parking lot. Cars will stop at various spots throughout the parking lot to see and experience the joy and wonder of the Christmas story. Good Shepherd staff will greet you at the last stop where you will receive a bag for Christmas Eve Worship (candles, communion cups, and a few special goodies!). This event is FREE and open to the community!
Morris
December 19th, 2-5 pm
Stevens County Fair
Free
Join us at the Stevens County Fair Grounds for a Drive-Thru Live Nativity where the Christmas story comes alive! Event Sponsored by: Dacotah Bank, Thrivent Financial & Morris Area Chamber of Commerce.
North St. Paul
December 20th, 4-6 pm
St. Mark's Lutheran Church
Free
Free Event! Come drive through St. Mark's parking lot and enjoy pre-packaged treats, Christmas lights, carols, and stories transmitted through your FM radio (97.9 FM). Come celebrate the coming of Christmas with us from the warmth and comfort of your car!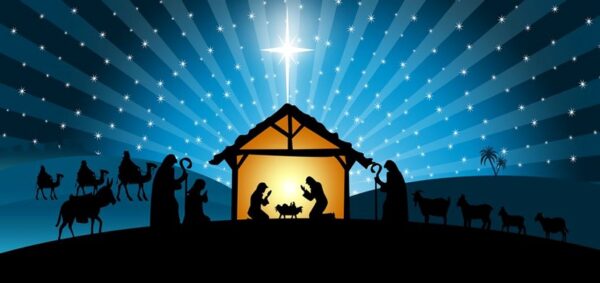 Nowthen
December 20th, 4-5 pm
Drive-Thru Live Nativity
John and Lisa Risse's Home – 9049 190th Avenue NW Nowthen, MN 55330. Come and share the true wonder of the first Christmas night. *Live Animals *Take Home Crafts *Christmas Devotions *Live Music. For more information, please call the Welcome Desk 763-421-3223 or contact Carol Kietzman [email protected] We are committed to the health and safety of your family during the current COVID-19 pandemic.
Oronoco
December 20th, 5-7 pm; December 21st – 23rd, 6:30-8:30 pm
Crosswinds Church
Free (Salvation Army bell ringer on-site)
This will be a great way to share the Biblical Story of Christmas with your family. Drive by the pages of the story (outdoor murals) as the story is told through a podcast played in your car. You can travel through the book during daylight hours or check the schedule to drive through with living characters and animals. Everyone is welcome! We will have a bell ringer on-site to help raise funds for the Salvation Army to help those in need. Questions? Call 507.289.7937.
Pine Island
December 13th, 6:30-7:30 pm
Saint Paul Lutheran Church
Free
COVID won't stop us from celebrating the birth of Jesus! Grab some hot chocolate, pack up your family and drive through familiar Christmas scenes while listening to the story over your car radio! This event is open to EVERYONE in the community!
Plymouth
December 13th, 4-5 pm
Messiah Church
Free
You are invited to jump in the car and drive though Messiah's parking lot on Sunday, December 13, 4-5 pm, for a quick Christmas Drive-Thru. Meet the three Wise Men (rumor has it Pastor Steve may be in costume!), hear a Christmas carol from our carolers, and pick up your Christmas Eve candles, glow sticks for the kids, and a keepsake Living Nativity ornament (while supplies last).
Plymouth
December 17 – 18th, 20th, 6-8 pm
Plymouth Covenant Church
Free
Discover the Christmas story by following The Star from Your Car! You pick the day and the time, load your family or friends into your car, and take a driving tour of the scenes of the Christmas story. Beginning with the Wise Men and ending at the Manger, The Star will lead the way as you enjoy the Christmas story nestled among Christmas lights! A truly unique (and safe!) way to celebrate the birth of Jesus!
Rochester
December 11th, 7-9 pm
Calvary Evangelical Free Church
Free
Experience Christmas in a special way this year at Calvary Evangelical Free Church's Drive-Thru Live Nativity! Everyone is invited to enjoy this free holiday event as we celebrate Christ's birth.
Rochester
December 20th, 4-5 pm
Bethel Lutheran Church
Free (Monetary donations accepted)
Since we aren't able to gather for a CYF Christmas Program, we are creating a Drive-Thru Nativity with LIVE scenes portrayed by Bethel families. Plan to join us on December 20th, between 4:00 and 5:00 pm. Listen to the narration on your smartphone using the QR Code. Written narration will be available at the Drive-Thru. No entry from 3rd Ave SE or 9th St SE. Please review the map for traffic patterns in and out of the parking lot. Attendants will be present to guide you.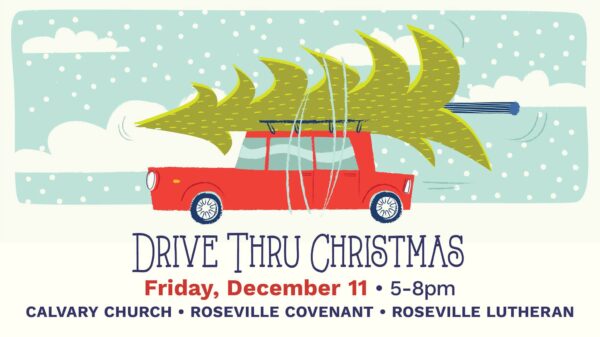 Roseville
December 11th, 5-8 pm
Calvary Church, Roseville Covenant, Roseville Lutheran
Free
In keeping with the spirit of season, three Roseville area churches have joined together to bring a little joy to our community. Start at Calvary's Roseville Campus and drive through vignettes of the Old Testament stories that tell how it all began. Then head to Roseville Covenant for scenes of baby Jesus in the manger. Next, travel to Roseville Lutheran and hear the Good News from the perspective of the shepherds. You can listen to the audio recordings and view scenes all from the comfort of your own car!
Roseville
December 19th and 20th, 5-6 pm
Prince of Peace Lutheran Church
Free (food and monetary donations accepted)
You are invited to The Road to Bethlehem, a drive thru experience, in the parking lot at Prince of Peace in Roseville. Enter at the north driveway. 5-6 p.m. on Saturday, Dec. 19 and 5-6 p.m. on Sunday, Dec. 20. Free of charge. You are welcome to bring food or monetary donations for Keystone Community Services, our local food shelf.
Shakopee
December 19th, 5-6:30 pm
Resonate Community Church
Free
Join us in the parking lot at Resonate Community Church for a Celebrate Christmas Drive-thru on Saturday, December 19! This free, fun community event will feature games, prizes, music, lights, Christmas cookies, and gift bags for kids… all in a safe & socially distanced way, from the comfort of your car! 1760 4th Ave. East Shakopee, MN 55379.
Waseca
December 18th and 19th, 5-8 pm
St. Paul Lutheran Church
Free (non-perishable canned food items accepted)
Please join us for a Live Nativity Drive Through Event on Dec. 18 & 19 from 5 PM – 8 PM. Enter event using 3rd Ave NE parking lot entrance. Non-expired canned food items are being accepted for the local food shelf. Hosted by: St. Paul Lutheran Church & St. John Lutheran Church, Waseca, MN.
White Bear Lake
December 19th, 4:30-7:30 pm
St. Stephen Lutheran Church
Free (cash donations accepted for the food shelf)
You are invited to our annual Living Nativity event. Join us as we enjoy free music and live animals. **Cash donations accepted for the White Bear area emergency food shelf.
Willmar
December 20th, 3-7 pm
Calvary Lutheran Church
Free
Come out and enjoy a family friendly drive-thru event celebrating Advent in a new and different way. Including Luminaries, a Live Nativity, and Christmas Carols and much more. Drive-thru or stay for a while. There will be greeters to guide you through the experience.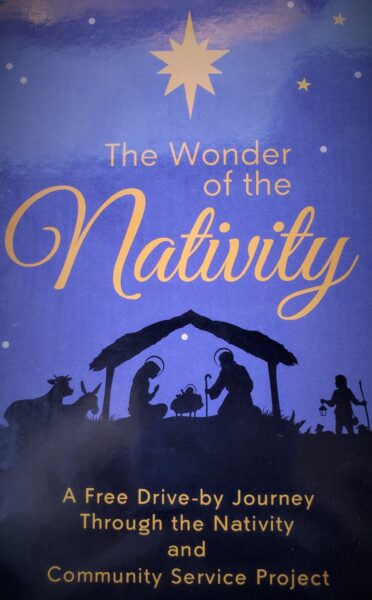 Winona
December 4th and 11th, 7-9 pm; December 5th and 12th, 10 am-12 pm
Winona Post and other locations
Free (donations accepted; see event pages for more details)
Winona area churches, businesses, and service organizations invite you and your family to this safe holiday event. Giving at each location is not required. ALL ARE WELCOME TO DRIVE THROUGH AND ENJOY! Look for the symbols and receive directions at each location.
Woodbury
December 19th, 3:30-5 pm
Woodbury Baptist Church
Free (non-perishable food items accepted)
Joy to the World! We Joyfully invite you to Woodbury Baptist's Christmas Drive-Thru featuring Scripture Readings, Nativity with Live Animals, and Christmas Traditions from Different Nations. Each family will receive a take home bag with a keepsake ornament (while supplies last). Grab a passport and join us for a journey from Bethlehem to various places around the world. Drive-thru hours are on December 19th at 3:30-5:00 pm. Woodbury Baptist Church is supporting Christian Cupboard for this event.
Wyoming
December 19th and 20th, 5-6:30 pm; December 23rd, 6-7:30 pm; December 24th, 4:30-6 pm
Linwood Covenant Church
Free
Enjoy Backyard Bethlehem, a FREE LCC Drive-thru Nativity Experience. We hope that we can make it a fun, inspiring event to round out 2020. LCC is putting on a living nativity experience for you and your families to enjoy together — something a little different to give a new perspective of what that first Christmas Eve may have looked like. In that, we are including live animals, tons of lights and actors. There will also be children's Bibles and refreshments handed out to cars that trek through our backyard.
Wyoming
December 20th, 1-3 pm
St. Paul Lutheran Church
Free
Our Bethlehem Drive-Through is a fun way to witness the Christmas story from your car. Drive through "Bethlehem," passing each station, and then arrive at the manger scene for the final destination.
Zumbrota
December 20th, 4-7 pm
Lands Lutheran Church
Free
This Christmas come and experience the birth of Jesus through a live nativity at Everson Park. This is a drive-through experience.
Zumbrota
December 20th, 5 pm
United Redeemer Lutheran Church
Free (non-perishable food donations accepted)
To celebrate the joy, wonder and love of Christmas, United Redeemer Lutheran Church would like to invite you to a live nativity scene. To ensure our community stays safe during this event we require that there be no foot traffic in or around the scene. Either drive by and tune into FM 99.1 to enjoy the event or tune into the live stream on Facebook! During this event we will be collecting free will non-perishable food donations for the Zumbrota Area Food Shelf utilizing a drive through food drop station.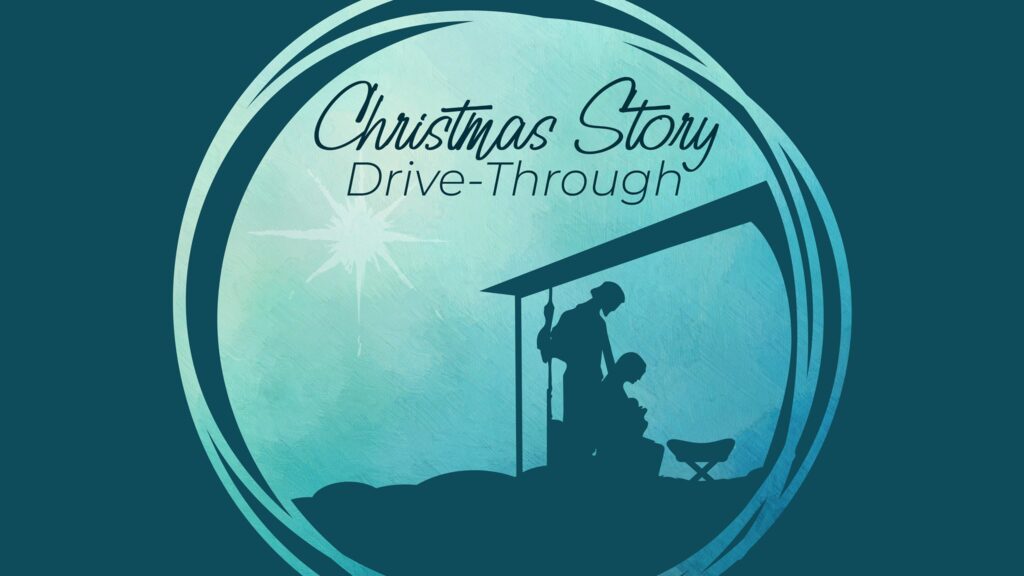 We would gladly add other events here to share with our readers if you know of others! Please let us know and we can add them.