Celebrate Christmas with these Minnesota Live Nativity Events!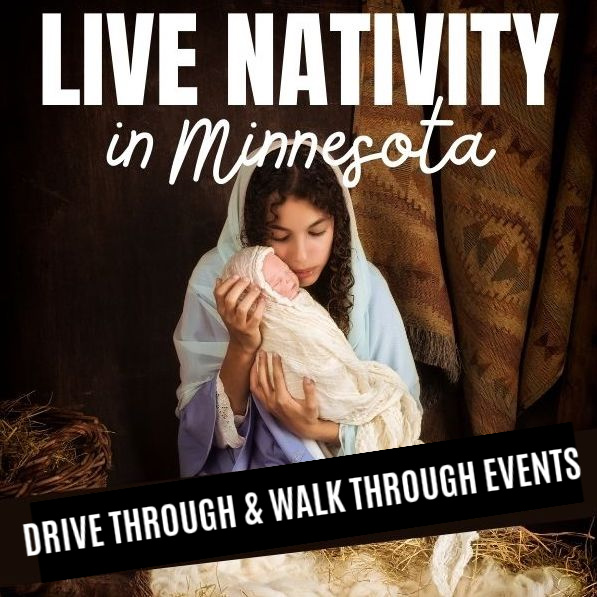 We found over 30 upcoming Live Nativity/Christmas Story Drive-Through and Walk-Through Events! These are a wonderful way to celebrate the season and meaning of Christmas.
Minnesota Live Nativity Events 2022
Albert Lea
December 2 and 3, 7 – 9 pm
New Life Christian Church
Come and experience Bethlehem, the night that Jesus was born! This is our Christmas gift to you. Bring your family and friends and enjoy the live animals, the angels and shepherds, Mary & Joseph at the inn, and more.
Albertville
December 26 5 – 7 pm
St. Albert Church
COME ON OUT and see our Live Outdoor Nativity where volunteers portray Mary, Joseph, Shepherds, Angels, and Wise Men. Your family can join in by dressing up in one of the many costumes! COME ON IN to the Parish Center and enjoy complimentary hotdogs and chips, cookies, and hot beverages, along with Christmas Crafts and Movies for children, and a Nativity Photo Booth!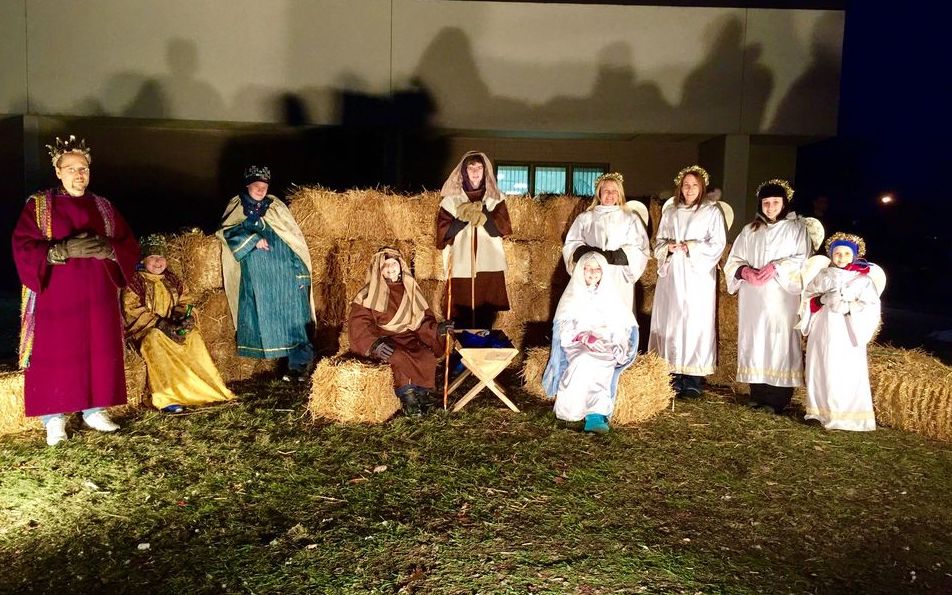 🚗 Alexandria
December 45, 4:30 – 6:30 pm
First Lutheran Church
Join us as we bring the Christmas story to life!
Apple Valley – NO INFO FOR 2022
December 18, 11 am and 1 pm
Shepherd of the Valley
Join us inside for this warm winter walk-thru as we hear the nativity story from a family of mice who were there to see it all! Visit 6 scenes of the story, from the stable to the present, retold with live actors, music videos, and and lots of fun. Please sign each person up for a time slot, including number of guests. Strollers are welcome, and spaces are limited in each time slot.
Buffalo
December 17 and 18, 5 – 7 pm
Buffalo Covenant Church
The Living Nativity is an interactive, walk-through event with live character portrayals of the wisemen, shepherds, soldiers, angels, Mary, Joseph and the baby, and a stable filled with live animals. Browse the Bethlehem marketplace, spend time at the stable, and interact with the characters. It is mostly indoor, with some animals outside. Enjoy cookies and hot chocolate as you remember the reason we celebrate Christmas. This is a Christmas gift from BCC to our community. Join us for this FREE interactive event!
🚗 Burnsville – NO INFO FOR 2022
December 13 and 14, 6:30 – 8:30 pm
SouthCross Community Church
Please plan to view our Living Nativity! Donations for the food shelf gratefully accepted but not required. Drive through in the warmth of your car as we re-create the manger scene in Bethlehem. Put this on your Christmas light driving tour and while you are here, take a break from your hectic holiday schedule and come into the church for a FREE CHILI dinner and HOT CHOCOLATE or COFFEE to help warm up the night!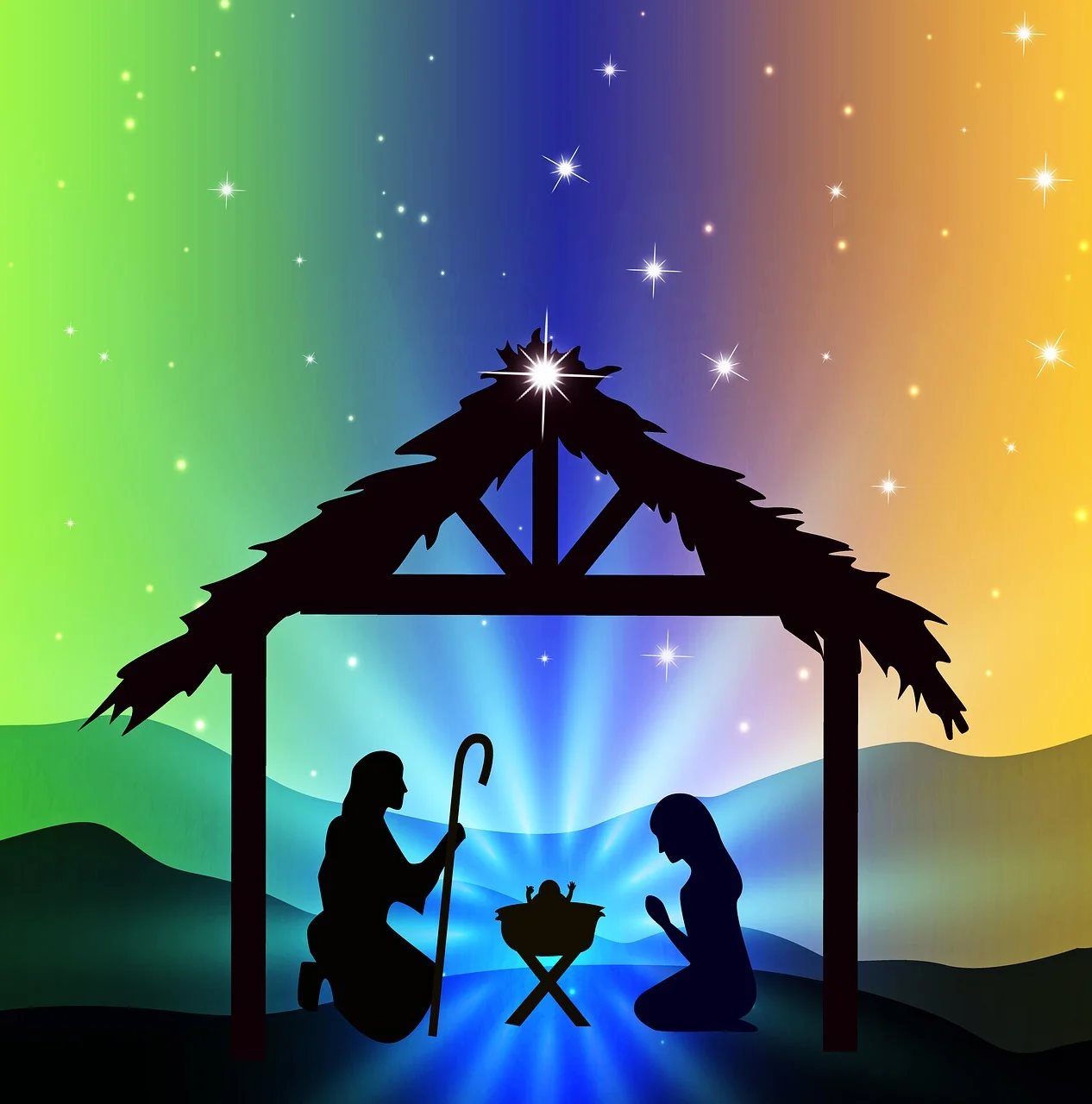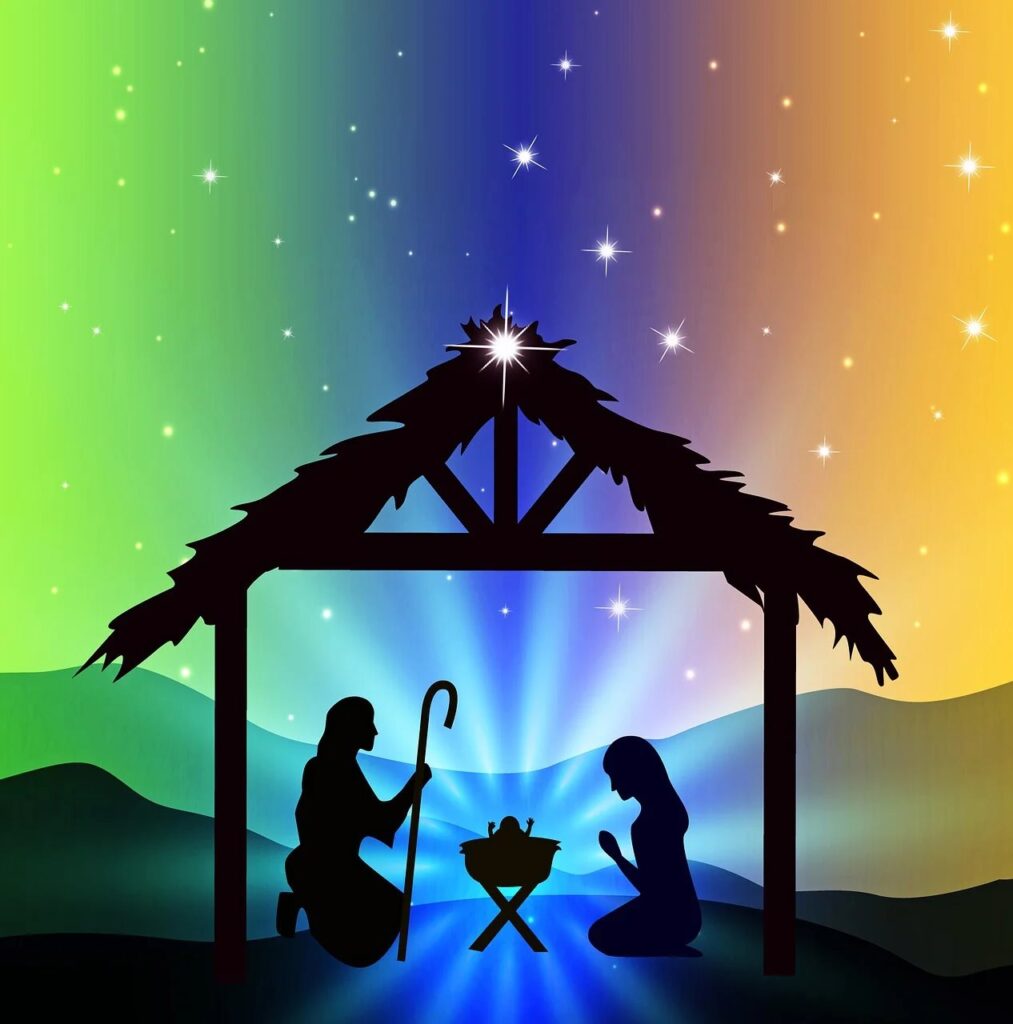 Circle Pines
December 11, 4 – 6 pm
St. Mark Lutheran Church
Join us to experience the different Nativity scenes. We'll have animals to pet, a Nativity keepsake you'll assemble and so much more! PJ's Grill Food Truck will be joining us as well – so come hungry and spend the evening with us! The event itself does not cost anything, but please bring cash or credit to purchase food from PJ's Grill.
Columbia Heights – NO INFO FOR 2022
December 19, 10 am – 12 pm
First Lutheran Church
We will tell the nativity story with an interactive experience following the annual celebration of Las Posadas, a tradition held throughout Mexico and Guatemala. The all ages march will be led around the church as a symbolic act of Mary and Joseph finding shelter in a stable when they were unable to find lodging in Bethlehem. Seating will be available for those unable to march. At 11 am, lunch with be Mexican and Guatemalan foods, tamales, and punch.
Cottage Grove
December 4, 4 – 6 pm
Cottage Grove United Church of Christ
Come celebrate the joy of the Christmas season at the Live Nativity at Cottage Grove United Church of Christ on Sunday, December 12th from 4-6 pm. This is a FREE outdoor community event and everyone is invited!
🚗 Duluth
December 17, 3 – 5 pm
Duluth Gospel Tabernacle
Come drive through our parking lot and see the town of Bethlehem as it might have been on the night Jesus was born. The Wise Men will be riding their horses through the town, Romans will be stopping people and asking if they registered, and more! Kids will all get a candy goody bag! Come alone or bring the family and neighbors! Make this a new Christmas tradition for your family. There will be goats and sheep and lots of hustle and bustle. And you will see Jesus in the manger!
🚗 Duluth – NO INFO FOR 2022
December 4, 1 – 2 pm
Lakeview Covenant Church
You are invited to our Second Annual Drive-Thru Live Nativity! From the warmth of your car you are able to follow the journey of Joseph and Mary from Jerusalem to Bethlehem. Begin the Advent season by witnessing and experiencing the Christmas story in person! We will have live animals, personable narrators, and more! This year we are excited to be partnering with The Union Gospel Mission as we collect donations of new adult winter gloves & mittens.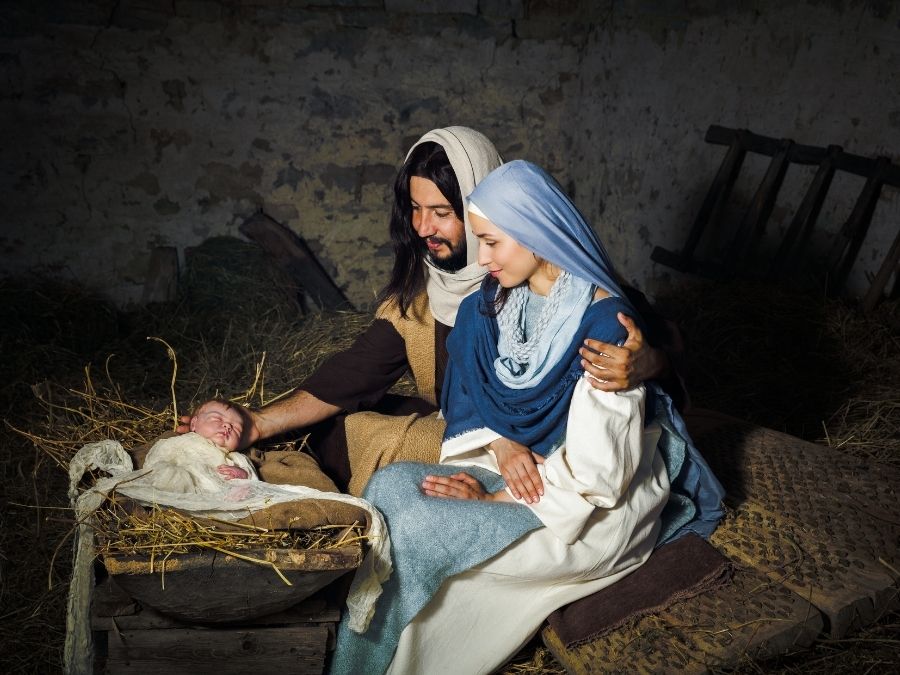 Elk River
December 3, 9 am – 12 pm
Lord of Glory Lutheran Church
Start your family Christmas festivities at the place where it all began, Bethlehem! Join families from around the area in for a breakfast and interactive visit for adults and children in the community to come together to seek out and find the true meaning of Christmas, to come help celebrate the birth of the Christ child, experience the joy of giving and create a special keepsake.
Grove City – NO INFO FOR 2022
December 10 and 11, 5 – 7 pm
First Baptist Church
You are invited on a journey to discover the heart of Christmas, and the gift of heaven. This is an event for the whole community! This Christmas First Baptist Church, Victory Christian Fellowship, & Trinity Lutheran Church would like to celebrate the birth of Jesus Christ by hosting an outdoor live reenactment at the First Baptist Church in Grove City.
Hastings
December 3 – 7 pm
St. John's Lutheran Church
Join us for our Living Nativity as we re-enact Christ's birth. Free outdoor performances will be held on a continuous basis every 20 minutes beginning at 5pm. The last performance will be at 6:40 pm. Live cast and real animals including donkey, sheep, goats, and even a camel are part of the performance. Free refreshments will be be served inside the church. Everyone is welcome!
Hawley
December 11, 4:30 – 6:30 pm
Hawley Lutheran Church
Join us at Hawley Lutheran Church for a joyous Christmas Celebration. Children's Christmas Program | 2:30 Live Nativity, Sleigh Rides, Snacks | 3:30 Bring a gift for Jesus: A non-perishable foot item or two to benefit REACH!
Isanti
December 3, 3 – 7 pm
Long Lake Lutheran Church
Long Lake Lutheran Church will be transformed into the town of Bethlehem. You can meet the angel Gabriel, who saw it all. Meet Mary & Joseph who heard and believed. Meet the innkeeper's wife, the shepherds, and the wise men. You can smell the straw and you can see the live animals. See the beautiful baby Jesus and come away with the true meaning of Christmas in your heart. Bring your camera for picture opportunities. After your visit to Bethlehem join us in the fellowship hall for a chili and chicken wild rice soup supper.
Jordan
December 16, 5:30 – 7:30 pm
St. John the Baptist Catholic Church and School
A Living Nativity will be on display at St. John the Baptist Catholic School and Church in Jordan on Friday, December 16th from 5:30 to 7:30PM. See live animals, savor hot cocoa, s'mores, and more! All are welcome to this free event to celebrate this holiday event. St. John's will also be collecting new unwrapped toys for the Scott County CAP Agency's Hope for the Holidays initiative.
Lakefield – NO INFO FOR 2022
November 27, 4 – 7 pm
Immanuel Lutheran Church and School
Come and walk through our Live Nativity. It features Bible scenes from Adam and Eve to King David on up through the birth and life of Jesus Christ. There will be musical entertainment and (of course) Christmas cookies. Come into our Activity Center to begin your journey through the Live Nativity. Immanuel Activity Center is located at 620 Bush Street, Lakefield, Minnesota.
Lindstrom
December 17, Showtimes 6:00, 6:30, 7:00, and 7:30pm
First United Methodist Church
Join us at our FREE outdoor LIVING NATIVITY. Bundle up, gather your family and friends to experience the CHRISTmas story like never before. Enjoy live animals, music, outdoor fires and yummy treats.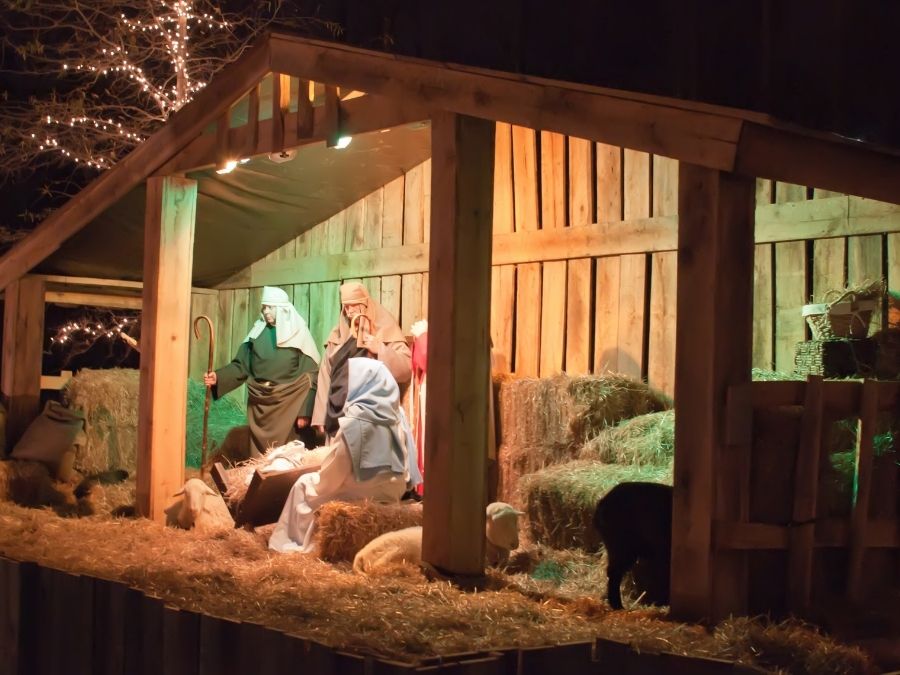 Mankato
December 7, 6 – 7:30 pm
Crossview Rosa Parks
Make this Christmas season an experience your family will remember! "Travel back" to ancient Bethlehem and see what daily life was like when Jesus was born. Families will be able to craft jewelry, write in Hebrew, visit with friends in a Jewish home to learn about their customs and lifestyle, sing Christmas carols, and much more! Before the time is over, the whole family will get to meet Mary & Joseph and hear about an amazing new baby lying in a manger. This event is FREE for the whole family, so invite your friends and neighbors.
🚗 Marshall – NO INFO FOR 2022
December 18, 5 – 7 pm
Cornerstone United Methodist Church
Join us as Santa brings the Christmas story to life with costumed characters and live animals at Cornerstone United Methodist Church's Drive-Through Living Nativity. Load everyone in the car and come experience the story of Christmas with Santa. The journey begins in the alley off of 3rd Street (behind the Post Office).
Minneapolis
December 4, 2 – 3:309 pm
Bethlehem Lutheran Church
On Sunday, December 4 at 2:00 pm at the Minneapolis Campus, the ECHO kids, leaders, and choirs will join together for a fabulous "What Can't Wait?" Christmas Program. We will sing, hear the Christmas story, and afterward eat some cookies, decorate the Christmas tree, and play with some animals at the live nativity.
Minneapolis
December 11, 3 – 6 pm
Our Lady of Peace Catholic Church & School
Escape the hustle and bustle of the holiday season and take a moment to reflect on the true meaning of Christmas. Come to the Stable, a living nativity, has become a holiday tradition in South Minneapolis and you are invited for a family-friendly afternoon featuring a live nativity complete with Mary, Joseph, angels, shepherds, animals, and, of course, baby Jesus. Experience the calm and peace that Christmas brings through the coming of Christ into the world.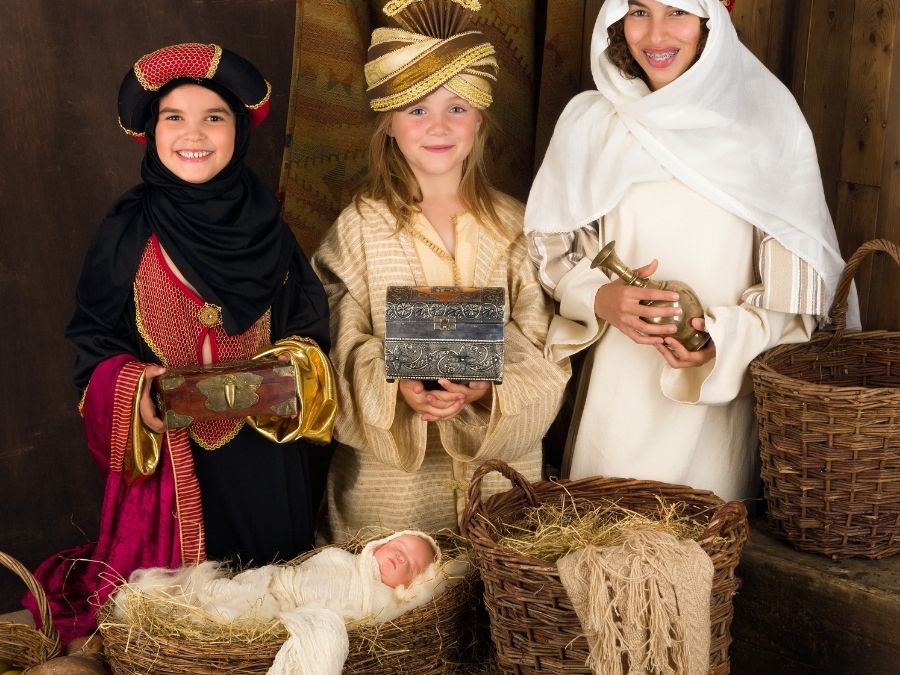 Minnetonka
December 18, 4 – 5:30 pm
Minnetonka United Methodist Church
Grab a cup of hot chocolate, sing along with Christmas music and experience the story of Jesus' birth anew. 'Tis the season for a live encounter with the greatest story ever told!
This is a free, family-friendly event for all ages
Moorhead – Canceled for 2022
December 3, 5:45 – 7:45 pm and December 4, 4:45 – 6:45 pm
Harvest Hope Farm
You are invited to prepare your heart and family for Christmas with a Live Nativity experience. Visit the Nativity Scene and hear some of the story of Christmas in the barn. See how the sheep, llamas, and chickens even adore the baby born in the manger. You will also enjoy the sound of Christmas music, hot chocolate and areas for photos.
🚗 Morris – Canceled for 2022, But Possibly Back for 2023
December 18, 5 – 7 pm
Stevens County Fairgrounds
The Chamber is sponsoring a live nativity on December 18 from 5-7pm at the Stevens County Fairgrounds. Enter through gate 5 and enjoy the Lights on the Prairie display and after the lights drive by the live nativity with volunteers from Fusion Youth!
Nowthen – No Info for 2022
December 12, 4:30 – 5:30 pm
Drive-Thru Live Nativity
John and Lisa Risse's Home – 9049 190th Avenue NW Nowthen, MN 55330. Come and share the true wonder of the first Christmas night. *Live Animals *Take Home Crafts *Christmas Devotions *Live Music. For more information, please call the Welcome Desk 763-421-3223 or contact Carol Kietzman carol@mtolive-anoka.org.
Oakdale
December 3, 4 – 6 pm
Grace of God Lutheran Church
A FREE interactive outdoor walk-through Christmas experience featuring a step back in time to see and hear the story of the first Christmas in Bethlehem. Including live music, take home crafts, and Christmas treats. ALL AGES ARE WELCOME!
🚗 Pillager
December 14 and 16, 6 – 8:30 pm
Cass County Fairgrounds
This will be a great way to kick-off your Christmas season. Drive thru the many scenes that depict the Nativity story with live actors and animals. Watch for the bright light in the sky to direct you to the location and the baby Jesus this Christmas.
🚗 Pine Island – No Info for 2022
December 19, 6:30 – 7:30 pm
Saint Paul Lutheran Church
MARK YOUR CALENDARS and join us for our 2nd Annual Drive-Thru LIVE NATIVITY! This year, we will add a "walking" lane, if you'd prefer to grab a cup of hot chocolate and stroll through the scenes. 🙂 Stay tuned for more information coming soon!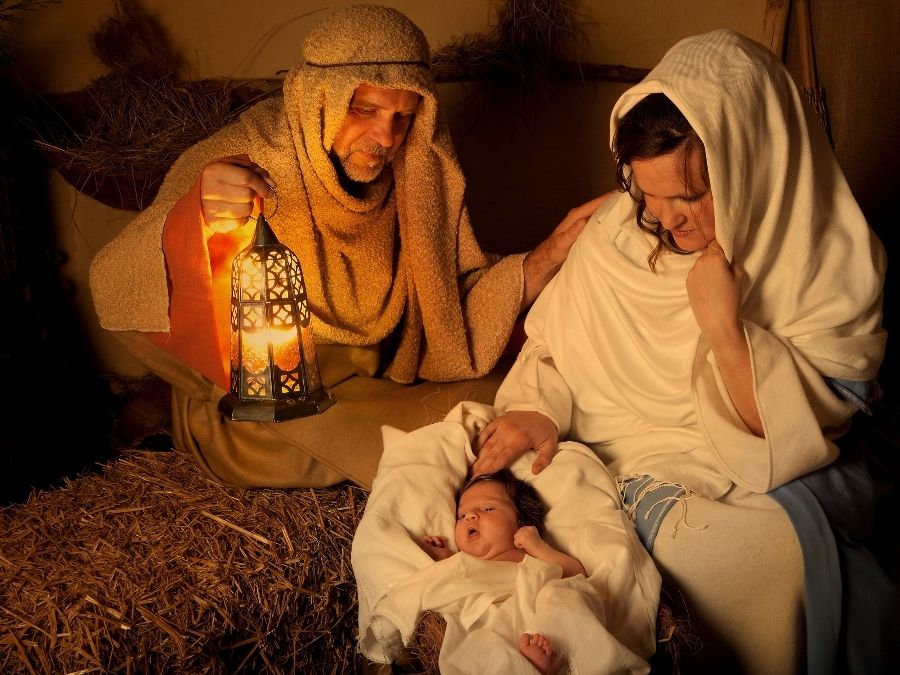 Plainview
December 3, 5 pm
Immanuel Lutheran Church
Immanuel Lutheran Church presents a live nativity during Plainview's Olde Fashioned Christmas. Come see live actors and animals presenting the Christmas story in the birth of Jesus, our Savior.
Rochester
December 2 from 5 – 8 pm, December 3 from 3 – 8 pm
The Church of Jesus Christ of Latter-day Saints
Over 200 Nativity Scenes – Live and Prerecorded Performances of Christmas Music – Prepackaged Refreshments – Free Admission–Families Welcome – This year's event will still feature many of the same elements as previous events, with modifications that will foster a safer environment during the Covid-19 pandemic. Masks are required.
Rosemount
December 10, 5 – 7 pm
Our Savior Lutheran Church
Experience what life was like at the time Jesus was born. A visit through Bethlehem will transport your family back to that amazing night! This is a family-friendly experience that takes about 30 minutes to enjoy. Free admission & live animals. See you at Bethlehem!
🚗 Sacred Heart
December 18, 5 – 7 pm
Our Savior's Lutheran Church
Experience the beauty of Christmas by joining us at a drive-by Outdoor Live Nativity! Sponsored by the members of Our Savior's Lutheran Church, Sacred Heart, MN. Free Event – all are welcome! Characters surrounding the birth of Christ, live animals, narration, music & lights enhance the experience. Follow posted signage on Hwy 212 in Sacred Heart for driving directions!
Sandstone
December 10, 4:30 – 6:30 pm
Dell Grove Emmanuel Lutheran Church
Join us for a free family event featuring a Live Nativity, chili, refreshments, and petting zoo. All are Welcome. See you at the manger! Drive-through option available.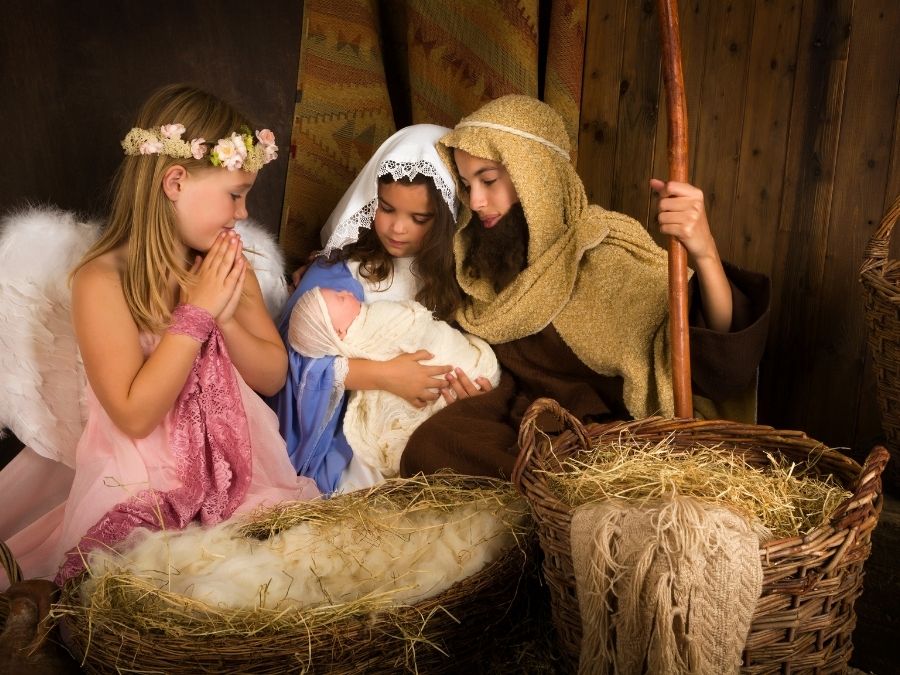 Springfield
December 10 and 11, 7 pm
Riverside Park
See the nativity come to life at this annual, outdoor presentation. Local actors bring you the sights and sounds of the Christmas story, with Joseph, Mary, and baby Jesus in a live manger scene, with real camels, dancing angels, and more. Enjoy Christmas music sung by the community choir. After the show refreshments are served at the Springfield Community Center. Admission is FREE.
St. Cloud
December 24, 3 p m
Hope Covenant Church
We would love to have you and your family join us for Christmas Eve! Beginning at 3 pm we'll have a Live Nativity, photobooth with a llama, Christmas barrel train rides through a winter inflatable land, professional photographer for Christmas Eve Photos, Hot Cocoa bar, Christmas Crafts for kids, and more! THEN, join us at 4:30 pm for a Candlelight Christmas Eve Service.
St. Louis Park
December 9 and 10, 6 – 8 pm
Knollwood Christian Church
Our live animals weren't able to make it this year, but the "live" people will still be dressing up in costumes at each station. Plus, we are offering, for the very first time, a bonfire that you can warm yourself at, make new friends, roast marshmallows and make smores (everything provided free). Also, the very talented, Sawyer's Dream, will be providing live music. The event is absolutely free, but we are asking people to please bring food or cash for the local food shelf (STEP) to help out those in great need at this time of year.
🚗 St. Peter – No Info for 2022
December 5, 4:30 – 5:30 pm
Scandian Grove Lutheran Church
Listen on the radio to the SGLC choir sing Christmas hymns as you drive through the live nativity. Scandian Grove will be collecting for local food shelves. Please bring a donation!
Waconia – No Info for 2022
December 5, 11:30 am – 4 pm
Trinity Lutheran Church
Join us on The Journey to Bethlehem as we take your family back in time for a live, walk-through experience centered around the birth of Christ! Journey through Bethlehem at the time of the census, walk through the streets, experience the shops, spend your denari (but watch out for the tax collectors!), and follow the star to the newborn baby Jesus. You'll see and even smell what life was like when Jesus was born. Great for all ages. Come to experience a live nativity, crafts, food and fellowship!
Watertown – No Info for 2022
December 5, 2 – 4 pm
Trinity Lutheran Church
Families of all ages are invited to bundle up and drop by the Trinity parking lot anytime during this interactive outdoor event for activities, treats, hot cocoa and a unique telling of the Christmas story.
🚗 West Concord – No Info for 2022
December 18, 7 – 9 pm
Zwingli United Church of Christ
Enjoy our drive through live nativity – animals and all – at Zwingli UCC, home of Berne Wood-Fired Pizza – on Sunday, December 18th from 7-9 PM. This all ages event will be a wonderful way to embrace the reason for the season this Christmas.
White Bear Lake
December 17, 4:30 – 7:30 pm
St. Stephen Lutheran Church
Live Music, Live Animals, Kids Crafts, Tasty Treats
Wyoming
December 10, 6:30 – 8:30 pm
Linwood Covenant Church
Bring your family to experience the Christmas story from the inside — walking through each scene and gaining new perspective from key players. Follow a candlelit trail through our backyard and into a different time and place. We promise you'll emerge from your journey with a new understanding of what Christmas is really all about…and of course, top it off with homemade Christmas cookies and cider.
We would gladly add other events here to share with our readers if you know of others! Please let us know and we can add them.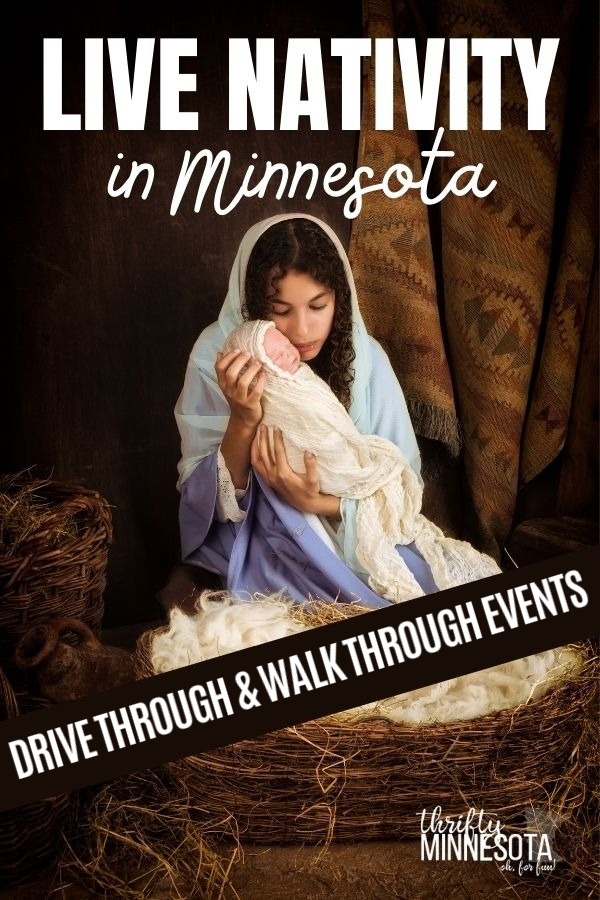 About the Author
Latest Posts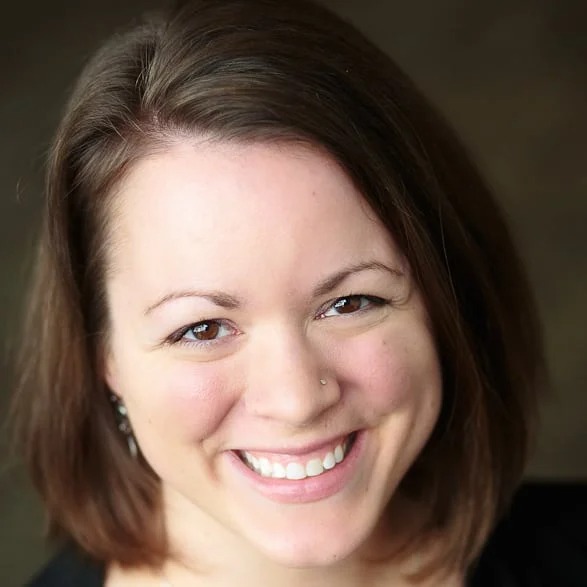 Laura is a former high school English teacher turned avid deal shopper following the birth of her first child. Now she's a work-from-home mom of six which keeps her plenty busy!
Laura grew up in southern Minnesota and has called the Twin Cities home for over fifteen years. On the off chance she gets some free time you'll find her with her nose in a book, spending time with family and friends, or enjoying a hot cup of coffee.