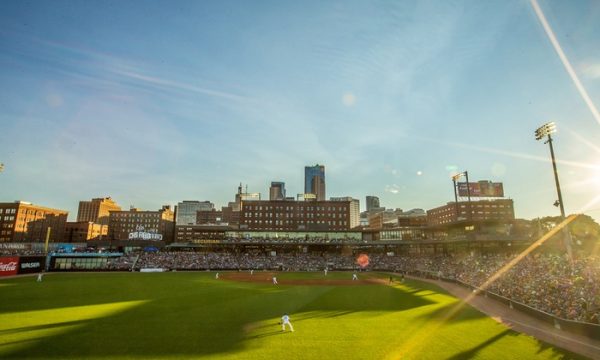 Batter up! Head to an upcoming St. Paul Saints game and you'll pay just $20 for two tickets and two hats when you order through Groupon for a limited time.
Choose from the following games:
Wednesday, July 24th at 7:05 pm vs. Cleburne Railroaders
Monday, July 29th at 7:05 pm vs. Kansas City T-Bones
Monday, August 12th at 7:05 pm vs. Winnipeg Goldeyes
*SOLD OUT* Sunday, July 14th at 5:05 pm vs. Winnipeg Goldeyes
Tickets are in the Outfield Reserved sections (periwinkle color in the diagram below). Goldstar also frequently has tickets for St. Paul Saints games.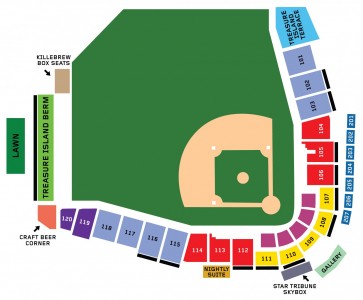 Another cheap option: get berm admission for $5 apiece at the gate. The view isn't as good as it's a large grassy hill located above the bullpen, behind left field (the picture at the top of this post shows a view from the berm). Still, it's cheap! Limit 8 berm tickets per person.
Catching an MLB game at a big stadium is great, but there's a special kind of fun you have from watching pro baseball in a more intimate setting — especially if that setting is beautiful CHS Field and the team is the St. Paul Saints. Part of the American Association of Independent Professional Baseball, the Saints play the game at a thrillingly high level, with a roster that includes young players on their way up to the big leagues. Come out and enjoy a fun night of baseball against the backdrop of the beautiful downtown St. Paul skyline while sipping on local brews and snacking on tasty local bites.
Get your tickets HERE!