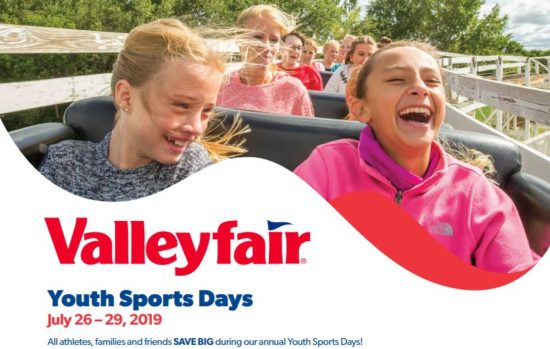 This upcoming weekend (July 26 – 29) is Youth Sports Days at Valleyfair in which youth sports participants and their families can enjoy discounted admission. Tickets are $29 for regular admission ($48″ or taller) when you present this flyer at any Valleyfair ticket booth.
Valleyfair is offering a special ticket price to all participants in youth athletics, coaches and their families during our annual Youth Sports Days. With more than 75 rides and attractions, Valleyfair is the Twin Cities' amusement park, where your next family adventure is closer than you think! Discover a summer of fun from thrilling coasters and Planet Snoopy and our brand new family-thrill ride, Delirious! Admission includes unlimited access to rides, shows, Planet Snoopy™ and Soak City Waterpark!
PS – Skip the lines! You can also buy your tickets in advance for the same price (plus tax, of course). With Mobile Ticket and Print-N-Go, you won't pay any extra fees, either.
If this discount doesn't apply to you or you're planning to visit at a different time, don't forget that you can get Valleyfair discount tickets through this link any time and find big Valleyfair deals on Groupon HERE!