Mark your calendars for cheap movies this summer with the Emagine Kids Summer Movie Series! Starting June 12th, Emagine is hosting discounted movies for just $2 each on Wednesdays and Thursdays at 10 am.
Tickets are available online and at the box office. If you'd like, you can pair your ticket with a Magic Pack (kids popcorn and soda) for a total of $7.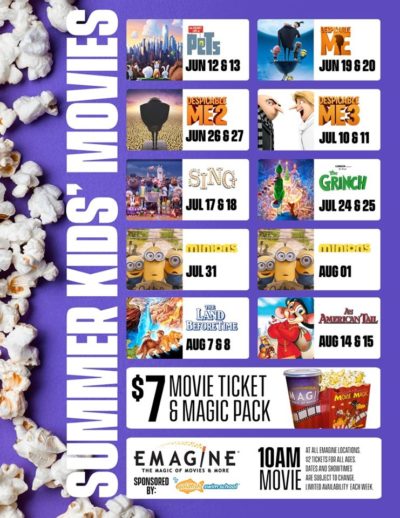 Here's the schedule:
June 12th and 13th: The Secret Life of Pets (PG)
June 19th and 20th: Despicable Me (PG)
June 26th and 27th: Despicable Me 2 (PG)
July 10th and 11th: Despicable Me 3 (PG)
July 17th and 18th: Sing (PG)
July 24th and 25th: The Grinch (PG)
July 31st and August 1st: Minions (PG)
August 7th and 8th: The Land Before Time (G)
August 14th and 15th: An American Tail (G)
Emagine has locations in Delano, East Bethel, Lakeville, Monticello, Plymouth (Willow Creek), Rogers, Waconia, and White Bear Township.