Take a thrilling (and beautiful) zip line adventure at Kerfoot Canopy Tour in Henderson, Minnesota!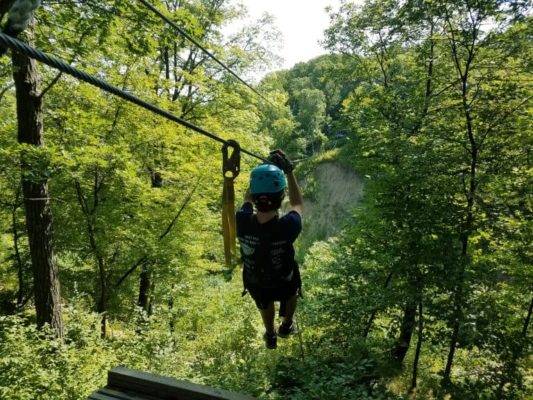 By Kristie Probst, Owner/Blogger at World is Wide
In the spirit of experiencing more fun in our own backyard and adding more experiences to our family's zip line bucket list, last summer we decided to try out Kerfoot Canopy Tour, a really fun zip line adventure near Henderson, Minnesota, just 45 minutes from where we live. The experience did not disappoint, giving us thrills, variety and beautiful views!
Thanks to Kerfoot Canopy Tour for complimentary admission for our family! All opinions are our own.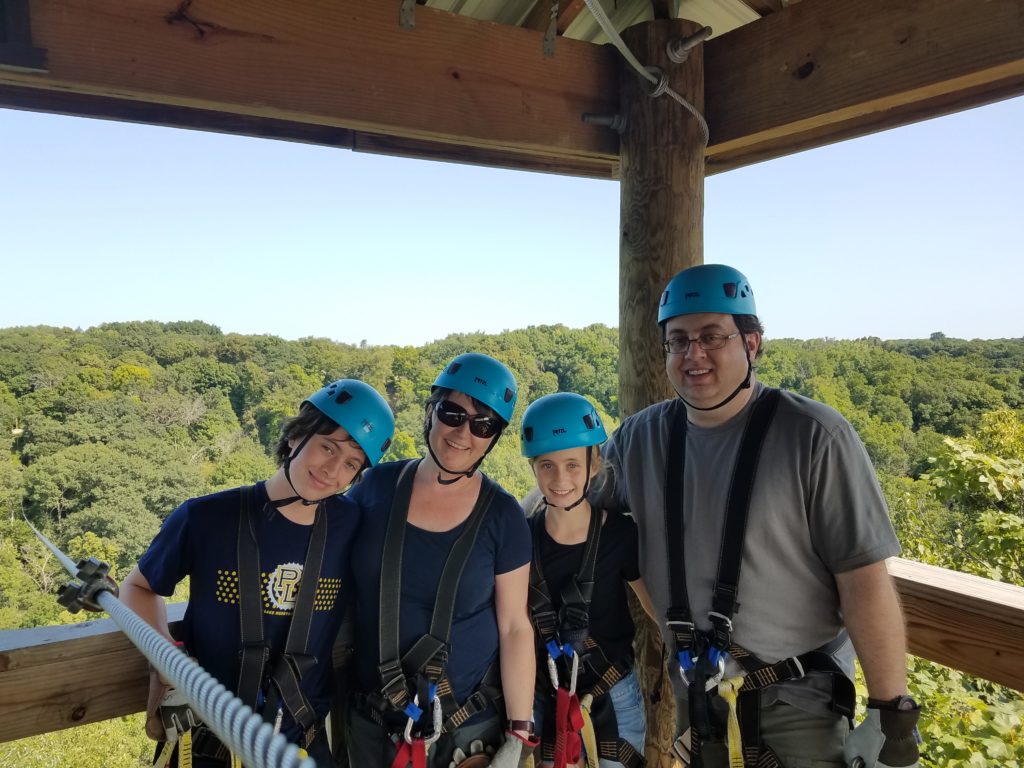 Kerfoot Canopy Tour Details
All current information about Kerfoot Canopy Tour zip lines can be found at Kerfoot Canopy Tour. As with most places like this, weekdays are quite a bit less expensive. If you can make it on a weekday, I would definitely recommend that.
Kerfoot Canopy Tour is open year-round, so even those hard-core outdoorsy people who embrace the cold can zip in the frigid Minnesota winter!
One note: Their staff doesn't generally allow cell phones, cameras, or really anything to be carried in your pockets for the tour. They do allow helmet-mounted GoPro-type camera and offer them for rent as well. (I was allowed to bring my cell phone at my own risk because I explained that I was writing about our experience.)
The Kerfoot Zip Line Adventure
Kerfoot Canopy Tour offers 14 zip lines, many more lines than most zip line courses we have experienced. Several were pretty short, but two of them spanned over the river gorge and were quite long. The long lines had us riding well above the trees, providing beautiful views along with the rush of being so high. Many of the shorter lines toward the end of the course were steeper and really fast, which made them exciting. There was a fun suspension bridge along the way to take us across the gorge at one point.
This tour was fully guided, so we had two staff along the whole time. I was very impressed with the professionalism of our young guides. One thing I really liked about this course is that all the lines were given a rating from 1 to 4, with 1 indicating a line that was beginner level (for the training lines and one of the early lines that was slower) to 4 being expert level (for a couple of the shorter, faster lines). So at each line you had a sense of what to expect for a thrill factor.
Zip Line Hand Braking
This was our first time riding a zip line with hand braking, which meant that we wore gloves with an extra leather piece over the glove on your dominant hand. To stop, the guide on the far side of the line would signal when you should move the hand with the leather piece onto the line itself and press down to slow yourself. There was a rope on the end of the line that staff could use to stop us as a backup if needed.
Here are some pictures from our adventure.
This is a good course for both new and experienced zip liners. If you have gone zip lining before, you will find this course has enough scenic views and challenges to make it truly fun.
The owners of Kerfoot Canopy Tour also own Brainerd Zip Line Tour in the Brainerd Lakes area of central Minnesota. We would love to try that one as well!
We really enjoyed this highly professional, scenic experience. For us as experienced zip liners, the ability to hand brake actually gave us more of a feeling of being active in the zip line experience (versus just being hooked on and off and stopped by staff). We would definitely recommend this fun experience!
Earth Day Discount
Save 40% on the Kerfoot Canopy Tour or the Brainerd Zip Line Tour when you purchase and book your reservation by April 22nd! More details here.
Pin it for later: