See all the ways to save at Kwik Trip with deals, special offers, Kwik Rewards, and more!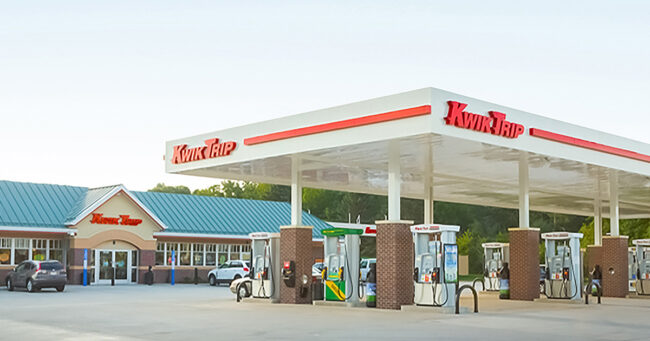 I went to college in a town that seemingly had a Kwik Trip on every corner, and my parents are still loyal Kwik Trip shoppers. So I was pretty thrilled when not one, but TWO Kwik Trips opened along the highway I take to drive my kids to and from school every day.
Kwik Trip continues to be a frequent stop for us for not only gas, but also milk, bananas, bread, and treats when we don't have the time to make it to a larger store.
Kwik Trip has numerous locations across the state of Minnesota, but you may not know all the different savings opportunities they offer, with everything from daily deals to a robust Rewards program. Read on for some tips on how to save at Kwik Trip!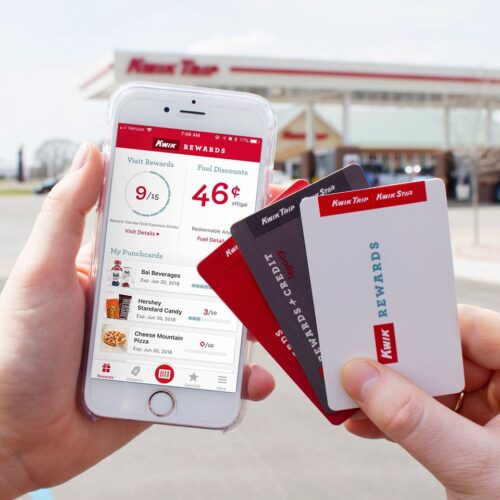 Kwik Rewards Program
No matter how frequently you shop at Kwik Trip, you'll want to sign up for their FREE Kwik Rewards program. You'll need to grab a card at the register in the store, but you can register your card online.
Another option is to download the Kwik Rewards app and sign up with a digital card.
Swipe your Kwik Rewards card in-store and at the pump to earn free items on your 15th visit.
Other perks of a Kwik Rewards account include cents off fuel discounts when buying qualifying items and a digital punch card for things like milk, candy, pizza, and more. And of course, there's my favorite perks of the Kwik Rewards program – COUPONS!
Each month Kwik Trip offers coupons that you can add to your card and redeem just by swiping your card at checkout. These can be coupons for totally FREE items, big time discounts (like my past favorite of 99¢ bacon!), or cents off particular items. I always take a minute to browse my coupon list before shopping in the store.
Kwik Trip offers a stand-alone Rewards card, or you can link it to your Kwik Rewards Credit or Debit card (I have the Debit card, myself). The Credit or Debit card automatically gets you 3¢ off per gallon at the pump as well as 5% off most in-store purchases.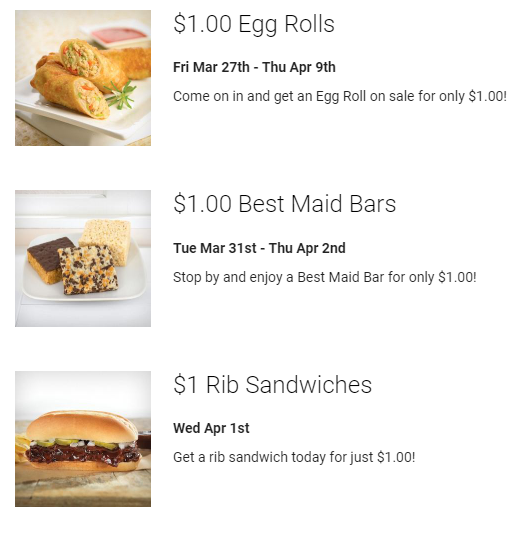 Kwik Trip Specials, Promotions & Deals
You can get the scoop on what's coming up each month by checking out the Special Promos page on the Kwik Trip website. You'll also want to sign up for their emails to get the heads up on limited-time deals that might not be advertised elsewhere.
Kwik Trip Daily Deals Deals
Kwik Trip almost always offers a number of Daily Deals on food items. For example, right now I'm seeing $1 egg rolls, $1 Best Maid bars, $1 grilled cheese sandwiches, and more. These are automatically discounted deals, no coupon necessary. But you can look ahead on their website as well as the app to see what's coming up.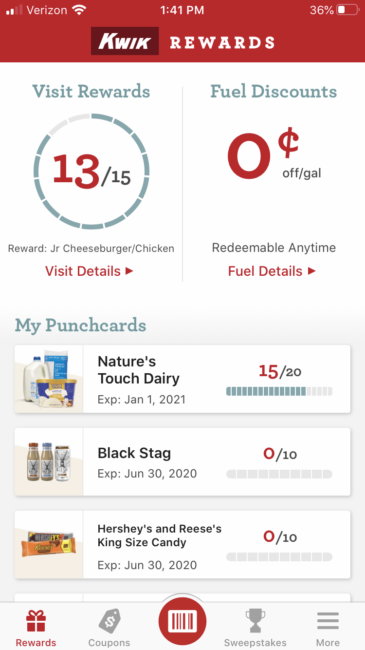 Kwik Rewards App
If you don't already have Kwik Rewards app, it is a must have (available for Apple and Android devices). I use it frequently to stay on top of my Visit Rewards and Punch Cards, and it's a quick and easy way to add Coupons to your account, as well. Plus, it has your Kwik Rewards barcode on it in case you lose (or don't want to use) your paper card.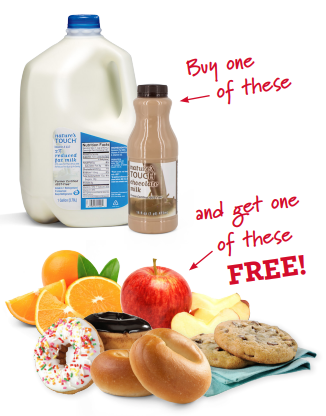 Other Kwik Trip Tips
Got kids ages 2 to 12? Sign them up for the Milk Moovers® Kids' Club! Members receive a free cookie, cake donut, bagel, apple, or orange every time you (or they) buy a pint or more of Nature's Touch milk. (And yes, they need to come into the store with you.) They'll also receive coupons for various Kwik Trip products around their birthday.
Kwik Trip has everyday low prices on bananas, potatoes, and onions (currently 38¢/pound). They also have solid deals on bread, eggs, butter, and milk. It truly is a great place for a "quick trip" when you just need a few essentials!
About the Author
Latest Posts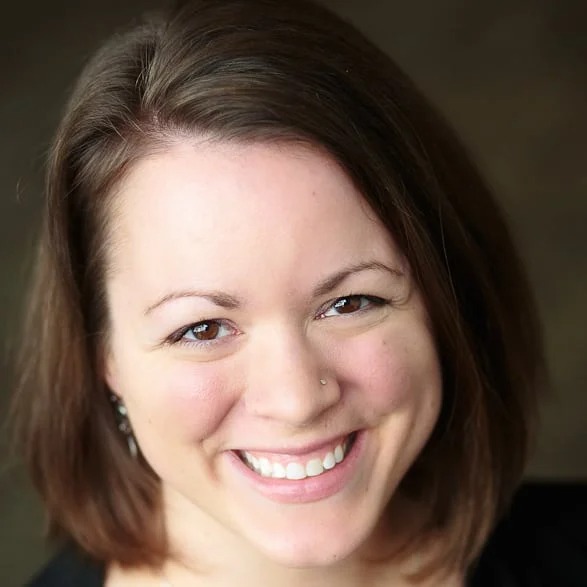 Laura is a former high school English teacher turned avid deal shopper following the birth of her first child. Now she's a work-from-home mom of six which keeps her plenty busy!
Laura grew up in southern Minnesota and has called the Twin Cities home for over fifteen years. On the off chance she gets some free time you'll find her with her nose in a book, spending time with family and friends, or enjoying a hot cup of coffee.