As with Minneapolis beaches, we had previously heard that Minneapolis wading pools would be closed in 2020 due to COVID-19. However, the Minneapolis Park and Recreation Board (MPRB) has decided to open 20 wading pools this Saturday, July 4th.
Hours will be seven days a week from 12 – 6:30 pm. Note that all wading pool areas will have a limited capacity to ensure that social distancing practices can be followed. Public restrooms will also be open for use, but drinking fountains will not be available. Visitors are asked to limit their time to two hours to allow others to use the wading pools.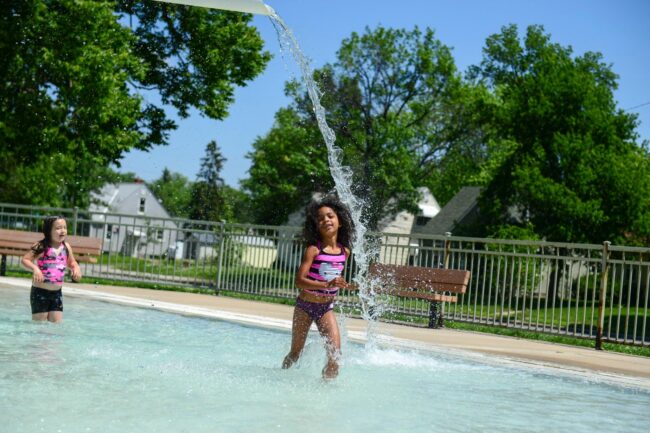 Locations opening Saturday, July 4th include:
Audubon Park – 1320 29th Ave NE
Bethune Park – 1304 N 10th Ave
Bohanon Park – 4917 Bryant Ave N
Bossen Field Park – 5701 S 28th Ave
Bryant Square Park – 3101 Bryant Ave S
East Phillips – 2399 S 17th Ave
Folwell Park – 1615 N Dowling Ave
Harrison Park – 503 N Irving Ave
Hiawatha School Park – 4305 E 42nd St
Jordan Park – 2927 N Irving Ave
Keewaydin Park – 3030 E 53rd St
Logan Park – 690 13th Ave NE
Luxton Park – 112 Williams Ave SE
McRae Park – 906 E 47th St
Rev. Dr. Martin Luther King, Jr. Park – 4055 Nicollet Ave S
Stewart Park – 2700 S 12th Ave
Waite Park – 1810 34th Ave NE
Whittier Park – 425 W 26th St
The wading pools at Franklin Steele Square (1600 Portland Ave S) and North Commons (1801 James Ave N) will open as soon as mechanical repairs are complete.